Search London wiki and Pub wiki history sites
All public house, restaurants, bars etc closed for the forseeable future from 20th March 2020, but this is a pub history site.
Prince Alfred, 7 High street, Poplar E14
Poplar pub history index
Historical London public houses, Taverns, Inns, Beer Houses and Hotels.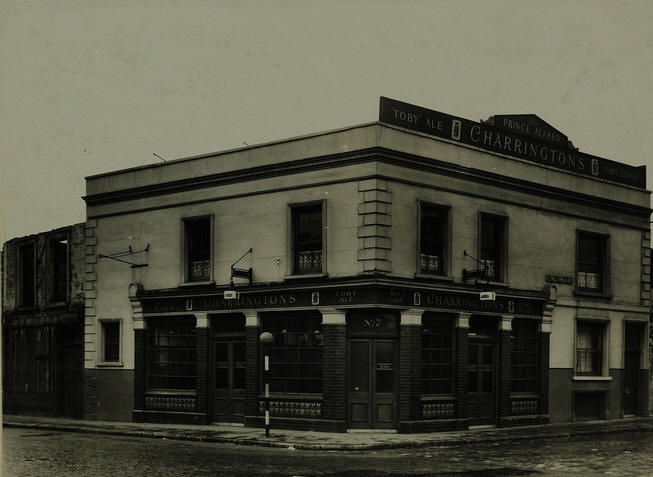 Prince Alfred, 7 High Street, Poplar - in 1950
Residents at this address.
1861/William Broadway/Beer Seller/30/Paddington, Middlesex/Census
1861/Elizabeth Broadway/Wife/30/Northampton/Census
1861/Elizabeth Broadway/Daughter/4/Paddington, Middlesex/Census

1862/William Broadway/../../../P.O. Directory **

1869/George William Lane/Beer Retailer/../../Post Office Directory

1871/William Lane/Beer House Keeper/35/Ratcliff/Census
1871/Hannah Lane/Wife/36/Poplar/Census
1871/George Lane/Son/12/Poplar/Census
1871/Alfred Lane/Son/10/Poplar/Census
1871/William Lane/Son/8/Poplar/Census
1871/John Lane/Son/4/Poplar/Census
1871/Amy Lane/Daughter/2/Poplar/Census

1876/George William Lane/Beer Retailer/../../Post Office Directory

1881/John A Gibson/Manager Of Beer House/50/Carlisle/Census
1881/Fanny Gibson/Wife/53/Derby/Census

1882/George Parry/Beer Retailer/../../Post Office Directory

1891/Mrs Eleanor Beer/Beer Retailer/../../Post Office Directory

1899/Wm Alex Main/Beer Retailer/../../Post Office Directory

1901/Eleanor Main/Beer Seller/38/Paddington/Census
1901/Albert Williams/Son in Law, Timekeeper/24/Pimlico/Census
1901/Lucy Williams/Daughter/20/Stepney/Census
1901/Albert Williams/Grandson/7 months/Poplar/Census

1910/Mrs Eleanor Main/Beer Retailer/../../Post Office Directory

1915/Mrs Eleanor Main/Beer Retailer/../../Post Office Directory

1921/Mrs Eleanor Main/Beer Retailer/../../Post Office Directory

1934/Richard Augustus Beer/../../../Kellys Directory

1938/R A Beer/../../../Leasehold

1944/Rd Aug Beer/../../../Post Office Directory

1946 - 1950/Mrs Beer/../../../Leasehold

1951 - 1960/J W Marsh/../../../Leasehold

1961 - 1963/J F Clark/../../../Leasehold

1964/William Darby/../../../Leasehold

1965/A W Morgan/../../../Leasehold

1966/C G Boyle/../../../Leasehold



** Provided By Stephen Harris