Search London wiki and Pub wiki history sites
All public house, restaurants, bars etc closed for the forseeable future from 20th March 2020, but this is a history site.
Resolute, 210 High street, Poplar E14
Poplar pub history index
Existed from at least 1797. At 77 Poplar High Street before 1871 and renumbering. The Harrow before 1881. Closed 2011 and demolished, this pub's original name lives on in Harrow Lane running north-south on the pub's east side. *+
Historical London public houses, Taverns, Inns, Beer Houses and Hotels.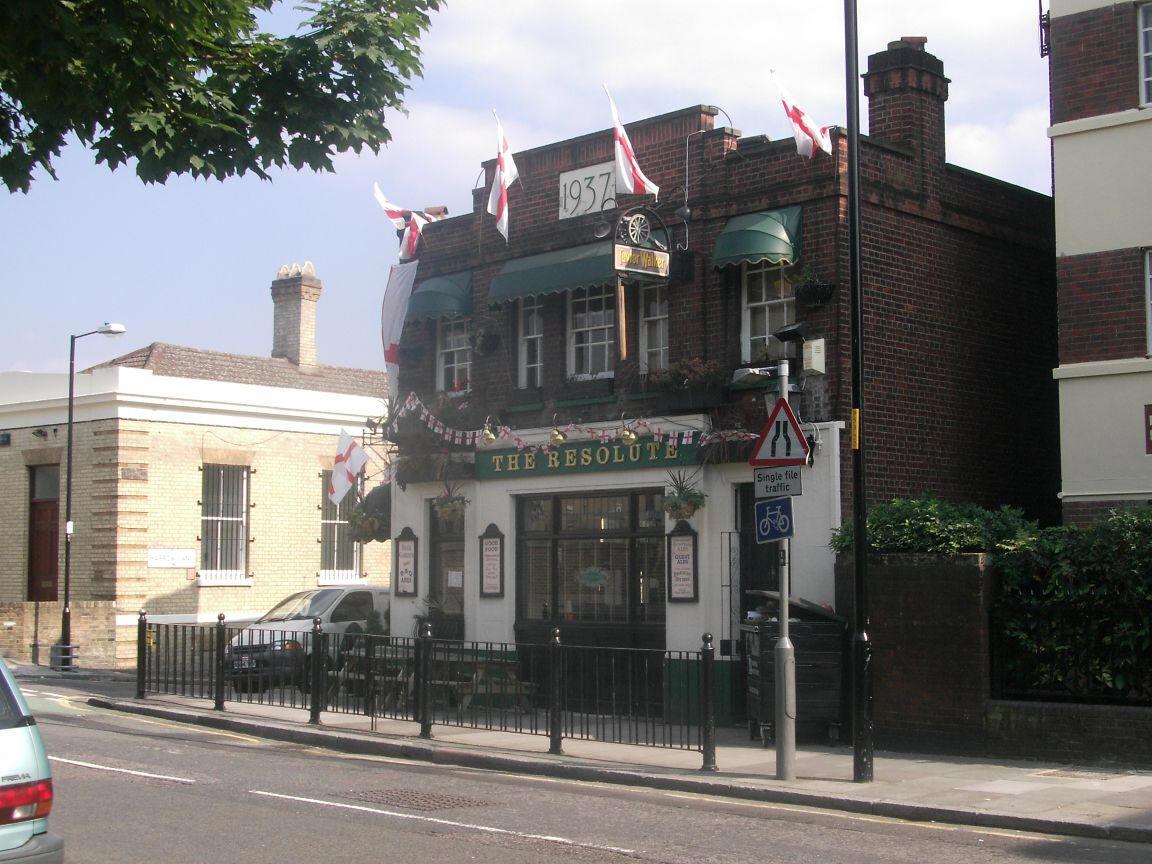 Resolute Tavern, Poplar High Street in June 2006; built in 1937
Residents at this address.
1797/William Brown / Publican /../../Proceedings of the Old Bailey **

William Brown was a successful tea dealer prior to being a licensee at the Harrow. His story can be found here. *

1813/Roger McDonald / Victualler /../../Sun Fire Office records held at Guildhall Library **

1815/Roger McDonald / Victualler /../../Sun Fire Office records held at Guildhall Library **

1817/Roger McDonald / Victualler /../../Sun Fire Office records held at Guildhall Library **

1818/Roger McDonald / Victualler /../../Sun Fire Office records held at Guildhall Library **

1820/Roger McDonald / Victualler /../../Sun Fire Office records held at Guildhall Library **

1821/Roger McDonald / Victualler /../../Sun Fire Office records held at Guildhall Library **

1823/Roger McDonald / Victualler /../../Sun Fire Office records held at Guildhall Library **

1826/Roger McDonald / Victualler /../../Sun Fire Office records held at Guildhall Library **

1827/Roger McDonald / Public House Keeper /../../Proceedings of the Old Bailey **

1828/Roger McDonald / Victualler /../../Sun Fire Office records held at Guildhall Library **

1829/Roger McDonald / Victualler /../../Sun Fire Office records held at Guildhall Library **

1830/Roger McDonald / Victualler /../../Sun Fire Office records held at Guildhall Library **

The will of William Brown in about 1831, lists detail from the income of the sale of the Harrow. *

1835/Thomas Smith/../../../Robsonís Directory **

1837/Mary Walker / Landlordís Sister /../../Proceedings of the Old Bailey **

1839/John Abbott/../../../Pigotís Directory **

1841/John Abbott/../../../Post Office Directory **

1842/John Abbott/../../../Post Office Directory **

1842/John Abbott/../../../Robsonís Directory **

1842/John Abbott / Public House Keeper /../../Proceedings of the Old Bailey **

1843/John Abbott/../../../Post Office Directory

1843/John Abbott / Public House Keeper /../../Proceedings of the Old Bailey **
1843/Thomas Abbott / Son /../../Proceedings of the Old Bailey
1843/Edward Jones / Potman /../../Proceedings of the Old Bailey

1849/John Abbott / Public House Keeper /../../Proceedings of the Old Bailey **

1851/John Abbott/../../../Kellys Directory

1851/John Abbott/Beer Shop/66/Northampton/Census
1851/Susan Abbott/Wife/65/Lavenham, Suffolk/Census
1851/Frances Rutter/Daughter, Widow/31/Gibraltar/Census
1851/Mary Evans/Servant, Widow/40/Ireland/Census
1851/Thos Daly/Servant/27/Beckingham, Kent/Census

4th March 1858/John Williams/Outgoing Licensee/../../East London Observer +

4th March 1858/George Ireland/Incoming Licensee/../../East London Observer +

August 1860/George Ireland/Outgoing Licensee/../../East London Observer

August 1860/John Ross/Incoming Licensee/../../East London Observer

1861/John Ross/Licensed Victualler/30/Scotland/Census
1861/Jane Ross/Wife/28/Deptford, Kent/Census
1861/John Ross/Son/3 months/Poplar/Census
1861/William Coram/Potman & Waiter/26/North Weald, Essex/Census
1861/Margaret Hallybone/General servant/19/Cumberland/Census

1862/John Ross/../../../Post Office Directory **

November 1863/John William Williams/Outgoing Licensee/../../Era

November 1863/George Budd/Incoming Licensee/../../Era

August 1864/George Budd/Outgoing Licensee/../../East London Observer +

August 1864/Henry Hodge/Incoming Licensee/../../East London Observer +

November 1865/Henry Hodge/Outgoing Licensee/../../Era

November 1865/Jeremiah Whalen/Incoming Licensee/../../Era

August 1867/Jeremiah Whalen/Outgoing Licensee/../../Era Newspaper

August 1867/Richard Hughes/Incoming Licensee/../../Era Newspaper

4th July 1868/William Walter Wooder/Outgoing Licensee/../../East London Observer +

4th July 1868/Stephen English/Incoming Licensee/../../East London Observer +

1869/Stephen English/../../../Post Office Directory

January 1870/Stephen English/Outgoing Licensee/../../Era Newspaper

January 1870/Joseph Kayley/Incoming Licensee/../../Era Newspaper

1871/Henry De Ritter/Publican/41/Poplar, Middlesex/Census
1871/Charlotte De Ritter/Wife/40/Poplar, Middlesex/Census
1871/Sophia De Ritter/Daughter, Barmaid/16/Poplar, Middlesex/Census
1871/Amy De Ritter/Daughter/12/Poplar, Middlesex/Census
1871/Mary A De Ritter/Daughter/10/Poplar, Middlesex/Census
1871/Thomas De Ritter/Son/7/Poplar, Middlesex/Census

23rd May 1874/Joseph Kayley/Outgoing Licensee/../../East London Observer +

23rd May 1874/James Pinn Rising & James Alexander Denner/Incoming Licensee/../../East London Observer +

14th July 1874/James Plummer Rising and James Alexander Denner/Outgoing Licensee/../../East London Observer +

14th July 1874/James Plummer Rising and William Henry Denner/Incoming Licensee/../../East London Observer +

July 1875/William Henry Denner, late occupier/Outgoing Licensee/../../East London Observer

July 1875/James Plummer Rising and John Stephen Davis, administrators of William Henry Denner/Incoming Licensee/../../East London Observer

1876/Rising & Davis/../../../Post Office Directory

20th May 1876/Jas. Plummer Rising and John Stephen Davis/Outgoing Licensees/../../East London Observer +

20th May 1876/William Hall and John Stephen Davis/Incoming Licensees/../../East London Observer +

1881/Sydney C Hill/Licensed Victualler/33/Poplar, Middlesex/Census
1881/Elizabeth Hill/Wife/24/Poplar, Middlesex/Census
1881/Frederick Hill/Son/4/Poplar, Middlesex/Census
1881/Florence Hill/Daughter/1/Poplar, Middlesex/Census
1881/Kate Ollyall/Servant/18/Poplar, Middlesex/Census
1881/Margaret Lovejoy/Servant/20/Poplar, Middlesex/Census
1881/Elizabeth Pearch/Servant/17/Poplar, Middlesex/Census

1884/Hill, Davis & Co/../../../Post Office Directory

1884/Smith & Davis/../../../Post Office Directory

1891/Stoneham & Rogers/../../../Post Office Directory

1895/Stoneham & Rogers/../../../Post Office Directory

1899/Henry Rogers/../../../Post Office Directory

1901/Frank Merton/Public House Manager/42/London/Census
1901/Ellen Merton/Wife/35/London/Census
1901/George Merton/Daughter/6/London/Census
1901/Leonard Merton/Son/3/London/Census
1901/Leslie Merton/Son/1/London/Census
1901/Elizabeth Griffiths/Domestic Servant/37/London/Census
1901/Lily Oatis/Domestic Servant/18/London/Census
1901/Edward Chapman/Barman/23/London/Census
1901/Robert Wallace/Barman/19/Limehouse, London/Census
1901/Charles Carter/Barman/27/Essex/Census

1910/Henry Rogers/../../../Post Office Directory

1914/Thomas Salter/../../../Post Office Directory

1915/Robert Salter/../../../Post Office Directory

My mother, who was born in 1906, Maude Alexandra Esmond, lived at the pub from about 1912 with her uncle Charles Esmond, who was the publican, and his wife, Annie (his former housemaid), and his children, who were my mother's cousins. She was officially adopted by her uncle and was extremely happy there. Some years later, Charles Esmond left The Resolute and opened a bottle shop somewhere else. ***

I remember she used to talk about the pub during the first world war, and when the bombs were dropped the patrons would go into the cellar and pop the corks on the kegs and come back up all drunk and happy.
She always talked about the 100 steps she had to climb up to their accommodation at the top of the building and I know there were at least three levels to the building in those days. ***

1921/Leon Conrad/../../../Post Office Directory

1934/Mrs Violet Rose Davies/../../../Kellys Directory

1938/Jn W Adams/../../../Post Office Directory

1944/Geo & Mrs Ada E Cooper/../../../Post Office Directory



+ Provided by Friends of Tower Hamlets Cemetery Park

* Provided By Geoffrey Barber

*+ Provided By Tris

** Provided By Stephen Harris

*** Provided By Diana Bolton