Ship, 10 Narrow Street, Ratcliffe
The earlier address in 1871 census and earlier is at Ratcliff Cross. The Ship is destroyed by enemy action on the 12th August 1944.
Ratcliffe pub history index
A listing of historical public houses, Taverns, Inns, Beer Houses and Hotels in Ratcliffe, London - in East London. The Ratcliffe, East London listing uses information from census, Trade Directories and History to add licensees, bar staff, Lodgers and Visitors.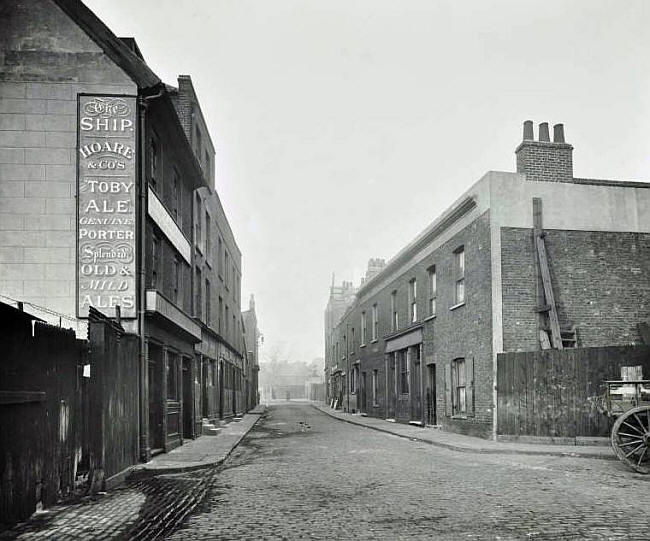 Ship, 10 Narrow Street, Limehouse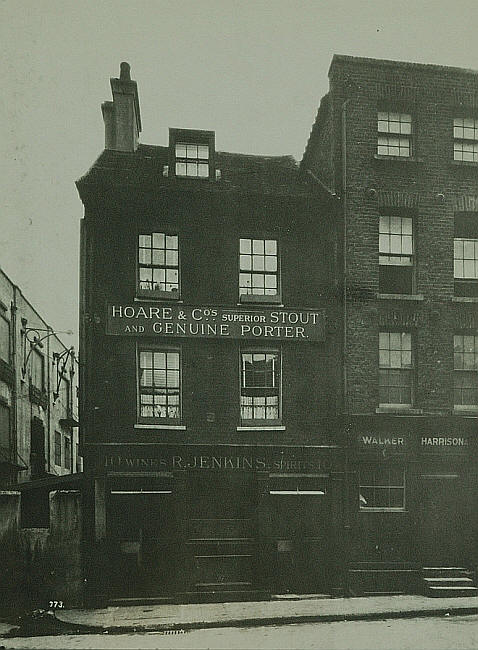 Ship, 10 Narrow Street, Limehouse
Residents at this address
1772/Ann Tinfield/../../../Proceedings of the Old Bailey **

1827/George Law, Ship, Ratcliffe cross/../../Pigots Directory

1833-34/George Lane, Ship, Ratcliff Cross, Ratcliff/../../Post Office Directory

1836/George Lane, Ship, Ratcliff Cross, Ratcliff/../../Post Office Directory

1841/Benj Haddock/../../../Post Office Directory

1843/John Raine, Ship, 4 Ratcliff Cross/../../Kellys Directory

1851/Alexander Mason/../../../Kellys Directory

1851/William Atkinson/Publican/22/Nine Ems, Surrey/Census
1851/Ann Atkinson/Sister, Housekeeper/24/Nine Ems, Surrey/Census
1851/Mary Horne/House Servant/16/Shadwell, Middlesex/Census

1852/William Atkinson, Ship, Ratcliff cross/../../Post Office Directory

January 1854/William Atkinson/Outgoing Licensee/../../Era

January 1854/David Price/Incoming Licensee/../../Era

1856/David Price/../../../Post Office Directory

1861/Willis Francis/Publican, widow/55/Woolwichm Kent/Census
1861/Lany Francis/Stepson, Seaman/34/Sunderland/Census
1861/Mary Rosebury/Niece/27/Sunderland/Census
1861/Willis Francis/Daughter/19/Deptford, Kent/Census

January 1863/Francis Henry Willes/Outgoing Licensee/../../Era Newspaper

January 1863/Henry Chown/Incoming Licensee/../../Era Newspaper

November 1866/Henry Chown/Outgoing Licensee/../../Era

November 1866/James Daniel Goodfellow/Incoming Licensee/../../Era

1869/James Goodfellow/../../../Post Office Directory

1871/James Goodfellow/Licensed Victualler/32/Twickenham, Middlesex/Census
1871/Jane E Goodfellow/Wife/31/Rochester, Kent/Census
1871/Not christened Goodfellow/Daughter/2 weeks/Stepney, Middlesex/Census
1871/Ann Cooper/Nurse/42/Woolwich, Kent/Census

23rd May 1874/James Daniel Goodfellow/Outgoing Licensee/../../East London Observer +

23rd May 1874/Robert William Childs Atcheson/Incoming Licensee/../../East London Observer +

1881/Richard Atcheson/Public House Manager/40/Cambridge, England/Census
1881/Amelia Atcheson/Wife/38Cambridge, England//Census
1881/Ann Atcheson/Daughter, Barmaid/17/Ratcliff, Middlesex/Census
1881/Elizabeth Atcheson/Daughter/16/Ratcliff, Middlesex/Census
1881/John Owen/Boarder, Brewers Drayman/52/Cambridge, England/Census

1882/Robt William Childs Atcheson/../../../Post Office Directory

1884/Richard Atcheson/../../../Post Office Directory

1891/Benjamin Haddock/../../../Post Office Directory

1891/Benjamin Haddock/Licensed Victualler/28/Sutton, Cambridge/Census
1891/Robert Haddock/Brother, Barman/22/Sutton, Cambridge/Census
1891/Ellen Burling/House Keeper, Widow/35/Sutton, Cambridge/Census
1891/Mary J Burling/../13/Sutton, Cambridge/Census
1891/Elizabeth Wayman/Visitor/27/Sutton, Cambridge/Census

1895/Benjamin Haddock/../../../Post Office Directory

1899/Benjamin Haddock/../../../Post Office Directory

1910/William Stiff/../../../Post Office Directory **

1911/Rose Stiff/Licensed Victualler, Widow/39/Poplar, London/Census
1911/Richard Stiff/Son/11/Ratcliff, London/Census
1911/ben Bray/Brother, Warehouseman/33/Hoxton, London/Census

1915/Mrs Rose Hannah Mary Stiff/../../../Post Office Directory

1934 - 1938/Mrs Jenkins/../../../Freehold

1938/Mrs Rose Hannah Mary Jenkins/../../../Post Office Directory

1939 - 1941/A J Cope - Receiver/../../../Freehold

1942 - 1944/Copes Taverns Ltd/../../../Freehold

1944/Copes Taverns Ltd/../../../Post Office Directory



+ Provided by Friends of Tower Hamlets Cemetery Park

** Provided By Stephen Harris