Crown, 440 Southwark Park Road, Rotherhithe, Surrey
Rotherhithe index
The Crown, 9 Globe Terrace in the 1871 census; the 1859 and 1873 license transfers list this as the Crown, Robert street, Blue Anchor road.
Historical London public houses, Taverns, Inns, Beer Houses and Hotels.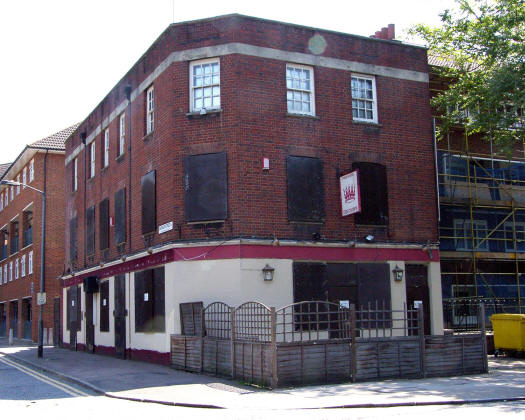 Crown, 440 Southwark Park Road, Rotherhithe - in May 2009
Kindly provided by Fred Roll
Residents at this address.
October 1859/William Brown/Outgoing Licensee/../../Era

October 1859/Henry Nunney/Incoming Licensee/../../Era

September 1862/Henry Massey/Outgoing Licensee/../../../London Daily News

September 1862/Susannah Frost/Incoming Licensee/../../London Daily News

April 1868/John Mulvaney/Outgoing Licensee/../../Era

April 1868/William Pontin Mitchell sen/Incoming Licensee/../../Era

1869/William Pontin Mitchell, sen./../../../Post Office Directory *

1871/William P Mitchell/Licensed Victualler/59/St James Piccadilly, Middlesex/Census
1871/Anne Mitchell/Wife/62/St James Clerkenwell, Middlesex/Census
1871/Benjamin T Mitchell/Son, Licensed Victualler/28/St James Clerkenwell, Middlesex/Census

July 1873/William Pontin Mitchell/Outgoing Licensee/../../South London Chronicle

July 1873/James Richard Law/Incoming Licensee/../../South London Chronicle

1881/George Lippard/Licensed Victualler/40/Greenwich, Kent/Census
1881/Sarah Ann Lippard/Wife/36/Piccadilly, Middlesex/Census
1881/George R S Lippard/Son/14/Bermondsey, Surrey/Census
1881/Fredk Wm Lippard/Son/12/Bermondsey, Surrey/Census
1881/Wm Chal Lippard/Son/11/Walworth, Surrey/Census
1881/Joseph Alf Lippard/Son/9/Bermondsey, Surrey/Census
1881/Amelia Lawson/Barmaid/25/Clerkenwell, Middlesex/Census
1881/Mary Ann Cooper/General Servant/17/Greenwich, Kent/Census

1882/George Lippard/../../../Post Office Directory

1884/Eliza J Spreckley/../../../Post Office Directory

1891/George William Ellis/../../../Post Office Directory

1891/George William Ellis/Licensed Victualler/37/Woolwich, Kent/Census
1891/Marion Ellis/Wife/24/Deptford, London/Census
1891/Jane Dawson/General Servant/17/Rotherhithe, London/Census

1895/George William Ellis/../../../Post Office Directory

1899/Miss Maud Marshall/../../../Post Office Directory

1910/Mrs Mary Ann Beare/../../../Post Office Directory

1915/Percy Godfrey Sims/../../../Post Office Directory

1923/William Fletcher/Crown/../../Electoral Register
1923/May Sims/../../../Electoral Register
1923/Percy Godfrey Sims/../../../Electoral Register

1934/Percy Godfrey Sims/../../../KellysDirectory

1938/Percy Godfrey Sims/../../../Post Office Directory

1944/Percy Godfrey Sims/../../../Post Office Directory

1988/H Cottrell/../../../Watney Truman Trader List **



* Provided By Ewan

** Provided By Alex Wilkinson