Search London wiki and Pub wiki history sites
All public house, restaurants, bars etc closed for the forseeable future on 20th March 2020, but this is a history site. But how about the landlords give their tenants a break, no business, then please charge them no rent.
Jolly Sailor, 8 New Gravel Lane / 8 Garnet street, Shadwell E1
Shadwell index
A listing of historical public houses, Taverns, Inns, Beer Houses and Hotels in Shadwell, London - in East London.
Address formerly 27 New Gravel Lane in 1858 and earlier. ** By 1944, the address changes from 8 New Gravel lane to 8 Garnet street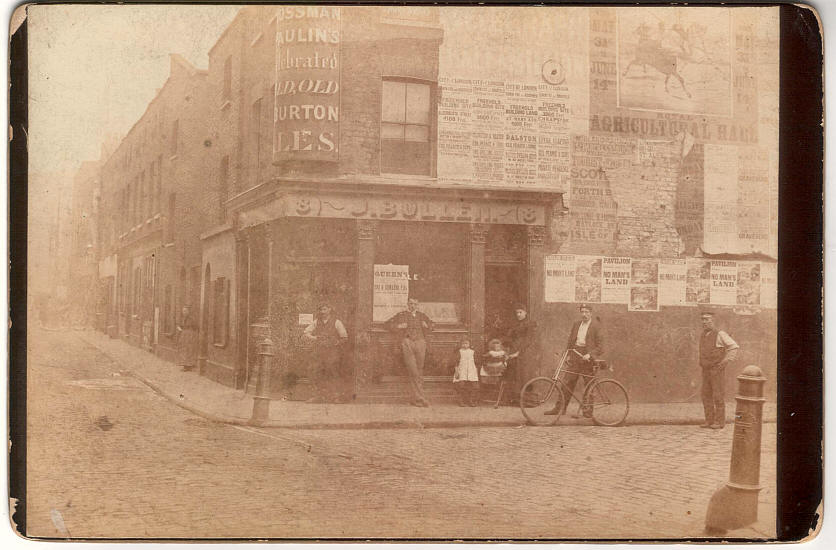 Jolly Sailor, 8 New Gravel Lane, Shadwell - circa 1895 - J Bullen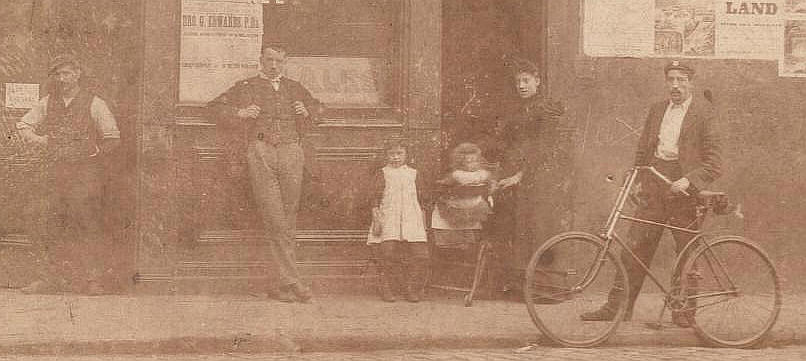 By the age of the children this picture was taken around April 1895. May Maud Amelia BULLEN was born 1.5.1888 so nearly 7, and Violet Victoria BULLEN on 1.5.1893 was nearly 2. Their third child, Ivy BULLEN was born 10.5.1895 - you can see Fanny Charlotte's baby bump! I assume the others in the photo are their employees with John BULLEN standing near the children.
Kindly provided by Robin James
Residents at this address
1841/William Yeoman/../../../P.O. Directory **

1842/William Yeoman/Beer Retailer/../../Robsons Directory

1848/William Yeoman/Beer Retailer/../../Post Office Directory

1851/Edwin Cook/Beer Shop Keeper/45/Theydon, Essex/Census
1851/Jane Cook/Wife/33/Greenwich, Kent/Census
1851/Jane Fenwick/Daughter in Law/9/Greenwich, Kent/Census
1851/William Fenwick/Son in Law/7/Greenwich, Kent/Census
1851/Emma Fenwick/Daughter in Law/3/Greenwich, Kent/Census
1851/Edwin Cook/Son/14 weeks/Shadwell, Middlesex/Census
1851/Alexander Cew/Lodger, Carpenter/29/Scotland/Census
1851/Jane Cew/Lodger/32/Wales/Census
1851/Margaret Webster/Visitor/45/Wales/Census
1851/Elizabeth Carter/Visitor/40/Greenwich, Kent/Census

1856/John Booth/Beer Retailer, 27 New Gravel Lane/../../Post Office Directory

1858/John Booth/Beer Retailer, 27 New Gravel Lane/../../Post Office Directory

1869/James Owen/Beer Retailer/../../Post Office Directory

1871/James Owen/Beer House Keeper/51/Middlesex/Census
1871/Mary Owen/Wife/45/Sheffield, Yorkshire/Census
1871/Jane Clifton/Sister/53/Middlesex/Census

1881/James Owen/Beer Retailer/62/../Census
1881/Jane Clifton/Sister/64/../Census

1888/John Bullen / Beer Retailer/../../Post Office Directory **

1889/John Bullen/../../../Post Office Directory **

1891/John Bullen/Beer Retailer/../../Post Office Directory

1891/John Bullen/Beer House Keeper/25/Bow, London/Census
1891/Fanny Bullen/Wife/25/Bow, London/Census
1891/May M Bullen/Daughter/2/Shadwell, London/Census
1891/Frank C Bates/Brother in Law/28/Bow, London/Census
1891/Emma G Gibb/General Servant/17/Poplar, London/Census

1895/John Bullen/Beer Retailer/../../Post Office Directory

Fanny Bullen is my 2nd Great Aunt. I know that John Bullen's brother in law, my great grandfather Alfred Greve (husband of Fanny Bates's sister Martha), ran the Jolly Sailor and that his family lived there at the time of my great aunt's birth. The 1899 Listing of Beer Retailers lists Alfred Greve at 8 New Gravel Lane which is the address of the Jolly Sailor. This address is also given for him in 1896 on his son, Frederick's, school admission record and in January 1897 on his Daughter, Martha's, birth certificate where he is listed as a Beer Retailer. By 1899 when my grandmother was born and on her baptism record and also in the 1901 census his occupation had reverted back to a Tailor. His time as a Beer Retailer was short lived! ***

1896/Frederick Greve/school admission record, 8 New Gravel lane/../Post Office Directory

1897Martha Greve/birth certificate , 8 New Gravel lane/../Post Office Directory

1899/Alfred Greve/Beer Retailer/../../Post Office Directory ***

John BULLEN died on 8 December 1906 aged 40 - at the Three Swedish Crowns, Old Gravel Lane, St George's in the East. [reference - probate records 1907]. Fanny Charlotte BULLEN died in 1936 aged 71 - recorded on probate as Charlotte BULLEN, she died 26.8.1936 at 74 Eastfield Street, Stepney. [probate 1936] I believe that address was Englands Queen. It seems she was in the business till the end. *

1910/David Hawkins/Beer Retailer/../../Post Office Directory

1911/William George Sawyer/Beer House Keeper/47/Bromley ny Bow/Census
1911/Ellen Louisa Sawyer/Wife/43/Southsea, Hampshire/Census
1911/William John Sawyer/Father, Waterman/67/Rotherhithe, Surrey/Census

1921/Francis William Lane/Beer Retailer/../../Post Office Directory

1934/Hy W Stewart/Beer Retailer/../../Kellys Directory

1938/Hy W Stewart/Beer Retailer/../../Post Office Directory

1944/Hy W Stewart/Beer Retailer, 8 Garnet street/../../Post Office Directory

1971/../Jolly Sailor, 8 Garnet street E1/../../Pub Directory

1983/../Jolly Sailor, 8 Garnet street E1: Bass Charrington/../../Pub Directory

1991/../Jolly Sailor, 8 Garnet street E1: Bass Charrington/../../Pub Directory



* Provided By Robin James

** Provided By Stephen Harris

*** Provided By Sharon Davies