Search London wiki and Pub wiki history sites
All public house, restaurants, bars etc closed for the forseeable future from 20th March 2020, but this is a history site.
Alma Tavern, 29 Alma Street, Shoreditch N1
At 11 Alma Street before 1891. Long demolished. Alma Street was where Cherbury Street N1 is today, at the junction with Clunbury street. and just off New North Road. N.1.
Shoreditch index
A listing of historical public houses, Taverns, Inns, Beer Houses and Hotels in Shoreditch, East London.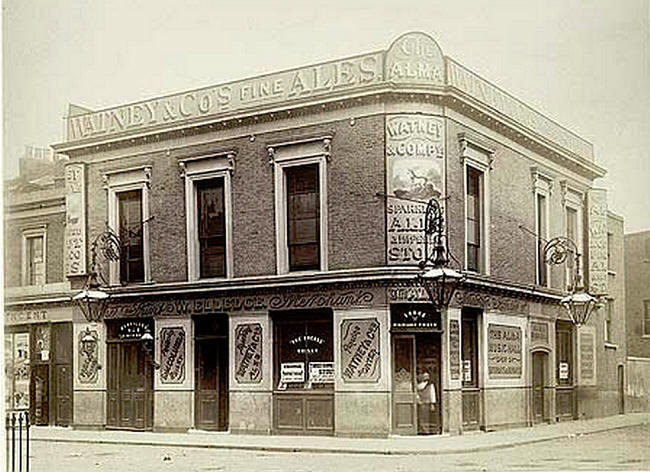 Alma Tavern, 29 Alma Street, Shoreditch - licensee W Elledge
Kindly provided by Charlie Goodwin
Residents at this address
1862/John Peter Craven/../../../Post Office Directory

October 1863/John Peter Craven/Outgoing Licensee/../../East London Observer +

October 1863/Henry Carter/Incoming Licensee/../../East London Observer +

November 1866/Henry Carter/Outgoing Licensee/../../Era

November 1866/George Skinner/Incoming Licensee/../../Era

1869/G Skinner/../../../Post Office Directory

19th July 1873/George Skinner/Outgoing Licensee/../../East London Observer +

19th July 1873/Edmund Hartshorn/Incoming Licensee/../../East London Observer +

March 1874/Edmund Hartshorn/Outgoing Licensee/../../East London Observer

March 1874/James Savill/Incoming Licensee/../../East London Observer

August 1875/James Savill/Outgoing Licensee/../../East London Observer

August 1875/Alfred John Sattmer/Incoming Licensee/../../East London Observer

1881/Elizabeth Wadkin/Licensed Victualler, Widow/37/Shoreditch, Middlesex/Census
1881/Alice M Wadkin/Daughter/11/Deptford, Kent/Census
1881/Ellen F Wadkin/Daughter/9/Deptford, Kent/Census
1881/Samuel C Wadkin/Son/7/Deptford, Kent/Census
1881/Henry J Wadkin/Son/6/Deptford, Kent/Census
1881/Richard F Wadkin/Son/4/Deptford, Kent/Census
1881/Robert Maynard/Barman/30/London, Middlesex/Census
1881/Eliza Maynard/Barmaid/25/London, Middlesex/Census
1881/Martha Mason/Domestic Servant/21/Cardiff/Census

1882/Mrs Elizabeth Wadkin/../../../Post Office Directory

1884/Edward Cole/../../../Post Office Directory

1895/Walter Elledge/../../../Post Office Directory

1891/Chas Elledge/../../../Post Office Directory

1899/John Webb/../../../Post Office Directory

1910/William Herbert Page/../../../Post Office Directory

1911/William Herbert Page/Licensed Victualler/37/Kennington Park Road, Camberwell/Census **
1911/Cecile Nellie Page/Wife, Assistant/30/Loughboro Park (Brixton)/Census
1911/Frederick John/Boarder, Barman/30/Bristol/Census
1911/John Henry Hobbs/Boarder, Barman/31/St Georges in the East/Census

1914/William Herbert Page/../../../Post Office Directory

1915/William Herbert Page/../../../Post Office Directory

1921/E A Chenery/../../../Hughes Directory

1934/Edward Albert Chenery/../../../Kelly's

1938/Edward Albert Chenery/../../../Post Office Directory *



+ Provided by Friends of Tower Hamlets Cemetery Park

* Provided By Ewan

** Provided By Tanya Chesley