Search London wiki and Pub wiki history sites
All public house, restaurants, bars etc closed for the forseeable future from 20th March 2020, but this is a history site.
Blockmakers Arms, 133 Shepherdess Walk, Shoreditch N1
The address is 1 Ashley Crescent in 1856 and earlier, prior to street renaming. It is also called Regents Terrace in an 1830 Sun Fire Office insurance record. * Listed as the Blockmakers Arms, Shepherdess walk in the 1850, 1862, 1874 and 1878 license transfers. The modern OS map also notes it as the Blockmakers Arms. It closed as a pub before 1983 and is now in residential use, but retains a tiled name sign with "Blockmakers Arms" (2006). **
Shoreditch index
A listing of historical public houses, Taverns, Inns, Beer Houses and Hotels in Shoreditch, East London.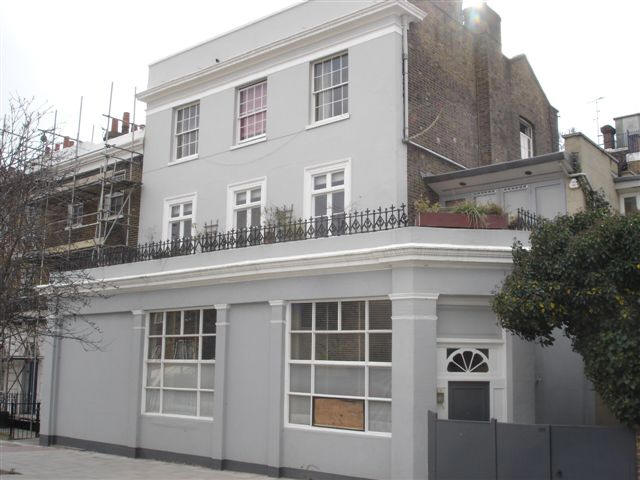 Blockmakers Arms, 133 Shepherdess Walk - in March 2007
Kindly provided by Stephen Harris
Residents at this address
1830/Richard Carter/victualler/../../Sun Fire Office records held at the London Metropolitan Archives *

1839/Thomas Potts/../../../Pigot's Directory *

1842/William Clark/../../../Robson's Directory *

1848/James Leadbetter/../../../Post Office Directory *

August 1850/James Leadbetter/Outgoing Licensee/../../Era

August 1850/George Bowden/Incoming Licensee/../../Era

1851/George Bowden/../../../Post Office Directory *

1856/Job Coleman/../../../Post Office Directory *

July 1862/Job Copeman/Outgoing Licensee/../../East London Observer

July 1862/Edward Francis Chown/Incoming Licensee/../../East London Observer

1869/E F Chown/../../../Post Office Directory

January 1874/Edmund Francis Chown/Outgoing Licensee/../../East London Observer

January 1874/George Wood/Incoming Licensee/../../East London Observer

1881/Alfred Fairs/Licensed Victualler/53/Coggeshall, Essex/Census
1881/Eliza Fairs/Wife/45/St James, Middlesex/Census
1881/Fredk Wm Fairs/Step Son/22/Clerkenwell, Middlesex/Census
1881/Elizabeth Anne Adams/Barmaod/25/Islington, Middlesex/Census
1881/Henry Watts/Barman/18/Clerkenwell, Middlesex/Census
1881/Ellen Rachel Dohos/Domestic Servant/21/Beccles, Suffolk/Census
1881/Edward Wright/Potman/21/Newcastle, Northumberland/Census
1881/Mary Condon/Domestic Servant/30/St Lukes, Middlesex/Census

1882/Alfred Fairs/../../../Post Office Directory

1884/George Wood/../../../Post Office Directory

1891/Sydney Byatt/../../../Post Office Directory

1895/Geo Wheeler/../../../Post Office Directory

1899/Charles Joseph Baldock/../../../Post Office Directory

1910/Charles Joseph Baldock/../../../Post Office Directory

1911/Charles J Baldock/Licensed Victualler/41/Hoxton, London/Census
1911/Hannah Baldock/Wife, Assistant/37/Hoxton, London/Census
1911/Charles F Baldock/Son/14/Clerkenwell, London/Census
1911/Ernest H Baldock/Son/9/Hoxton, London/Census
1911/Gertrude M Baldock/Daughter/3/Hoxton, London/Census
1911/Joseph C Baldock/Father, Foreman, Saw Mill, Widow/66/Islington, London/Census
1911/Henry Coote/Assistant/25/Ipswich, Suffolk/Census
1911/Henry Cragg/Assistant/28/Newcastle on Tyne/Census

1914/Charles Joseph Baldock/../../../Post Office Directory

1915/Charles Joseph Baldock/../../../Post Office Directory *

1921/Charles Joseph Baldock/../../../Post Office Directory

1934/Oliver Edwards/../../../Kelly's

1938/Oliver Edwards/../../../Post Office Directory *



+ Provided by Friends of Tower Hamlets Cemetery Park

* Provided By Ewan

** Provided By Stephen Harris