Search London wiki and Pub wiki history sites
All public house, restaurants, bars etc closed for the forseeable future from 20th March 2020, but this is a history site.
Brownlow Arms, 10 Scriven Street, Shoreditch E8
Shoreditch index
The address is at 10 Scriven Street by 1944 following street renaming changing from 10 Brownlow street. *
A listing of historical public houses, Taverns, Inns, Beer Houses and Hotels in Shoreditch, East London.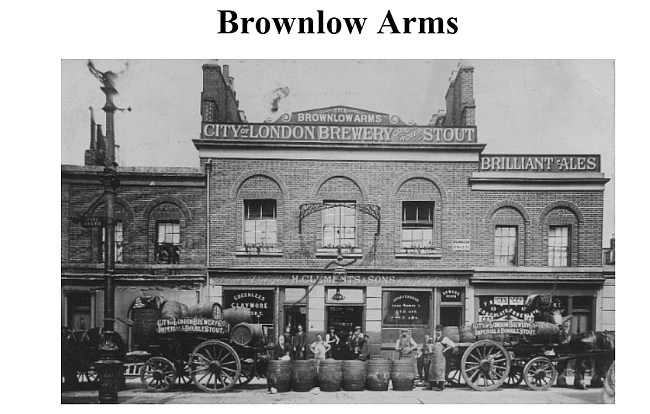 Brownlow Arms, 10 Brownlow Street, Shoreditch - licensee H Clements in 1919
Kindly provided by Charlie Goodwin
Residents at this address
1841/S Fraser/../../../Post Office Directory

October 1854/Elizabeth Ann Sindall/ Outgoing Licensee /../../The Era

October 1854/Samuel Hall Finch/ Incoming Licensee /../../The Era

1856/Samuel Hill Finch/../../../Post Office Directory

November 1865/executors of Samuel Hill Finch/Outgoing Licensee/../../Era

November 1865/Mary Finch, his widow/Incoming Licensee/../../Era

1866/Mrs M Finch/../../../Post Office Directory

1872/Mrs Mary Finch/../../../Post Office Directory

March 1874/Mary FinchOutgoing Licensee/../../East London Observer

March 1874/Alfred Crisp/Incoming Licensee/../../East London Observer

1874/Alfred Crisp/../../../Post Office Directory *

October 1875/Alfred Crisp/Outgoing Licensee/../../East London Observer

October 1875/Joseph Radford Rea/Incoming Licensee/../../East London Observer

January 1877/William Yaxley/Outgoing Licensee/../../East London Observer

January 1877/Thomas Cracknell/Incoming Licensee/../../East London Observer

1878/Thomas Cracknell/../../../Post Office Directory

August 1878/Thomas Cracknell/Outgoing Licensee/../../East London Observer

August 1878/Stephen Estow/Incoming Licensee/../../East London Observer

1881/Stephen Eaton/Licensed Victualler/47/Maunden, Essex/Census
1881/Susan Eaton/Wife/44/Bp Stortford, Hertford/Census
1881/Francis Eaton/Son/8/Walworth, Surrey/Census
1881/Fanny Skimbley/Barmaid/19/St Pancras, Middlesex/Census
1881/Mary Leach/Barmaid/20/Dalston, Middlesex/Census
1881/Ellen Leach/General Servant/18/Chigwell, Essex/Census

1884/Fredk Clarke/../../../Post Office Directory

1891/William Peek/Licensed Victualler/25/Homerton/Census *
1891/Mary Peek/Wife/29/London/Census
1891/Henry McDermott/Barman/20/Mile End/Census
1891/Henry Day/Barman/22/Hackney Wick/Census
1891/Edwin R. Parish/Barman/29/Fulham/Census
1891/Emmeline Burchell/Domestic Servant (Widow)/33/Harrow on the Hill/Census

1896/William Peek/../../../Kelly's Directory *

1899/Sydney Ambrose Smith/../../../Post Office Directory

1901/Sydney A. Smith/Licensed Victualler/26/Brixton/Census *
1901/Rose E. Smith/Wife/27/St Johns Wood/Census
1901/Violet R. Smith/Daughter/3/Hastings/Census
1901/Sydney A. Smith/Son/1/Dalston/Census
1901/Dorothy M. Smith/Daughter/5 months/Dalston/Census
1901/Sarah M. Smith/Nurse Domestic/20/St Johns Wood/Census
1901/Louisa E. Cruel/Servant Domestic/27/Newington/Census
1901/Edith E. Webb/Barmaid/24/Not Known/Census
1901/Mary A. Ellis/Barmaid/21/Poplar/Census
1901/Albert Wills/Barman/21/Haggerston/Census

1910/Ernest William Hall/../../../Post Office Directory

1915/Henry George Clements/../../../Post Office Directory

1921/James Rd Wilkins/../../../Post Office Directory

1938/James Richard Wilkins/../../../Post Office Directory *

1944/James Richard Wilkins/../../../Post Office Directory *



* Provided By Ewan