Search London wiki and Pub wiki history sites
All public house, restaurants, bars etc closed for the forseeable future from 20th March 2020, but this is a history site.
Bull & Pump, 72 Shoreditch High Street, Shoreditch E1
In the 1871 census it is listed as the St Leonards Coffee House. This pub was renamed the Rainbow in 1998 and remains open ** Now primarily a lap dancing club (2014). ***
Shoreditch index
A listing of historical public houses, Taverns, Inns, Beer Houses and Hotels in Shoreditch, East London.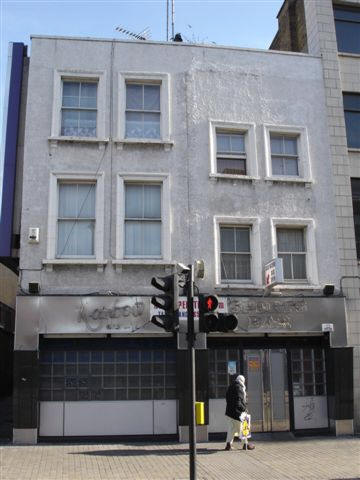 Bull & Pump, 72 Shoreditch High Street - in November 2006
Kindly provided by Stephen Harris
Residents at this address
1841/William Norman/../../../Post Office Directory **

1843/Nelson Waud, Bull & Pump, 72 Shoreditch High street/ ../../Kellys Directory

1848/Nelson Waud, Bull & Pump, 72 Shoreditch High street/ ../../Post Office Directory

1851/Francis Wrensted/../../../Kellys Directory

1852/Mrs Ann Wrensted/../../../Watkins Directory **

1856/Mrs Ann Wrensted/../../../Post Office Directory

1866/Hy. Beale/../../../P.O. Directory **

1869/W Winton/../../../Post Office Directory

1871/William Winton/Licensed Victualler/47/Chelsea, Middlesex/Census
1871/Frances Winton/Wife/38/Kingston, North America/Census
1871/Thomas Winton/Son, Upholsterer/16/Bethnal Green, Middlesex/Census
1871/Elizabeth Winton/Daughter/15/Bethnal Green, Middlesex/Census
1871/Alfred Winton/Son/9/Bethnal Green, Middlesex/Census
1871/Walter Winton/Son/7/Bethnal Green, Middlesex/Census
1871/Rosina Winton/Daughter/4/Bethnal Green, Middlesex/Census
1871/Emilie Winton/Daughter/1/Shoreditch, Middlesex/Census
1871/Charles Brick/Barman/30/Bethnal Green, Middlesex/Census

1872/W Winton/../../../Brabner�s Hackney Directory **

May 1878/H Beale, Licensed Victualler, High street, Shoreditch, three measures defective, fined 30s/../../Lloyds Weekly Newspaper

1881/James Nicholson/Manager Licensed Victualler/37/St Osyth, Essex/Census
1881/Kate Nicholson/Wife, Manager Licensed Victualler/37/Oxford St, Middlesex/Census
1881/Robert Turner/Potman/16/Gibraltar/Census

1882/Henry Beale/../../../Post Office Directory

1884/Henry Beale/../../../Post Office Directory

1886/Charles A Dyne/../../../Business Directory of London **

1891/Wm Ewen/../../../Post Office Directory

1891/Ernest Gillingham/Licensed Victualler/28/Norwood, Surrey/Census
1891/Florence Gillingham/Wife/26/Brixton, London/Census
1891/Willie Gillingham/Son/5/Brighton, Sussex/Census
1891/Florence Gillingham/Daughter/4/Norwood, Surrey/Census
1891/Gertrude Gillingham/Daughter/3 months/Shoreditch, London/Census
1891/Charles Moore/Barman/19/Cambridgeshire/Census

1895/Edward Salter/../../../Post Office Directory

1899/Charles Guthmann/../../../Post Office Directory

1910/James Peerless/../../../Post Office Directory

1911/James Peerless/Licensed Victualler/36/Bromley Common, Kent/Census
1911/Katie Peerless/Wife/32/London/Census
1911/Daniel Dowsett/Barman/24/Barking, Essex/Census
1911/William King/Barman/29/Hoxton, London/Census
1911/William Thomas Goodwin/Potman/20/Hoxton, London/Census
1911/Elizabeth Morgan/Cook/34/London/Census

1912/James Peerless/../../../Post Office Directory **

1915/James Peerless/../../../Post Office Directory

1921/Mrs Katie Cecelia Peerless/../../../Post Office Directory

1922/Katie Cecilia Peerless / Licensed Victualler, deceased / Died 12 September 1922 /../../London Gazette, 12 December 1922 **

1934/Mark Bodinetz/../../../Kellys Directory

1938/Alfred Thos Law/../../../Post Office Directory



** Provided By Stephen Harris

*** Provided by Tris