Search London wiki and Pub wiki history sites
All public house, restaurants, bars etc closed for the forseeable future from 20th March 2020, but this is a history site.
Crown & Sceptre, 30 Britannia walk, Shoreditch N1
Shoreditch index
The address is given as Moffat Street in Sun Fire Office insurance records of 1827 and earlier, prior to street renaming. The address is at 30 Britannia Walk by 1944, changing from 30 Britannia street through distinct street renamng.*
A listing of historical public houses, Taverns, Inns, Beer Houses and Hotels in Shoreditch, East London.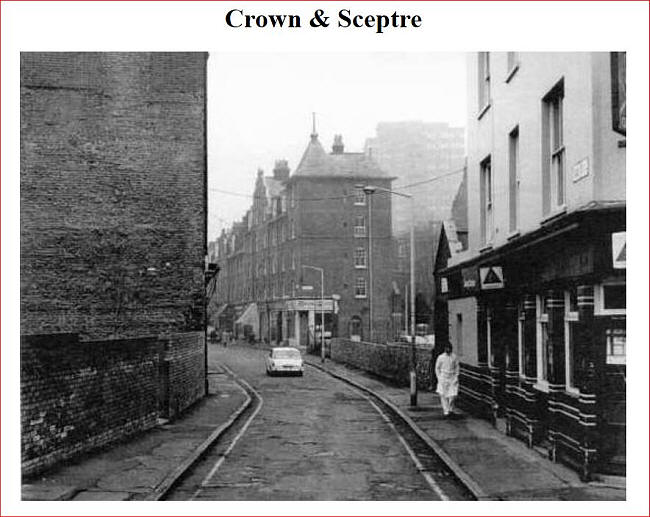 Crown & Sceptre, 30 Britannia Walk, City Road, Shoreditch
Kindly provided by Charles Goodwin
Residents at this address
1815/Joseph Bull/victualler/../../Sun Fire Office records held at the London Metropolitan Archives *

1816/Joseph Bull/victualler/../../Sun Fire Office records held at the London Metropolitan Archives *

1839/William Hitchins/../../../Pigots Directory

1841/Mrs P. Hitchins/../../../Post Office Directory *

1848/Charles Jesson/../../../Post Office Directory *

1851/Charles Jesson/../../../Post Office Directory *

1856/Alfred Gurney/../../../Post Office Directory

1861/Charles Gurney/Victualler/40/Dorton, Buckinghamshire/Census
1861/Ann Gurney/Wife/43/Banbury, Oxfordshire/Census
1861/Ann Cave Gurney/Daughter/13/St Georges East, Middlesex/Census
1861/Caroline Gurney/Daughter/3/Stepney, Middlesex/Census
1861/Henry P Peffer/Pot Boy/19/Finsbury Market, Middlesex/Census

May 1861/Alfred Gurney and Charles Gurney/Licensee/../../East London Observer

March 1863/Charles Gurney/Outgoing Licensee/../../East London Observer +

March 1863/William Baker/Incoming Licensee/../../East London Observer +

1869/Robert Elverly/../../../Post Office Directory

March 1874/Robert ElveryOutgoing Licensee/../../East London Observer

March 1874/Alfred Simpson/Incoming Licensee/../../East London Observer

July 1875/Alfred Simpson/Outgoing Licensee/../../East London Observer

July 1875/Peter Smith/Incoming Licensee/../../East London Observer

July 1879/Peter Smith/Outgoing Licensee/../../East London Observer

July 1879/T E Neatenbaum/Incoming Licensee/../../East London Observer

1881/Edward Betambeau/Licensed Victualler/59/Bethnal Green/Census
1881/Jane A Betambeau/Wife, Licensed Victualler/56/Reading, Berkshire/Census
1881/Edward Betambeau/Son/24/Bethnal Green/Census
1881/Valentine Betambeau/Barman/17/Lambeth/Census
1881/James Hillman/Potman/22/Shoreditch/Census

1882/Edward Retambean/../../../Post Office Directory

1891/William Jas Butcher/../../../Post Office Directory

1895/Herbert Moorhouse/../../../Post Office Directory

1899/Mrs Emma Sorrell/../../../Post Office Directory

1910/Mrs Emma Sorrell/../../../Post Office Directory

1915/Mrs Caroline Annie Moorhouse/../../../Post Office Directory *

1921/Caroline A. Moorhouse/../../../Hughes Directory *

1934/Mrs Caroline Annie Moorhouse/../../../Post Office Directory *

1938/Mrs Caroline Annie Moorhouse/../../../Post Office Directory *

1944/Mrs Caroline Annie Moorhouse/../../../Post Office Directory



+ Provided by Friends of Tower Hamlets Cemetery Park

* Provided By Ewan