Search London wiki and Pub wiki history sites
All public house, restaurants, bars etc closed for the forseeable future from 20th March 2020, but this is a history site.
Crown & Shuttle, 226 Shoreditch High Street, Shoreditch E1
In the 1861 census, it was at 226 Holywell Street. The pub was re-built in its current form in c.1885, and closed in 2001 ** This pub reopened in 2013. *
Shoreditch index
A listing of historical public houses, Taverns, Inns, Beer Houses and Hotels in Shoreditch, East London.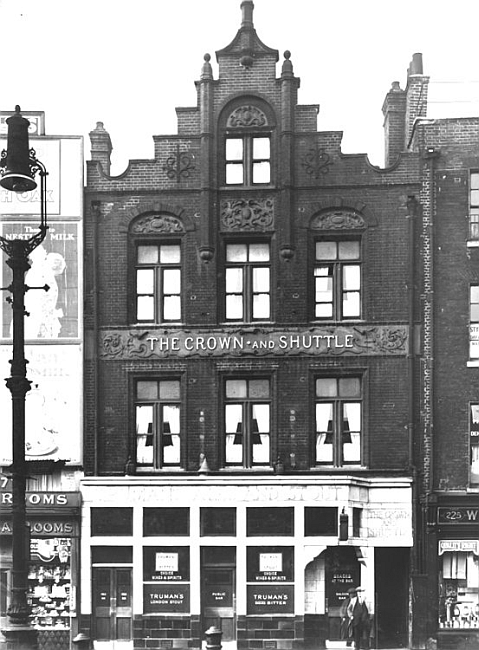 Crown & Shuttle, 226 Shoreditch High Street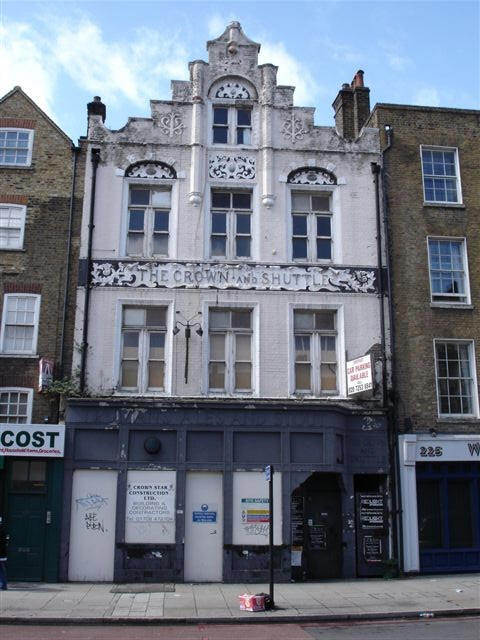 Crown & Shuttle, 226 Shoreditch High Street - in April 2006
Kindly provided by Stephen Harris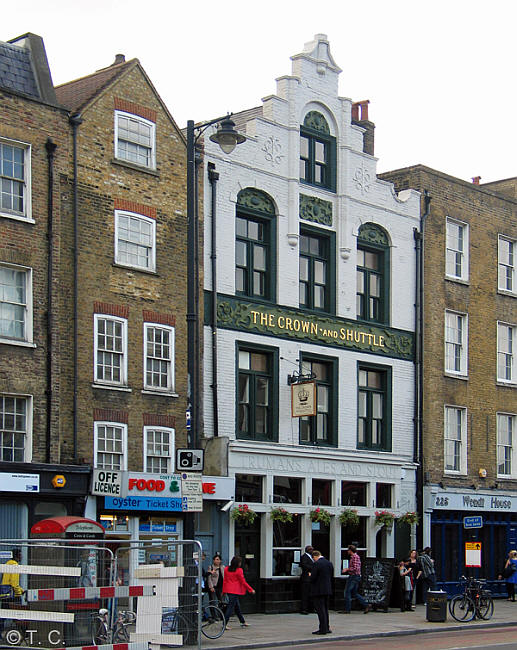 Crown & Shuttle, 226 Shoreditch High Street E1 - in March 2014
Kindly provided by Stephen Tris
Residents at this address
1816/Samuel Turner/../../../Property papers at Hackney Archive **

1825/Mr S Turner/../../../Licensed Victuallers Association

1829/Mr Turner/../../../Proceedings of the Old Bailey **

1830/Samuel Turner/../../../Proceedings of the Old Bailey **

1839/Samuel Turner/../../../Pigotís Directory **

1841/Samuel Turner/../../../Post Office Directory **

1842/Eliz. Young/../../../Robsonís Directory **

1844/John Gibb/../../../Kellyís Directory **

1851/John Gibb/../../../Kellys Directory

1851/John Gibb/Licensed Victualler/43/Middlesex/Census
1851/Jane Gibb/Wife/41/Middlesex/Census
1851/Elizabeth Gibb/Daughter/19/Middlesex/Census
1851/Jane Gibb/Daughter/17/Middlesex/Census
1851/Catherine Gibb/Daughter/16/Middlesex/Census
1851/Phoebe Gibb/Daughter/14/Middlesex/Census
1851/John Gibb/Son/13/Middlesex/Census
1851/Benjamin Gibb/Son/4/Middlesex/Census
1851/Jane Norman/Servant/30/Middlesex/Census

1852/John Gibb/../../../Watkins Directory **

1856/Henry Davis/../../../Post Office Directory

1861/Henry Davis/Victualler/40/Bethnal Green, Middlesex/Census
1861/Jane Davis/Wife/24/Wickham, Kent/Census
1861/Emma Davis/Daughter, Barmaid/21/Mile End Old Town, Middlesex/Census
1861/John Davis/Son/12/Mile End Old Town, Middlesex/Census
1861/Eliza Davis/Sister in Law, Housekeeper/40/Bethnal Green, Middlesex/Census

November 1861/Henry Davis/Outgoing Licensee/../../East London Observer

November 1861/Daniel Dicker and Edward Dicker/Incoming Licensee/../../East London Observer

January 1864/Edward Dicker & William Daniel Dicker/Outgoing Licensee/../../East London Observer +

January 1864/William Daniel Dicker/Incoming Licensee/../../East London Observer +

1869/W D Dicker/../../../Post Office Directory

1871/William D Dicker/Licensed Victualler/37/Lambeth, Surrey/Census
1871/Lucy Dicker/Wife/33/Drayton, Hampshire/Census
1871/Marie Wright/Barmaid/23/Stepney, Middlesex/Census
1871/James Underwood/Potman/17/Pancras, Middlesex/Census
1871/James Cockerton/Potman/33/Mildenhall, Suffolk/Census

1872/W Dicker/../../../Brabnerís Hackney Directory **

1874/W D Dicker/../../../H D Milesí London & Suburban Licensed Victuallers Directory **

1881/William D Dicker/Licensed Victualler/47/Lambeth, Surrey/Census
1881/Lucy Dicker/Wife/44/Farrington, Hampshire/Census
1881/Fanny Dicker/Daughter/19/Norwood, Surrey/Census
1881/Lucy Dicker/Daughter/1 month/Shoreditch, Middlesex/Census
1881/Lucy Annie/Nursemaid/15/Navestock, Essex/Census
1881/Elizabeth Sophia/Domestic Servant/17/Shadwell, Middlesex/Census
1881/Annie Millett/Barmaid/24/Callington, Cornwall/Census
1881/Charles Greenbaum/Potboy/16/Mile End, Middlesex/Census

1882/Wm D Dicker/../../../Post Office Directory

1884/Wm D Dicker/../../../Post Office Directory

The pub was re-built in its current form in c.1885, and closed in 2001. The building is currently lying derelict. My notes tell me that Harry Nicholas Morgan was still the landlord in 1913 **

1891/W D Dicker/../../../Post Office Directory

1891/John Hunt/Publican - Manager/33/Aldeburgh, Suffolk/Census
1891/Fanny Hunt/Wife/29/Shoreditch, London/Census
1891/William Dicker Hunt/Son/5/Shoreditch, London/Census
1891/Daisy Hunt/Daughter/5 months/Shoreditch, London/Census
1891/Mary Ann Hunt/Sister/20/Aldeburgh, Suffolk/Census
1891/Jane Agnes Cornish/Barmaid/27/Camberwell, London/Census
1891/Janet Hurs/Barmaid/23/Kingsland, London/Census
1891/Elizabeth Shoridge/Domestic Servant/17/Stapleford, Essex/Census

1895/Mrs Fanny Hunt/../../../Post Office Directory

1895/William Daniel Portch Dicker / Former Licensed Victualler, Deceased / Died, 14 December 1895 /../../London Gazette, 4 February 1896 **

1895/Mrs Lucy Dicker / Widow /../../London Gazette, 4 February 1896 **

1896/Morgan / Occupier /../../Law Reports, Kings Bench Division 1910 **

1899/Harry Nicholls Morgan/../../../Post Office Directory

1901/Charles W Harradine/Licensed Victuallers Manager/33/Greenwich, Kent/Census
1901/Eleanor Harradine/Wife, Manageres/25/Wales/Census
1901/Cyril C Harradine/Son/1/Shoreditch, London/Census
1901/Annie Perry/Sister in Law, Domestic Servant/Stratford, Essex//Census
1901/Lily Wood/Barmaid/23/Limehouse, London/Census
1901/Florrie Farris/Barmaid/24/Dalston, London/Census
1901/George Knight/Potman/35/Chelmsford, Essex/Census
1901/Gussie Kueness/Nursemaid/14/Bow, London/Census

1910/Harry Nicholls Morgan/../../../Post Office Directory

1911/Harry Nichols Morgan/Licensed Victualler/64/St Marys, Islington/Census
1911/Eliza Jane Morgan/Wife, Assistant/61/Hornsey, Middlesex/Census
1911/Alice Maud Morgan/Daughter, Shorthand Typist/29/Clerkenwell, London/Census
1911/Edith Alice/Barmaid/26/Docking, Norfolk/Census
1911/Alice Elizabeth Hand/Barmaid/22/Leytonstone, Essex/Census
1911/Caroline Steward/Cook, Widow/46/Bethnal Green, London/Census

1915/Harry Nicholls Morgan/../../../Post Office Directory

1921/Benjamin William Twidle/../../../Post Office Directory

1934/Arthur Edward Gould/../../../Kellys Directory

1935/Arthur Edward Gould/../../../P.O. Directory **

1938/Mrs Eliz Mary Gould/../../../Post Office Directory

1988 - 90/A S F Martin esq/../../../Watney Truman publicans list



+ Provided by Friends of Tower Hamlets Cemetery Park

* Provided By Tris

** Provided By Stephen Harris