Search London wiki and Pub wiki history sites
All public house, restaurants, bars etc closed for the forseeable future on 20th March 2020, but this is a history site. But how about the landlords give their tenants a break, no business, then please charge them no rent.
Duke of Clarence, 61 Hackney Road, Shoreditch E2
at 19 Hackney Road in 1839 & 19 Wades Place, Hackney Road in 1851; It has been long-closed and is currently in use as a handbag shop. **
Shoreditch index
A listing of historical public houses, Taverns, Inns, Beer Houses and Hotels in Shoreditch, East London.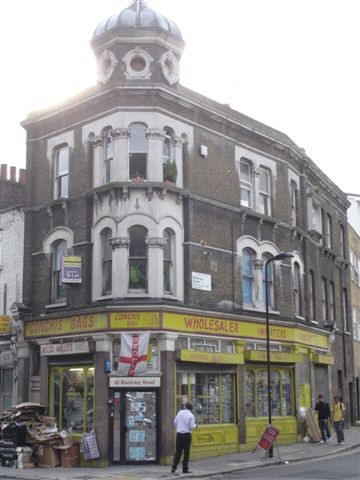 Duke of Clarence, 61 Hackney Road - in September 2006
Kindly provided by Stephen Harris
Residents at this address
1802/William Smith / Public House Keeper/../../../Proceedings of the Old Bailey **
1802/Martha Smith / Wife/../../../Proceedings of the Old Bailey
1802/Sarah Holt / Servant / 17/../../../Proceedings of the Old Bailey

1805/William Smith/../../../Holden's Directory *

1808/William Smith / Public House Keeper/../../../Proceedings of the Old Bailey **

1823/Mr Parry, Duke of Clarence, Hackney road/../../Licensed Victuallers Association

1825/Mr Parry, Duke of Clarence, Hackney road, Shoreditch /../../Licensed Victuallers Association

1827/Henry Parry/Publican/../../../Middlesex Sessions of the Peace, records held at London Metropolitan Archives **

1835/William Simmons/../../../Robsonís Directory **

1839/Alfred Holder/../../../Pigots Directory

1842/Alf. Holder/../../../Robsonís Directory **

1844/Alfred Holder/../../../Thompsons Directory **

1850/Alfred Holder/../../../P.O. Directory **

1851/Alfred Holder/../../../Kellys Directory

1856/Alfred Holder/../../../Post Office Directory

November 1861/James and Onslow James Billingshurst/Outgoing Licensee/../../East London Observer

November 1861/John Billingshurst/Incoming Licensee/../../East London Observer

January 1863/John Billinghurst/Outgoing Licensee/../../Era Newspaper

January 1863/William W Stephens/Incoming Licensee/../../Era Newspaper

1866/W Stephens/../../../P.O. Directory **

1869/W Stephens/../../../Post Office Directory

1869/William Wales Stephens / Licensed Victualler and Wine & Spirit Merchant/../../../London Gazette, 2 April 1869 **

August 1869/John Edward Turnbull, assignee of William Wales Stephens, late occupier/Outgoing Licensee/../../Era

August 1869/Charles Farr Gouldstone/Incoming Licensee/../../Era

1872/W Uffindell/../../../Brabnerís Hackney Directory **

1874/F Goulstone/../../../H D Miles Directory of Licensed Victuallers **

October 1875/John Owen/Outgoing Licensee/../../East London Observer

October 1875/Charles Hillary Lawrence/Incoming Licensee/../../East London Observer

1880/Charles Hillary Lawrence / Licensed Victualler/../../../London Gazette, 15 May 1883 **

1881/Harriet Le Maitre/Licensed Victualler, Widow/70/Lambeth, Surrey/Census
1881/James W Le Maitre/Son/32/Shoreditch, Middlesex/Census
1881/Mary Pearson/Niece/19/Shoreditch, Middlesex/Census
1881/William Clare/Barman/22/Clerkenwell, Middlesex/Census
1881/Joseph Johnson/Potman/24/Bermondsey, Surrey/Census

1882/James Le Maitre/../../../Post Office Directory

1884/James Le Maitre/../../../Post Office Directory

January 1874/Charles Farr Goulstone/Outgoing Licensee/../../East London Observer

January 1874/John Owen/Incoming Licensee/../../East London Observer

1891/Mrs Ann Augusta James/../../../Post Office Directory

1891/James Blumson/Publican/42/Bethnal Green, London/Census
1891/Jane Blumson/Wife/39/Bethnal Green, London/Census
1891/Jane Blumson/Daughter, Barmaid/17/Shoreditch, London/Census
1891/Eliza Blumson/Daughter/14/Shoreditch, London/Census
1891/Ellen Blumson/Daughter/11/Spitalfields, London/Census
1891/Rosena Blumson/Daughter/10/Woodford, Essex/Census
1891/Alice Blumson/Daughter/8/Bethnal Green, London/Census
1891/James Blumson/Son/4/Walthamstow, Essex/Census
1891/Ruby Blumson/Daughter/2/Walthamstow, Essex/Census
1891/__ Blumson/Son/1 month/Shoreditch, London/Census

1895/James Lacey/../../../Post Office Directory

1899/Mrs Esther Cooper/../../../Post Office Directory

1904/Mrs Helena Augusta Colebrook/../../../Post Office Directory **

1906/John W Flood/../../../Morrisí Business Directory of London **

1910/Stanley James Allen/../../../Post Office Directory

1913/Bernard Jeffrey Allen/../../../.. **

1914/Samuel Chas Jacobs/../../../Post Office Directory

1915/Samuel Charles Jacobs/../../../Post Office Directory *

1921/Samuel Chas Jacobs/../../../Post Office Directory

1922/John R T Burgess/../../../Post Office Directory **

1928/Thomas A Andrews/../../../Post Office Directory

1929/Thomas A A Andrews/../../../Post Office Directory **

1934/James Clark/../../../Kellys Directory

1938/Wm Jas Jenkins/../../../Post Office Directory

1944/W J Jenkins & Victor G Court/../../../Post Office Directory



* Provided By Ewan

** Provided By Stephen Harris