Earl of Aberdeen, 112 Bridport Place, Hoxton N1
At 84 Bridport Place in 1856 and earlier. By 1950 the name is shortened to the Aberdeen. It closed around 1963, being a former Charringtons pub.
Shoreditch index
A listing of historical public houses, Taverns, Inns, Beer Houses and Hotels in Shoreditch, East London.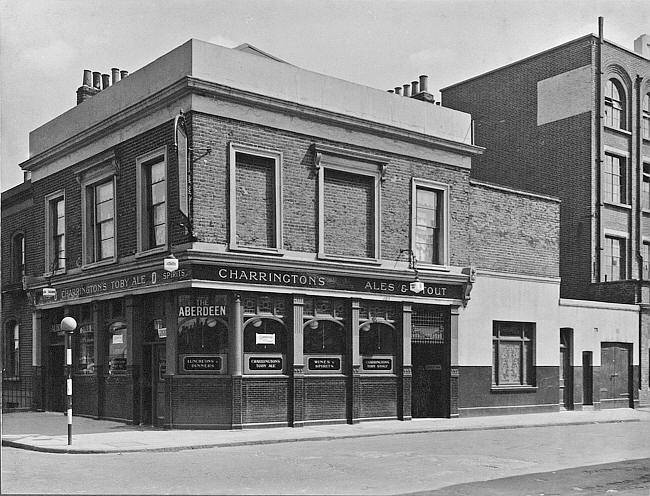 The Aberdeen, 112 Bridport Place, Hoxton N1 at the corner of Penn street - in 1950
Kindly provided by Vincent O'Loughlin
Residents at this address
August 1853/John Henry Case/Outgoing Licensee/../../Era

August 1853/Thomas Smith/Incoming Licensee/../../Era

November 1854/Peter Smith/Outgoing Licensee/../../Era Newspaper

November 1854/William James Lewis/Incoming Licensee/../../Era Newspaper

1856/William James Lewis/../../../Post Office Directory

July 1861/William James Lewis/Outgoing Licensee/../../Era

July 1861/Frank Baker/Incoming Licensee/../../Era

January 1863/Frank Baker/Outgoing Licensee/../../Era Newspaper

January 1863/John Hart/Incoming Licensee/../../Era Newspaper

July 1864/J Hart/Outgoing Licensee/../../Era

July 1864/John Robert Sinclair/Incoming Licensee/../../Era

November 1864/John R Sinclair/Outgoing Licensee/../../East London Observer

November 1864/Alfred Best/Incoming Licensee/../../East London Observer

January 1866/Alf Best/Outgoing Licensee/../../Era

January 1866/Thomas Spreadbury/Incoming Licensee/../../Era

January 1867/T Spreadbury/Outgoing Licensee/../../Shoreditch Observer

January 1867/C J Forster/Incoming Licensee/../../Shoreditch Observer

26th January 1867/Thomas Spreadbury/Outgoing Licensee/../../East London Observer +

26th January 1867/Charles Joseph Forster/Incoming Licensee/../../East London Observer +

1869/Robert Clint Thornton/../../../Post Office Directory

March 1869/ Robert Clint Thornton/Outgoing Licensee/../../Era

March 1869/William James Paperil/Incoming Licensee/../../Era

November 1870/Edward Smith/Outgoing Licensee/../../Era

November 1870/John Smith/Incoming Licensee/../../Era

May 1872/John Smith/ Outgoing Licensee /../../The Era

May 1872/William Lenton/ Incoming Licensee /../../The Era

23rd May 1874/William Lenton/Outgoing Licensee/../../East London Observer +

23rd May 1874/George Brown/Incoming Licensee/../../East London Observer +

September 1877/George Brown/Outgoing Licensee/../../East London Observer

September 1877/Matthew William Ainsley/Incoming Licensee/../../East London Observer

August 1878/Matthew W Ainstey/Outgoing Licensee/../../East London Observer

August 1878/Joseph Wallington/Incoming Licensee/../../East London Observer

May 1879/J Wallington/Outgoing Licensee/../../East London Observer

May 1879/W Hartshorn/Incoming Licensee/../../East London Observer

1881/Ligmon Semon/Head/32/New York/Census
1881/Alerret Semon/Wife/33/Sutton, Cambridge/Census
1881/Daisy Semon/Daughter/3/Marylebone, Middlesex/Census
1881/Clara Dolling/Barmaid/24/Glamorgan, South Wales/Census
1881/Annie Wakeford/Barmaid/28/Farnham, Surrey/Census
1881/Annie Beck/Domestic Servant/17/Walworth, Surrey/Census
1881/Alice Griffin/Domestic Servant/14/Paddington, Middlesex/Census

1882/Legmon Semon/../../../Post Office Directory

1884/Legmon Semon/../../../Post Office Directory

1891/Frederick Sanders/../../../Post Office Directory

1895/George John Blanshard/../../../Post Office Directory

1899/Rehm Brothers/../../../Post Office Directory

1910/Francis James Hunt/../../../Post Office Directory

1915/George Edward Bateman/../../../Post Office Directory

1921/E. Rose/../../../Hughes Directory *

1927/Henry Philipp/../../../Post Office Directory

1934/Charles Delvin/../../../Kellys Directory

1938/Charles Delvin/../../../Post Office Directory *

1940/Mark Fisher/../../../Post Office Directory

1942/Mark Fisher/../../../Post Office Directory

1944/Mark Fisher/../../../Post Office Directory *



+ Provided by Friends of Tower Hamlets Cemetery Park

* Provided By Ewan