Search London wiki and Pub wiki history sites
All public house, restaurants, bars etc closed for the forseeable future from 20th March 2020, but this is a history site.
Earl Of Durham, 32 Murray Street, New North Road, Shoreditch N1
This address was 32 Murray Grove by 1944, but I can't find any pub in this street so assumed demolished. ***
Shoreditch index
A listing of historical public houses, Taverns, Inns, Beer Houses and Hotels in Shoreditch, East London.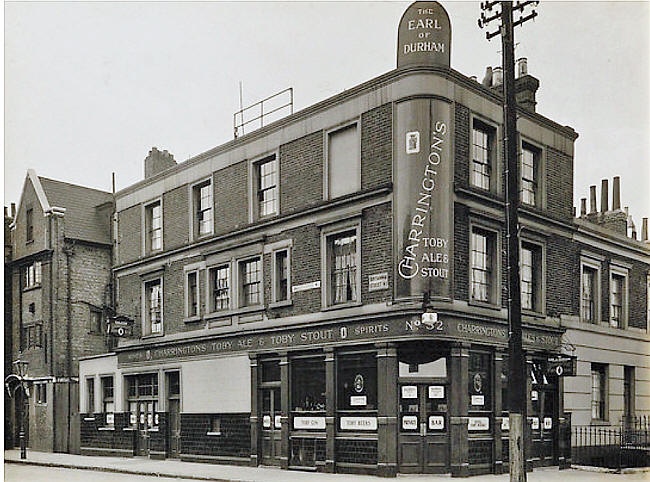 Earl of Durham, 32 Murray Street & Britannia street, Shoreditch
Kindly provided by Charlie Goodwin
Residents at this address
May 1843/Henry Richard Stanton, Victualler marries Louisa Ann Biggers both of Cumberland street, at Islington/../../../Post Office Directory

1848/Henry Richard Stanton/../../../Post Office Directory *

1851/Henry Richard Stanton/../../../Post Office Directory *

1851/Henry R Stanton/Licensed Victualler/39/St Anns, Middlesex/Census
1851/Louisa A Stanton/Wife/34/City, London/Census
1851/Isabell G Stanton/Daughter/6/St Pancras, Middlesex/Census
1851/Louisa C Stanton/Daughter/4/Marylebone, Middlesex/Census
1851/Fanny E Stanton/Daughter/3/Shoreditch, Middlesex/Census
1851/Julia M Stanton/Daughter/1/Shoreditch, Middlesex/Census
1851/Margaret Ambrose/Domestic Servant/21/St Georges East, Middlesex/Census
1851/Thomas Bennett/Servant/22/Marylebone, Middlesex/Census
1851/Barbara Pecine/Servant/17/London/Census

July 1855/Henry Richard Stanton/ Outgoing Licensee /../../Era

August 1855/Henry Richard Stanton, aged 44, dies at 49 York street/../../../St Giles Burials *

July 1855/Robert Thornton/ Incoming Licensee /../../Era

1856/Robert Thornton/../../../Post Office Directory

May 1858/Robert Thornton/Outgoing Licensee/../../East London Observer

May 1858/Frederick Dunnell/Incoming Licensee/../../East London Observer

August 1860/Frederick Dunnell/Outgoing Licensee/../../East London Observer

August 1860/William Clarke/Incoming Licensee/../../East London Observer

17th March 1866/William Clarke/Outgoing Licensee/../../East London Observer +

17th March 1866/Edwin Goodale/Incoming Licensee/../../East London Observer +

4th July 1868/Edwin Goodale/Outgoing Licensee/../../East London Observer +

4th July 1868/William North/Incoming Licensee/../../East London Observer +

1869/William North/../../../Post Office Directory

August 1872/John Moore/Outgoing Licensee/../../Era

August 1872/John Raphael Fenwick/Incoming Licensee/../../Era

August 1874/John Raphael Fenwick/Outgoing Licensee/../../East London Observer

August 1874/Thomas Rowe/Incoming Licensee/../../East London Observer

1881/Thomas Rowe/Licensed Victualler/42/Nr Tenbury, Worcester/Censusy
1881/Martha Rowe/Wife/35/Nr Ludlow, Shropshire/Census
1881/Louisa Cath Rowe/Daughter/11/Bermondsey, Surrey/Census
1881/Albert Thos Rowe/Son/9/Ludlow, Shropshire/Census
1881/Alice A Rowe/Daughter/9/Shoreditch, Middlesex/Census
1881/Edith Maud Rowe/Daughter/6/Shoreditch, Middlesex/Census
1881/Horace V Rowe/Son/4/Shoreditch, Middlesex/Census
1881/John Stanley Rowe/Son/2/Shoreditch, Middlesex/Census
1881/Dasey Eth Rowe/Daughter/9 weeks/Shoreditch, Middlesex/Census
1881/Elizabeth Prince/Housemaid/19/Shoreditch, Middlesex/Census
1881/Eliza Bone/Barmaid/24/Bethnal Green, Middlesex/Census
1881/Maggie Ang May/Barmaid/19/St Johns , Middlesex/Census
1881/Jane Herbert/General Servant/18/London, Middlesex/Census

1882/Thomas Rowe/../../../Post Office Directory

1884/Thomas Rowe/../../../Post Office Directory

1891/Thomas Rowe/../../../Post Office Directory

1895/Thomas Rowe/../../../Post Office Directory

1899/Thomas Rowe/../../../Post Office Directory

1910/William Thomas Elliott/../../../Post Office Directory

1915/George Walter Squire Jeanes/../../../Post Office Directory *

1921/W. G. Short/../../../Hughes Directory *

1934/Ernest A Millard/../../../Kellys Directory

1938/Harry J Yates/../../../Post Office Directory

1944/Harry J Yates/../../../Post Office Directory



+ Provided by Friends of Tower Hamlets Cemetery Park

* Provided By Ewan

*** Provided By Tris