Search London wiki and Pub wiki history sites
All public house, restaurants, bars etc closed for the forseeable future on 20th March 2020, but this is a history site. But how about the landlords give their tenants a break, no business, then please charge them no rent.
Horse & Groom, 28 Curtain Road, Shoreditch EC2
This pub was present by 1803. At 89 Curtain Road in 1862 and earlier **
Shoreditch index
A listing of historical public houses, Taverns, Inns, Beer Houses and Hotels in Shoreditch, East London.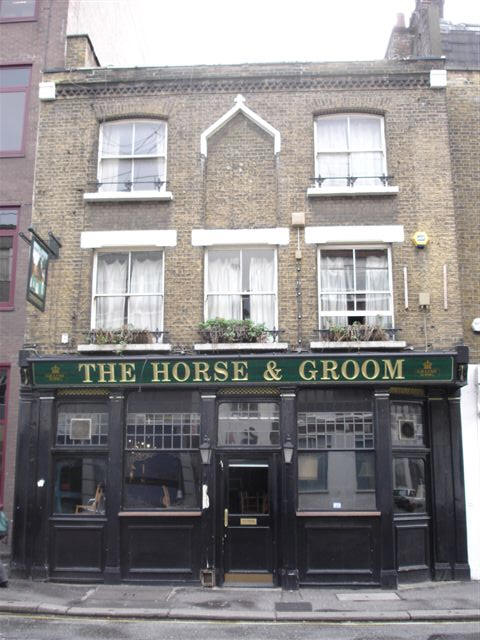 Horse & Groom, 28 Curtain Road - in January 2007
Kindly provided by Stephen Harris
Residents at this address
1805/George Haydon, Horse and Groom, Curtain road, Shoreditch/../../Holdens Directory

1819/Thos. Fletcher/Victualler/../../Sun Fire Office records, held at Guildhall Library **

1824/William Gooch/Victualler/../../Sun Fire Office records, held at Guildhall Library **

1827/Benjamin Osbourne/../../../Proceedings of the Old Bailey **

1827/William Osborne/../../../Licensed Victuallers Association

1829/George Osman/../../../Proceedings of the Old Bailey **

1833-34/Thomas George, Horse & Groom, 89 Curtain road/../../Pigots Directory

1842/William Aylett/../../../Robsonís Directory **

1843/William Aylett/../../../Post Office Directory

1848/Thomas Stevens/../../../Post Office Directory

1850/Thomas Stevens / Public House Keeper /../../Proceedings of the Old Bailey **

1851/Thomas Stevens/../../../Kellys Directory

1851/Thomas Stevens/Licensed Victualler/40/Llandegley, Radnorshire, Wales/Census
1851/Alathea Stevens/Wife/41/Llandegley, Radnorshire, Wales/Census
1851/Thomas Parton Stevens/Son/11/Chelsea, Middlesex/Census
1851/William Parton Stevens/Son/9/Chelsea, Middlesex/Census
1851/Agnes Parton Stevens/Daughter/3/Shoreditch, Middlesex/Census
1851/Louisa Parton Stevens/Daughter/1/Shoreditch, Middlesex/Census
1851/Arthur Parton Stevens/Son/6 months/Shoreditch, Middlesex/Census
1851/Henry Sam Conver/House Servant & Waiter/23/Rotherhithe, Surrey/Census
1851/Louisa Hawsley/House Servant & Waiter/22/Bethnal Green, Middlesex/Census
1851/Harriet Griffiths/Nuirsemaid/21/Holborn, Middlesex/Census

1856/Edward Rayment/../../../Post Office Directory

July 1865/Charles Wright, deceased/Outgoing Licensee/../../East London Observer +

July 1865/Ann Wright, widow & executrix/Incoming Licensee/../../East London Observer +

March 1867/Ann Wright/Outgoing Licensee/../../Era Newspaper

March 1867/Walter Harper/Incoming Licensee/../../Era Newspaper

1869/W Harper/../../../Post Office Directory

September 1870/Walter Harper/Outgoing Licensee/../../Era Newspaper

September 1870/Hannah Wheeler Ramage/Incoming Licensee/../../Era Newspaper

1871/Hannah Ramage/Publican, Widow/39/Whitechapel, Middlesex/Census
1871/A Ramage/../10/../Census
1871/Alice Borgert/Sister, Assistant, Widow/38/Whitechapel, Middlesex/Census
1871/Henry Sharying/Cousin/36/Calne, Wiltshire/Census
1871/Alice French/General Servant/20/Hackney, Middlesex/Census
1871/Wiliam Keogh/Potman/20/Deptford, Kent/Census

1872/Mrs H W Ramage/../../../Brabnerís Hackney Directory **

October 1875/Hannah William Ramage/Outgoing Licensee/../../East London Observer

October 1875/Robert Barrett/Incoming Licensee/../../East London Observer

19th August 1876/Robert Barrett/Outgoing Licensee/../../East London Observer +

19th August 1876/Samuel Bertin/Incoming Licensee/../../East London Observer +

1881/Samuel Bertins/Publican/50/London, Middlesex/Census
1881/Florence Bertins/Daughter/16/London, Middlesex/Census
1881/Nephew Bayee/Nephew/10/Barnet, Hertford/Census
1881/B H Marchant/Housekeeper/27/London, Middlesex/Census
1881/Amy Lambson/Barmaid/19/London, Middlesex/Census
1881/Ann Moody/Cook/27/Reading, Berkshire/Census

1882/Samuel Bertins/../../../Post Office Directory

1884/Samuel Bertin/../../../Post Office Directory

1887/Samuel Bertin & Edmund John Henry Singer / Publicans /../../London Gazette, 18 September 1887 **

1891/William Robert Pearson/../../../Post Office Directory

1891/William R Pearson/Licensed Victualler/58/Shoreditch, London/Census
1891/Mary Pearson/Wife/62/Bethnal Green, London/Census
1891/Mary Elizabeth Pearson/Daughter/28/Shoreditch St Leonards, London/Census
1891/William Thos Pearson/Son, Manager/27/Shoreditch St Leonards, London/Census
1891/Charles J Hudson/Potman/20/../Census

1895/William Robert Pearson/../../../Post Office Directory

1899/Henry Alfred Stow French/../../../Post Office Directory

1901/Henry A French/Licensed Victualler/33/London/Census
1901/Fanny E French/Wife/26/London/Census
1901/Florence S French/Daughter/3/London/Census
1901/Charles W Marchant/Visitor, Gunner RHA/25/Croydon, Surrey/Census
1901/Percy Poulter/Barman/24/Brighton, Sussex/Census

1910/William Brakes/../../../Post Office Directory

1911/William Brakes/Licensed Victualler/46/Hammersmith, Middlesex/Census
1911/Rebeca Brakes/Wife/46/Croydon, Surrey/Census
1911/William Joseph Brakes/Son, Assistant/17/Hoxton, Middlesex/Census
1911/Edith Queenie Brakes/Daughter/14/Hoxton, Middlesex/Census
1911/George Brakes/Son/12/Hoxton, Middlesex/Census
1911/Edwin Brakes/Son/10/Hoxton, Middlesex/Census
1911/Elsie Maud Brakes/Daughter/1/Hoxton, Middlesex/Census

1921/William Brakes/../../../Post Office Directory

1938/Stephen J Rooke/../../../Kellys Directory



+ Provided by Friends of Tower Hamlets Cemetery Park

** Provided By Stephen Harris