Pub history and pub wiki
King of Prussia, 21 Bevenden Street, Shoreditch
The 1856, 1861, 1867, 1870 and 1875 license transfers list the address as at Somerset place. It is long closed as a pub. Until recently it served as a charity shop, but that too is now closed (2007). **
Shoreditch index
A listing of historical public houses, Taverns, Inns, Beer Houses and Hotels in Shoreditch, East London. The Shoreditch, East London Pubs listing uses information from census, Trade Directories and History to add licensees, bar staff, Lodgers and Visitors.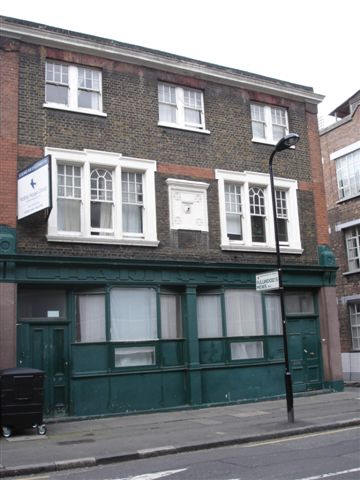 King of Prussia, 21 Bevenden Street - in March 2007
Kindly provided by Stephen Harris
The following entries are in this format:
Year/Publican or other Resident/Relationship to Head and or Occupation/Age/Where Born/Source.
1823/George Pound/victualler/../../Sun Fire Office records held at the London Metropolitan Archives *

1824/George Pound/victualler/../../Sun Fire Office records held at the London Metropolitan Archives *

1825/George Pound/victualler/../../Sun Fire Office records held at the London Metropolitan Archives *

1825/William Smith/victualler/../../Sun Fire Office records held at the London Metropolitan Archives *

1826/William Smith/victualler/../../Sun Fire Office records held at the London Metropolitan Archives *

1833-34/William Smith, King of Prussia, 29 Somerset Place, City road/../../Pigots Directory

1839/James Ratcliff/../../../Pigot's Directory *

1842/T. Smith/../../../Robson's Directory *

1843/Henry Smith/../../../Post Office Directory *

1848/John Arnold/../../../Post Office Directory *

1851/John Arnold/../../../Post Office Directory *

1851/John Arnold/Licensed Victualler/50/Windsor, Berkshire/Census *+
1851/Ann Arnold/Wife/60/Bethnal Green, Middlesex/Census
1851/Emma Arnold/Daughter/21/Hoxton New Town, Middlesex/Census
1851/Elizabeth Arnold/Daughter/19/Hoxton New Town, Middlesex/Census
1851/James Bacon/Waiter/25/Norwich, Norfolk/Census

Ann Arnold (née Pound) was the daughter of George Pound who was the licensee of this pub in the 1820s *+

Elizabeth Arnold (above) was later the wife of Henry Monkton at the Tamworth Arms, 31 Field Road, Fulham, W6 *+

John W Arnold was the son of Ann Pound, at the Prince of Wales, 14 Lillie Road, Fulham, London SW6

1856/John Arnold/../../../Post Office Directory *

March 1856/John Arnold/Outgoing Licensee/../../Morning Advertiser

March 1856/William Seabrook/Incoming Licensee/../../Morning Advertiser

March 1860/William Seabrook/Outgoing Licensee/../../Era

March 1860/Ann Elizabeth Seabrook/Incoming Licensee/../../Era

May 1861/Ann Elizabeth Seabrook/Outgoing Licensee/../../East London Observer

May 1861/Jonathan Keys/Incoming Licensee/../../East London Observer

January 1864/Jonathan Keys/Outgoing Licensee/../../East London Observer +

January 1864/James Cooper/Incoming Licensee/../../East London Observer +

March 1865/James Cooper/Outgoing Licensee/../../East London Observer +

March 1865/Mark Keymer/Incoming Licensee/../../East London Observer +

November 1866/Mark Keymer/Outgoing Licensee/../../Era

November 1866/William Newton/Incoming Licensee/../../Era

March 1867/William Newton/Outgoing Licensee/../../Era Newspaper

March 1867/Edward Stokes/Incoming Licensee/../../Era Newspaper

1869/Edward Stokes/../../../Post Office Directory *

March 1869/Edward Stokes/Outgoing Licensee/../../Era

March 1869/John Clifford Reynolds/Incoming Licensee/../../Era

January 1870/John Clifford/Outgoing Licensee/../../Era

January 1870/Job Swain/Incoming Licensee/../../Era

1871/Job Swain/Publican/70/Gloucester/Census
1871/Susanna Swain/Wife/52/Hampshire/Census
1871/Mary Grist/Barmaid/20/Stockbridge, Hampshire/Census
1871/Mary Terry/Domestic Servant/30/Portsmouth, Hampshire/Census
1871/Frederick Kitchener/Potman/16/Henstead, Hertfordshire/Census

26th October 1872/Job Swain/Outgoing Licensee/../../East London Observer +

26th October 1872/William John Cox/Incoming Licensee/../../East London Observer +

19th July 1873/William John Cox/Outgoing Licensee/../../East London Observer +

19th July 1873/George Jaques/Incoming Licensee/../../East London Observer +

January 1874/George Jacques/Outgoing Licensee/../../East London Observer

January 1874/Annie Forde/Incoming Licensee/../../East London Observer

October 1875/Annie Forde/Outgoing Licensee/../../East London Observer

October 1875/Frederick Schneider/Incoming Licensee/../../East London Observer

August 1879/James North/Outgoing Licensee/../../East London Observer

August 1879/William Shaw/Incoming Licensee/../../East London Observer

1881/George T Plumb/Licensed Victualler/40//Census ***
1881/Annie E Plumb/Wife/43//Census
1881/Annie R D Lea/Daughter in Law/19//Census
1881/Edith A Lea/Daughter in Law/17//Census
1881/Georgiana J Lea/Daughter in Law/15//Census
1881/George Thos Plumb/Son/10//Census
1881/Harriett A Plumb/Daughter/5//Census

1882/Geo Thos Plumb/../../../Post Office Directory

1884/William Chater/../../../Post Office Directory ***

1891/James Briscoe/../../../Post Office Directory

1895/Hy Emberson/../../../Post Office Directory

1899/Hy Emberson/../../../Post Office Directory

1910/George Adams/../../../Post Office Directory

1911/George Adams/Licensed Victualler/39/Hertford, Hertfordshire/Census
1911/Esther Eliza Adams/Wife, Assistant/30/Old Ford, London/Census
1911/Florence Adams/Daughter/34/Hoxton, London/Census
1911/George Allen/Wifes Brother, Labourer/28/Old Ford, London/Census
1911/Ellen Allen/Wifes Sister, Domestic Servant/19/Old Ford, London/Census

1915/George Adams/../../../Post Office Directory

1921/George Adams/../../../Post Office Directory



+ Provided by Friends of Tower Hamlets Cemetery Park

* Provided By Ewan

*+ Provided By Peter Holford

** Provided By Stephen Harris

*** Provided By Jean Buswell

Provided By Kevan
Search for a pub, an address or person
And Last updated on: Wednesday, 03-Jul-2019 01:15:21 BST