Search London wiki and Pub wiki history sites
All public house, restaurants, bars etc closed for the forseeable future from 20th March 2020, but this is a history site.
Kings Arms, 123 Shoreditch High Street, Shoreditch E1
This pub was established by 1763 at least - and was rebuilt in its present form in the late nineteenth century. The Kings Arms, Church street in the 1858 license transfer, and at Church End in the 1860, 1862, 1867 and 1874 transfers. After many years in non-pub use, the premises now house a bar called 'Jam'. **
Shoreditch index
A listing of historical public houses, Taverns, Inns, Beer Houses and Hotels in Shoreditch, East London.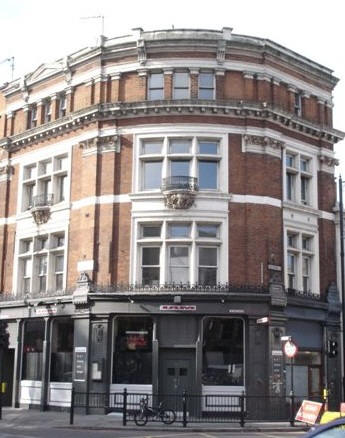 Kings Arms, 123 Shoreditch High Street - in September 2006
Kindly provided by Stephen Harris
Residents at this address
1799/George Martin/../../../Proceedings of the Old Bailey **

1813/William Hammond/Victualler/../../Sun Fire Office records, held at Guildhall Library **

1817/Benjamin Bingley/Victualler/../../Sun Fire Office records, held at Guildhall Library **

1824/Benjamin Bingley/Victualler/../../Sun Fire Office records, held at Guildhall Library **

1828/Benjamin Bingley/Victualler/../../Sun Fire Office records, held at Guildhall Library **

1833/Benjamin Bingley/Victualler/../../Sun Fire Office records, held at Guildhall Library **

1833-34/Benjamin Bingley, Kings Arms, 123 Shoreditch/../../Pigots Directory

1839/James Betts/../../../Pigots Directory

1841/Benjamin Bingley/../../../Post Office Directory **

1842/Benjamin Bingley/../../../P.O. Directory **

1844/Benjamin Bingley/../../../Kellyís Directory **

1851/Benjamin Bingley/../../../Kellys Directory

1852/Benjamin Bingley/../../../Watkins Directory **

January 1853/Benjamin Bingley/Outgoing Licensee/../../Era

January 1853/Thomas Cannell/Incoming Licensee/../../Era

1856/Thomas Cannell/../../../Post Office Directory

May 1858/Thomas Cannell/Outgoing Licensee/../../East London Observer

May 1858/Harriet Harling/Incoming Licensee/../../East London Observer

March 1860/Harriett Hailling/Outgoing Licensee/../../Era

March 1860/William Walker/Incoming Licensee/../../Era

October 1862/William Walker/ Outgoing Licensee /../../East London Observer

October 1862/William Bailey/ Incoming Licensee /../../East London Observer

March 1867/William Bailey/Outgoing Licensee/../../Era Newspaper

March 1867/Frances Scott/Incoming Licensee/../../Era Newspaper

1869/Mrs Frances Scott/../../../Post Office Directory

30th September 1871/Late occupier died/Outgoing Licensee/../../East London Observer +

30th September 1871/John Alfred Bartingdale/Incoming Licensee/../../East London Observer +

1872/J A Bartingale/../../../Brabnerís Hackney Directory **

14th July 1874/Hannah Croucher/Outgoing Licensee/../../East London Observer +

14th July 1874/Frederick Kennard/Incoming Licensee/../../East London Observer +

November 1875/Frederick Kennard/Outgoing Licensee/../../East London Observer

November 1875/C Powell/Incoming Licensee/../../East London Observer

19th August 1876/Charles Powell/Outgoing Licensee/../../East London Observer +

19th August 1876/William Henry Chapman/Incoming Licensee/../../East London Observer +

10th January 1880/Edward George Chapman/Outgoing Licensee/../../East London Observer +

10th January 1880/James William Poole/Incoming Licensee/../../East London Observer +

1881/James W Poole/Licensed Victualler/28/Poplar, Middlesex/Census
1881/Emily A Poole/Wife/38/Queensborough, Kent/Census
1881/Elizabeth Hancock/General Servant/41/Fulbourn, Cambridge/Census
1881/Laurie Watch/Barmaid/19/Chippenham, Wiltshire/Census
1881/Frederick James/Barman/17/Surrey Camberwell/Census

1882/James William Poole/../../../Post Office Directory

1884/James William Poole/../../../Post Office Directory

1891/Arthur William James Wellington/../../../Post Office Directory

1895/Alfred Love & Co/../../../Post Office Directory

1899/Daniel Edward Shingles/../../../Post Office Directory

1910/Frederick Haw/../../../Post Office Directory

1912/Frederick Haw/../../../Post Office Directory **

1913/Frederick Haw/../../../.. **

1915/James Haw/../../../Post Office Directory

1921/Thomas James Godley/../../../Post Office Directory

1934/Mrs Florence Maud Coward/../../../Kellys Directory

1938/Cecil Hugh Broadway & Mark Wm Myers/../../../Post Office Directory



+ Provided by Friends of Tower Hamlets Cemetery Park

** Provided By Stephen Harris