Pub history, pubwiki and London
Old Basing House, 27 Kingsland Road, Shoreditch E2
At 172 Kingsland Road in 1861 and earlier before road renumbering. Since around 2000 it has been named 'On the Rocks' and is now more of a nightclub than strictly speaking a pub. ** This appears to have the same details about 1869 to 1874 as the Castle, Kingsland road, i.e. the 1869 license transfer and the 1874 LV directory list this as the Crown, Kingsland road; as does the 1875 license transfer.
Shoreditch index
A listing of historical public houses, Taverns, Inns, Beer Houses and Hotels in Shoreditch, East London.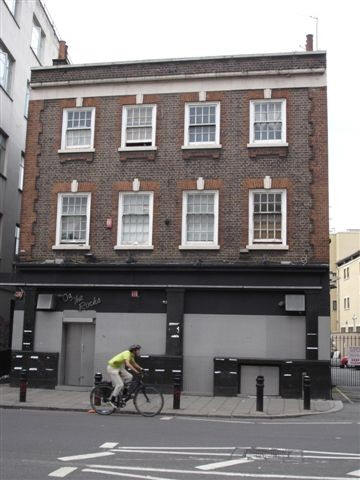 Old Basing House, 27 Kingsland Road - in September 2006
Kindly Provided by Stephen Harris
The following entries are in this format:
Year/Publican or other Resident/Relationship to Head and or Occupation/Age/Where Born/Source.
1772/Thomas Ramsay / Waiter /../../Proceedings of the Old Bailey **

1806/Shadrach Jackson / Ostler /../../Proceedings of the Old Bailey **

1818/Mr Edwards / Public House Keeper /../../Proceedings of the Old Bailey **

1818/George Chappell / Ostler /../../Proceedings of the Old Bailey **

1827/William Palmer/../../../LV Association

1833-34/James Clifford Barker, Basing House, 172 Kingsland Road/../../Pigots Directory

1835/Clifford Parker / Public House Keeper /../../Proceedings of the Old Bailey **
1835/William Starr / Ostler /../../Proceedings of the Old Bailey

1839/Thomas Guest/../../../Pigotís Directory **

1840/Thomas Guest/victualler/../../Sun Fire Office records held at the London Metropolitan Archives *

1841/John Dawton / Ostler /../../Proceedings of the Old Bailey **

1843/Thomas Guest/../../../Post Office Directory

1851/Thomas Guest/../../../Kellyís Directory **

1856/Thomas Guest/../../../Post Office Directory

1861/Thomas Guest/Publican/59/Holborn, Middlesex/Census
1861/Elizabeth Guest/Wife/54/Bethnal Green, Middlesex/Census
1861/Anna Guest/Daughter/22/Shoreditch, Middlesex/Census
1861/Samuel Guest/Son, Leather Cutter Apprentice/20/Shoreditch, Middlesex/Census
1861/William Guest/Son/18/Shoreditch, Middlesex/Census
1861/Henry Guest/Son/16/Shoreditch, Middlesex/Census
1861/Anna Stent/Mother in Law, Widow/86/Shoreditch, Middlesex/Census
1861/Frederick Richardson/Visitor/17/Bethnal Green, Middlesex/Census
1861/Elizabeth Featherston/Barmaid/28/Isle of Sheppey, Kent/Census
1861/Emma Reeves/House Servant/18/Ponders End, Middlesex/Census
1861/John Gaunt/Potman/53/Cripplegate, Middlesex/Census
1861/Joseph Turner/Ostler/56/Hatfield, herts/Census

1862/Thomas Guest/../../../Post Office Directory

August 1863/Thomas Guest, late occupier/Outgoing Licensee/../../East London Observer +

August 1863/Elizabeth Guest, widow/Incoming Licensee/../../East London Observer +

1869/Thomas William Guest/../../../Post Office Directory

March 1869/Thomas William Guest/Outgoing Licensee/../../Era

March 1869/Charles James Baker/Incoming Licensee/../../Era

1872/C J Baker/../../../Brabnerís Hackney Directory **

1874/C J Baker/../../../LV Directory **

1874/Charles James Baker/../../../Post Office Directory **

October 1875/Charles James Baker/Outgoing Licensee/../../East London Observer

October 1875/Hugh Crawford/Incoming Licensee/../../East London Observer

1881/Henry R James/Victualler/27/Shoreditch, Middlesex/Census
1881/Elenor F James/Wife/25/Whitechapel/Census
1881/Peardey St James/Son/3/Shoreditch, Middlesex/Census
1881/Samuel J Sheen/Father In Law, Retired Victualler, Widow/59/Islington/Census
1881/Henry Sheen/Brother In Law, Writer/24/ City Of London, Middlesex/Census
1881/Charles Lovell/Barman/23/Weldon, Bedford/Census
1881/William English/Potman/21/Colchester, Essex/Census
1881/Ann Ashby/General Servant/39/City Of London, Middlesex/Census

1882/William Webster/../../../Post Office Directory

1884/William Webster/../../../Post Office Directory

1886/William John Webster / Public House Keeper /../../Proceedings of the Old Bailey **
1886/Alice Webster / Daughter /../../Proceedings of the Old Bailey

1889/William Webster/../../../Post Office Directory **

1891/William Webster/Licensed Victualler/46/Norfolk/Census *
1891/Sophia Webster/Wife/46/Kent/Census
1891/Bessie Webster/Daughter/16/Poplar/Census
1891/Louie Webster/Daughter/13/Stepney/Census
1891/Nellie Webster/Daughter/10/Surrey/Census
1891/Ada Webster/Daughter/8/Shoreditch/Census

1895/William Webster/../../../Post Office Directory *

1897/Christopher Wakefield/../../../Kellyís Dalston Directory **

1899/Christopher Wakefield/../../../Post Office Directory **

1901/George Wakefield/../../../Post Office Directory **

1910/Ernest William Griffin/../../../Post Office Directory

1915/Albert Thomas Chamberlain/../../../Post Office Directory

1921/Albert Thomas Chamberlain/../../../Post Office Directory

1931/Benj Corre/../../../Post Office Directory **

1934/Jacob Feldman/../../../Kellys Directory

1944/Jas W & Mrs Hilda E High/../../../Post Office Directory



* Provided By Ewan

+ Provided by Friends of Tower Hamlets Cemetery Park

** Provided By Stephen Harris