Old King Johns Head, 90 Mansfield Street, Shoreditch E2
At 49 Mansfield Street in 1851 and earlier; The address is latterly at 90 Whiston Road by 1944. It was rebuilt in its present form after WWII. ** This pub closed and was demolished in 2013. * A new house was opened in February 1965.
Shoreditch index
A listing of historical public houses, Taverns, Inns, Beer Houses and Hotels in Shoreditch, East London.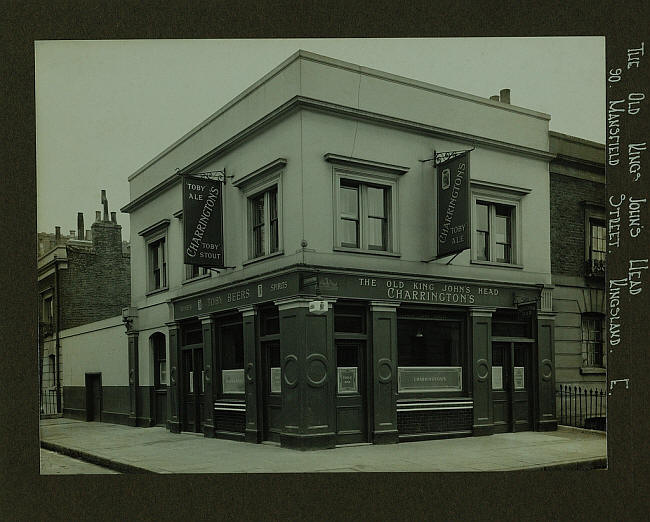 Old King Johns Head, 90 Mansfield Street, Kingsland Road, Shoreditch E2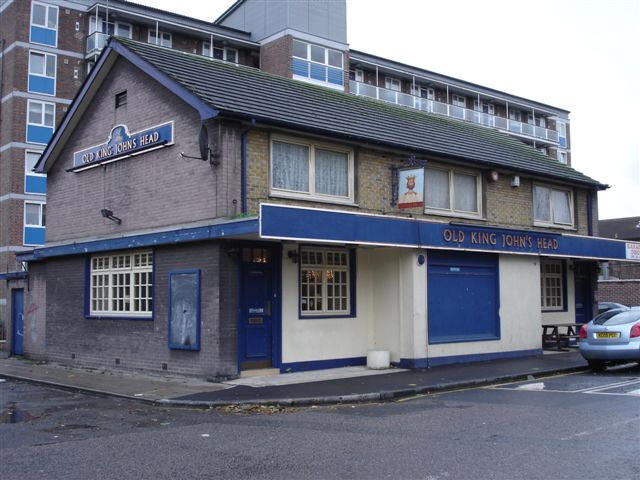 Old King John's Head, 90 Whiston Road, E2 - in November 2006
Kindly provided by Stephen Harris
Residents at this address
1848/Stephen Jordan/../../../Post Office Directory

August 1848/James East/Outgoing Licensee/../../Era Newspaper

August 1848/Frederick Harding Ryan/Incoming Licensee/../../Era Newspaper

January 1849/Frederick George Manning/Outgoing Licensee/../../Era Newspaper

January 1849/Daniel McBeath/Incoming Licensee/../../Era Newspaper

1850/Charles Jas. Shaw/../../../P.O. Directory **

September 1849/Charles Southby Shaw/Outgoing Licensee/../../Era

September 1849/William Holmes/Incoming Licensee/../../Era

1851/William Holmes/../../../Kellys Directory

January 1855/Thomas Boorman/ Outgoing Licensee /../../The Era

January 1855/John Pearson/ Incoming Licensee /../../The Era

1856/John Pearson/../../../Post Office Directory

March 1856/John Pearson/Outgoing Licensee/../../Morning Advertiser

March 1856/Joseph James Stratton/Incoming Licensee/../../Morning Advertiser

2nd July 1860/Joseph James Stratton/Outgoing Licensee/../../East London Observer +

2nd July 1860/Charles Forster/Incoming Licensee/../../East London Observer +

August 1861/Charles Foster/Outgoing Licensee/../../Era

August 1861/William Bennett/Incoming Licensee/../../Era

August 1862/William Bennett/Outgoing Licensee/../../Era

August 1862/John Grove/Incoming Licensee/../../Era

May 1863/John Grove/Outgoing Licensee/../../Era

May 1863/George Drury/Incoming Licensee/../../Era

September 1864/George Drury/Outgoing Licensee/../../Era

September 1864/William Bartwell/Incoming Licensee/../../Era

January 1866/William Burtwell/Outgoing Licensee/../../Era

January 1866/George Taylor/Incoming Licensee/../../Era

May 1866/George Taylor/Outgoing Licensee/../../Era

May 1866/James Smith/Incoming Licensee/../../Era

1869/James Smith/../../../Post Office Directory

August 1869/James Smith/Outgoing Licensee/../../Era

August 1869/Andrew Rogers/Incoming Licensee/../../Era

1872/A Rogers/../../../Brabner's Hackney Directory **

1879/Andrew Rogers/../../../P.O. Directory **

1881/Andrew Rogers/Licensed Victualler/54/Failsworth, Lancashire/Census
1881/Mary Rogers/Wife/55/Salford, Lancashire/Census
1881/Ann Maynard/Barmaid/23/Haggerston/Census
1881/Elizth Hetherington/Servant/44/Cripplegate/Census

1882/Andrew Rogers/../../../Post Office Directory

1884/Andrew Rogers/../../../Post Office Directory

1891/Mrs Mary Rogers/../../../Post Office Directory

1895/Mrs Mary Rogers/../../../Post Office Directory

1899/Walter Brown/../../../Post Office Directory

1910/Walter Sanders/../../../Post Office Directory

1914/Ernest Chas Buckhurst/../../../Post Office Directory

1915/Ernest Chas Buckhurst/../../../Post Office Directory

1921/Ernest Charles Buckhurst/../../../Post Office Directory

1934/Ernest Chas Buckhurst/../../../Kellys Directory

1934 - 1938/F D Griffin/../../../Leasehold

1938/Thomas Frederick Griffin/../../../Post Office Directory

1939 - 1950/S C Perry/../../../Leasehold

1944/Ernest Chas Perry/../../../Post Office Directory

1951 - 1954/Miss F Istead/../../../Leasehold

1955 - 1961/J R Istead/../../../Leasehold

1965/D Harman/../../../Leasehold

1966/A J Hurray/../../../Leasehold



+ Provided by Friends of Tower Hamlets Cemetery Park

* Provided by Tris

** Provided By Stephen Harris