Search London wiki and Pub wiki history sites
All public house, restaurants, bars etc closed for the forseeable future on 20th March 2020, but this is a history site. But how about the landlords give their tenants a break, no business, then please charge them no rent.
Prince Arthur, 49 Brunswick Place, City Road, Shoreditch N1
Shoreditch index
The address is listed as 17 Charles Square in the 1871 census return and the 1856 Directory, and earlier. *
A listing of historical public houses, Taverns, Inns, Beer Houses and Hotels in Shoreditch, East London.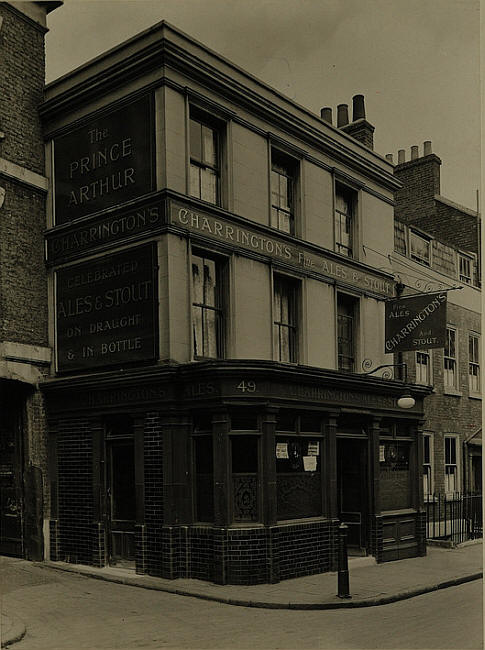 Prince Arthur, 49 Brunswick Place, City Road, Shoreditch N1 - in 1937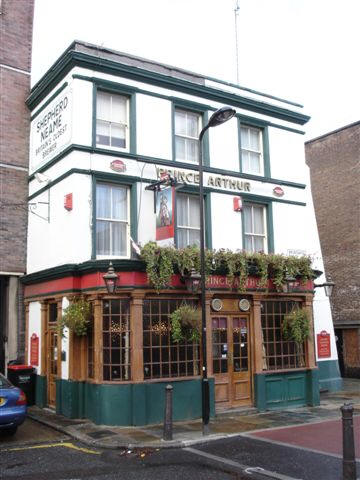 Prince Arthur, 49 Brunswick Place - in November 2006
Kindly provided by Stephen Harris
Residents at this address
1841/Emma Huguenin/Beer Seller/40/Middlesex/Census *
1841/Frederick Huguenin/../10/Middlesex/Census
1841/Emma Huguenin/../7/Middlesex/Census

1851/Anna Huguinin/Beer Seller (Widow)/49/St Lukes/Census *
1851/Frederick Huguinin/Son, Assistant/19/Hackney/Census
1851/Anna Huguinin/Daughter, Assistant/17/Brompton/Census

1856/Samuel Taylor/beer retailer/../../Post Office Directory *

1869/Michael Connor/beer retailer/../../Post Office Directory *

1871/John Knight/Beer Retailer/26/Leiston, Suffolk/Census *
1871/Elizabeth Knight/Wife/27/Yarmouth/Census
1871/Samuel Knight/Son/4/Winchester/Census
1871/Edith Knight/Daughter/2/Marylebone/Census
1871/Lizzie Knight/Daughter/9 months/Hoxton/Census

1881/Alfred Munro/Beer Seller, Widow/24/Walthamstow, Essex/Census

1882/John Harlow/Beer Retailer/../../Post Office Directory

1891/Robert William Bell/beer retailer/../../Post Office Directory *

1891/Robert W. Bell/Beer House Keeper/46/Woolwich/Census *
1891/Mary A. Bell/Wife/45/Bermondsey/Census
1891/Florence M. Bell/Daughter/15/Bermondsey/Census
1891/Alice M. Bell/Daughter/13/Barton, Lincolnshire/Census
1891/Percy T. Bell/Son/7/Barton, Lincolnshire/Census

1895/Albert Edward Wingfield/beer retailer/../../Post Office Directory *

1899/William Jones/beer retailer/../../Post Office Directory *

1910/Edward William Jennings/beer retailer/../../Post Office Directory *

1915/Joseph James Branston/beer retailer/../../Post Office Directory *

1919 - 1947/Barnard/../../../Leasehold

1921/George Thompson Barnard/Beer Retailer/../../Post Office Directory

1934/George Thompson Barnard/beer retailer/../../Post Office Directory *

1938/George Thompson Barnard/Beer Retailer/../../Post Office Directory

1944/George Thompson Barnard/Beer Retailer/../../Post Office Directory

1948 - 1961/D C Barnard/../../../Leasehold



* Provided By Ewan