Search London wiki and Pub wiki history sites
All public house, restaurants, bars etc closed for the forseeable future from 20th March 2020, but this is a history site.
Queen Victoria, 78 Hows Street, Kingsland Road, Shoreditch E2
Shoreditch index
The address is 85 York Street in 1856, prior to street renaming. *
A listing of historical public houses, Taverns, Inns, Beer Houses and Hotels in Shoreditch, East London.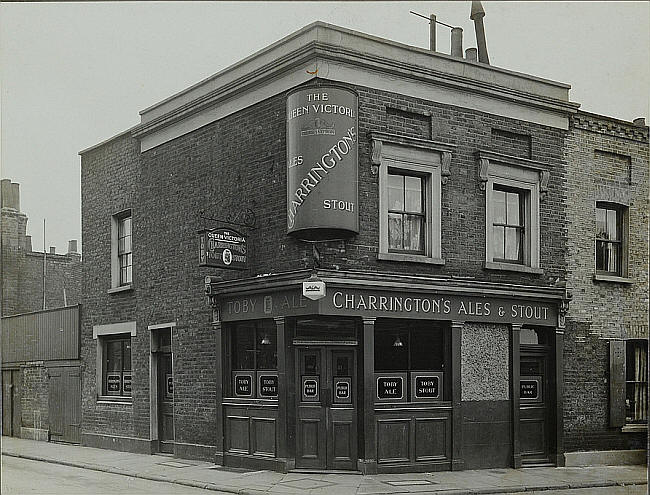 Queen Victoria, 78 Hows Street, Kingsland Road, Shoreditch E2
Residents at this address
1856/John Wilson/beer retailer/../../Post Office Directory *

1869/John Edward Davies/beer retailer/../../Post Office Directory *

1871/John E Davies/Beer Seller/30/Richmond, Surrey/Census ***
1871/Margaret A Davies/Wife/27/Shoreditch/Census
1871/Margaret A Davies/Daughter/4/Shoreditch/Census

1881/John E Davis/Beer Retailer/40/Richmond, Surrey/Census
1881/Margaret A Davis/Wife/35/Shoreditch/Census
1881/Margaret A Davis/Daughter/14/Shoreditch/Census
1881/Maud Davis/Daughter/2/Shoreditch/Census

1882/John Edward Davies/Beer Retailer/../../Post Office Directory

1885/John Edward Davies/../../../P. O. Directory **

1891/John E Davis/Beer Retailer/50/Richmond, Surrey/Census
1891/Margaret A Davis/Wife/57/Shoreditch, London/Census
1891/Margaret A Davis/Daughter, Dressmaker/24/Shoreditch, London/Census
1891/Maude A Davis/Daughter/12/Shoreditch, London/Census

My husband inherited a pewter tankard from his parents, and I am of the opinion that the tankard belonged to one Thomas William Warner (my husband's maternal grandfather), who married Maud Davies. ***

In the 1901 census (ref: RG13/281 f.127 p.15) the address is stated as '78 Hows Street Queen Victoria'. I am also in possession of a death certificate for John Edward Davies dated 12 December 1903 stating that he died on the premises. ***

1895/John Edward Davies/Beer Retailer/../../Post Office Directory

1899/John Edward Davies/beer retailer/../../Post Office Directory *

1901/John E Davies/Beer Retailer (Publican)/60/Richmond, Surrey/Census ***
1901/Margaret A Davies/Wife/57/Haggerston, London/Census
1901/Margaret A Davies/Daughter/33/Haggerston, London/Census

1910/Charles George Malpass/Beer Retailer/../../Post Office Directory

1914/Charles George Malpass/beer retailer/../../Post Office Directory *

1915/Charles George Malpass/beer retailer/../../Post Office Directory *

1921/Charles George Malpass/Beer Retailer/../../Post Office Directory

1931 - 1935/Franklin/../../../Freehold

1934/Thomas William Franklin/Beer Retailer/../../Kellys Directory

1935/Thomas William Franklin/../../../P.O. Directory **

1936 - 1949/Sayers/../../../Freehold

1938/Walter Charles Sayers/beer retailer/../../Post Office Directory *

1942/Walter Charles Sayers/beer retailer/../../Post Office Directory *

1944/Walter Charles Sayers/beer retailer/../../Post Office Directory *

1950 - 1961/Mrs L R Croll/../../../Freehold

Mrs L R Croll is at the Admiral Keppel immediately previous to this

1951/Mrs L R Croll/../../../BT Telephone Directory [SHOrdtch 6197]

1952/Mrs L R Croll/../../../BT Telephone Directory [SHOrdtch 6197]

1954/Mrs L R Croll/../../../BT Telephone Directory [SHOrdtch 6197]

1957/Mrs L R Croll/../../../BT Telephone Directory [SHOrdtch 6197]

1959/Mrs L R Croll/../../../BT Telephone Directory [SHOrdtch 6197]

1962/Mrs L R Croll/../../../BT Telephone Directory [SHOrdtch 6197]



* Provided By Ewan

** Provided By Stephen Harris

*** Provided By Angela Blaydon