Search London wiki and Pub wiki history sites
All public house, restaurants, bars etc closed for the forseeable future from 20th March 2020, but this is a pub history site.
Queens Head, 45 Pitfield Street, Shoreditch N1
I am presuming that the 1811 entry is correct. The address is 20 Pitfield Street in 1856 and earlier, prior to street renumbering. * This pub is now called Charlie Wright's International Bar. I see that Charlie Wright was landlord in 1910. *** Closed 2015, demolished c. 2016. *+

Shoreditch index
A listing of historical public houses, Taverns, Inns, Beer Houses and Hotels in Shoreditch, East London.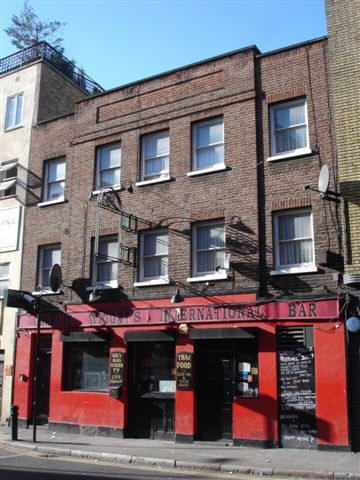 Queen's Head, 45 Pitfield Street, N1 - in November 2007
Kindly provided by Stephen Harris
Residents at this address
1811/William Leverington, the Queen Elizabeth, Pitfield street, Hoxton/../../Holdens Directory

August 1822/William Flint/Victualler, Queens Head, Pitfield Street, Hoxton/../../Access to Archives

1825/Mr James Sandwell/../../../Licensed Victuallers Association

December 1825/James Harding/Victualler, Queens Head, Pitfield Street, Hoxton/../../Access to Archives

1833-34/Edwin Laver, Queens Head, 20 Pitfield street, Hoxton/../../Pigot's Directory

1834/Mr Edwin Laver/../../../Licensed Victuallers Association

1839/John Price/../../../Pigot's Directory *

1841/John Price/../../../Post Office Directory *

1842/John Price/../../../Robsons Directory

1844/John Price/../../../Thompsons Directory ***

1848/John Price/../../../Post Office Directory *

1856/J Price/../../../Post Office Directory

August 1862/John Price/Outgoing Licensee/../../Era

August 1862/John Coe/Incoming Licensee/../../Era

October 1863/John Coe/Outgoing Licensee/../../East London Observer +

October 1863/Joseph Collieu/Incoming Licensee/../../East London Observer +

1865/Mr Joseph Collieu/../../../Licensed Victuallers Association

1869/Joseph Collieu/../../../Post Office Directory

1876/Joseph Collieu/../../../Post Office Directory ***

March 1877/Joseph Collieu/Outgoing Licensee/../../East London Observer

March 1877/Sarah Catharine Collieu/Incoming Licensee/../../East London Observer

1881/Sarah C Collier/Licensed Victualler, Widow/52/Bethnal Green, Middlesex/Census
1881/William Collier/Son, Manager/30/Bethnal Green, Middlesex/Census
1881/Maryann Collier/Daughter, Assistant/28/Bethnal Green, Middlesex/Census
1881/Marther Collier/Daughter, Assistant/20/Spitalfields, Middlesex/Census
1881/Alice Collier/Daughter, Domestic/18/Spitalfields, Middlesex/Census
1881/Selina Collier/Daughter, Machinist/17/Shoreditch, Middlesex/Census
1881/Henrietta Collier/Daughter, Machinist/15/Shoreditch, Middlesex/Census
1881/Jesse Collier/Daughter/14/Shoreditch, Middlesex/Census
1881/Joseph Collier/Son/12/Shoreditch, Middlesex/Census
1881/Emily Collier/Daughter/10/Shoreditch, Middlesex/Census

1882/Mrs Sarah Collien/../../../Post Office Directory

1884/Mrs Sarah Collien/../../../Post Office Directory

1885/Mrs Sarah Collieu/../../../Post Office Directory ***

1891/Joseph Collien/../../../Post Office Directory

1895/Joseph Collien/../../../Post Office Directory

1899/Joseph Collien/../../../Post Office Directory

1910/Charles Frederick Wright/../../../Post Office Directory

1915/Chas Frederick Wright/../../../Post Office Directory

1921/Charles F. Wright/../../../Hughes Directory *

1934/David O'Gorman/../../../Post Office Directory *

1938/Henry Pack/../../../Post Office Directory

1944/Hy Jas Hall/../../../Post Office Directory

1962/A R Graves/../../../BT Telephone Directory ***

1963/A R Graves/../../../BT Telephone Directory ***



+ Provided by Friends of Tower Hamlets Cemetery Park

* Provided By Ewan

*+ Provided By Tris

** Provided By Stephen Harris

*** Provided By Cheryl Graves