Search London wiki and Pub wiki history sites
All public house, restaurants, bars etc closed for the forseeable future on 20th March 2020, but this is a history site. But how about the landlords give their tenants a break, no business, then please charge them no rent.
Spread Eagle, 3 Kingsland Road, Shoreditch E2
This pub was present by 1602. Address formerly 199 Kingsland Road in 1856 & 1 Kingsland Road in 1869 and in 1901 census. It was re-built in its present form some time after 1905 and has recently re-opened (2011) **
Shoreditch index
A listing of historical public houses, Taverns, Inns, Beer Houses and Hotels in Shoreditch, East London.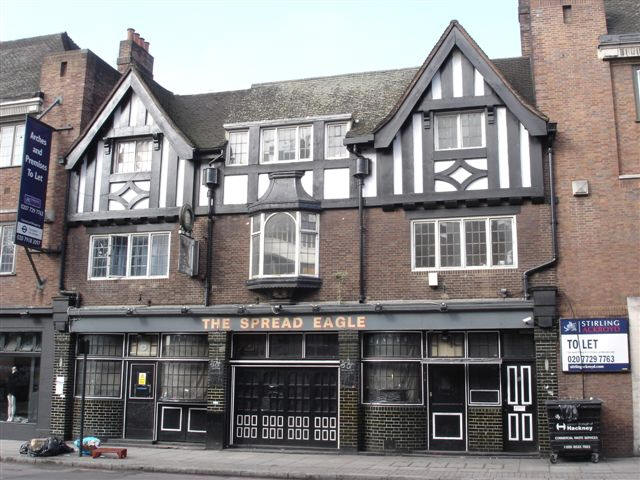 Spread Eagle, 3 Kingsland Road - in November 2006
Kindly provided by Stephen Harris
Residents at this address
1814/James Coleman/../../../Proceedings of the Old Bailey **

1821/William Yarworth/../../../Proceedings of the Old Bailey **

1831/John Henry Lange / Former Licensed Victualler, now Out-of-Business /../../London Gazette, 11 January 1831 **

1831/William Smith, Spread Eagle, Kingsland road, 1 guinea/../../Licensed Victuallers Association

1837/Richard Marks/victualler/../../Sun Fire Office records held at the London Metropolitan Archives *

1839/Robert Taylor/../../../Pigotís Directory **

1847/William John Grove / Outgoing Licensee /../../The Era, Sunday 17 January, 1847 **

1847/William Grove / Incoming Licensee /../../The Era, Sunday 17 January, 1847 **

1847/William Grove / Licensed Victualler, Hackney Carriage Proprietor & Police Officer /../../London Gazette, 23 April 1847 **

1851/William John Grove/../../../Kellyís Directory **

1856/William Grove/../../../Post Office Directory

1860/William Grove/Proprietor/../../Middlesex Sessions of the Peace records, held at London Metropolitan Archives **

1861/William Grove / Licensed Victualler & Cab Proprietor, Bankrupt /../../London Gazette, 1 January 1861 **

January 1864/Thomas Tell/Outgoing Licensee/../../East London Observer +

January 1864/James Rippeth/Incoming Licensee/../../East London Observer +

November 1864/James R Bonny/Outgoing Licensee/../../East London Observer

November 1864/Sarah Keable/Incoming Licensee/../../East London Observer

24th May 1866/Samuel Keable/New Licence granted/../../East London Observer +

1869/Samuel Keable/../../../Post Office Directory

November 1871/Samuel Keable/Outgoing Licensee/../../Era

November 1871/James Frederick Gibbs/Incoming Licensee/../../Era

1872/J F Gibbs/../../../Brabnerís Hackney Directory **

1874/James Frederick Gibbs/../../../Post Office Directory **

1882/James Frederick Gibbs/../../../Post Office Directory

1885/William Fowler / Victualler /../../London Gazette, 5 March 1886 **

1889/August Haitsch/../../../Post Office Directory **

1895/John Johnson/../../../Post Office Directory

1897/Thomas Richard Lynn/../../../Kellyís Dalston Directory **

1899/Edward Allen/../../../Post Office Directory

1901/Mrs Fanny Bartlett/../../../Post Office Directory **

1901/Fanny Bartlett/Licensed Victualler, Widow/28/Bo, London/Census
1901/F B Bartlett/Daughter/2/Shoreditch, London/Census
1901/Jane Bryant/Aunt/62/Hampshire/Census
1901/Walter Gillard/Manager/36/Exeter, Devon/Census
1901/Mary Villers/Barmaid/19/Borough, London/Census
1901/Annie Hands/Barmaid/26/../Census

1910/Henry George Emmett/../../../Post Office Directory

1915/Mrs Amelia Hankins/../../../Post Office Directory *

1921/William John Lewis/../../../Post Office Directory

1931/William John Lewis/../../../Post Office Directory **

1934/Frederick H Bond/../../../Kellys Directory **

1938/Abraham Manuel Levy/../../../Post Office Directory

1944/George Learmouth/../../../Post Office Directory

1971/../Spread Eagle, 3 Kingsland Road, E2/../../Pub Directory

1983/../Spread Eagle, 3 Kingsland Road: Watneys/../../Pub Directory

1988/Gentlerose/../../../Watney T4ruman **

1990/Gentlerose/../../../Watney T4ruman **



* Provided By Ewan

+ Provided by Friends of Tower Hamlets Cemetery Park

** Provided By Stephen Harris