Search London wiki and Pub wiki history sites
All public house, restaurants, bars etc closed for the forseeable future on 20th March 2020, but this is a history site. But how about the landlords give their tenants a break, no business, then please charge them no rent.
Three Crowns, 8 East Road, City Road, Shoreditch N1
The address is 1 The Change, East Road in 1856, and 1 Winkworth Buildings, City Road in 1851 and earlier, prior to street renaming. *
Shoreditch index
A listing of historical public houses, Taverns, Inns, Beer Houses and Hotels in Shoreditch, East London.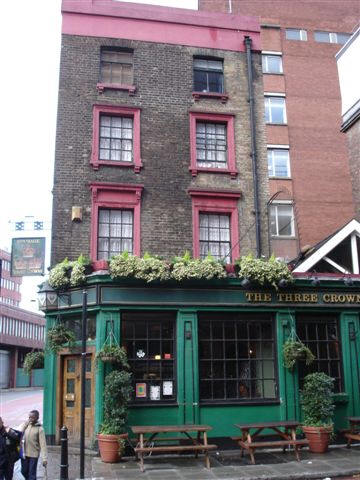 Three Crowns, 8 East Road - in November 2006
Kindly provided by Stephen Harris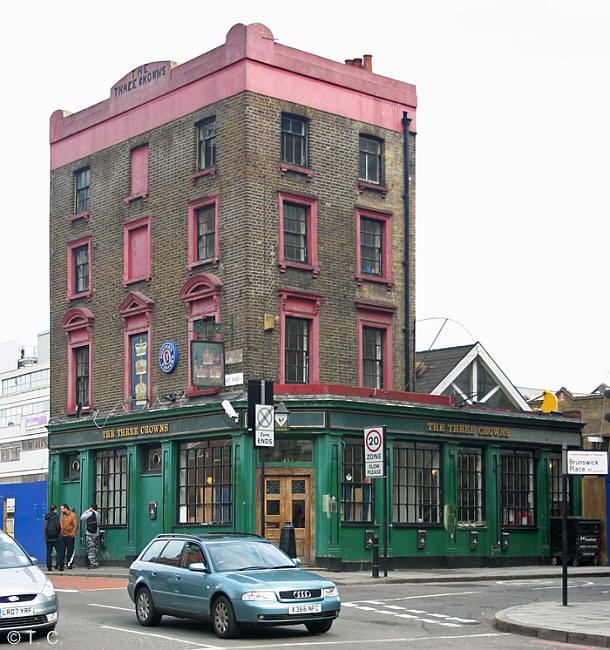 Three Crowns, 8 East Road - in March 2010
Kindly provided by Tris
Residents at this address
1802/William Moore/victualler/../../Sun Fire Office records held at the London Metropolitan Archives *

1825/Mrs Moore, Three Crowns, Craven Buildings, City road/../../Licensed Victuallers Association

1825/Mr Hewitt, Three Crowns, Winkworth place, City road/../../Licensed Victuallers Association

1833/Philip Culham, Three Crowns, 1 Winkworth buildings, City road/../../Pigot's Directory

1839/James Johnson, Three Crowns, 1 Winkworth buildings, City road/../../Pigot's Directory

1842/J Johnson, Three Crowns, 1 Winkworth place, City road/../../Post Office Directory

1851/John Dawson/../../../Post Office Directory *

1856/J Dawson/../../../Post Office Directory

1862/John Dawson, Three Crowns, City road/../../Licensed Victuallers Association

November 1863/Mary Bell Fearn/Outgoing Licensee/../../Era

November 1863/George Edward Strutton/Incoming Licensee/../../Era

1869/George E Stratton/../../../Post Office Directory

22nd January 1876/Edward Salisbury/Outgoing Licensee/../../East London Observer +

22nd January 1876/Silas Phillip Greenslade/Incoming Licensee/../../East London Observer +

1881/John Burke/Manager/26/Boston, America/Census
1881/Maryann Burke/Wife/30/Mile End E/Census
1881/Ambrose Dann/Barman/27/Great Yarmouth/Census
1881/Arthur Smith/Barman/22/Norfolk/Census
1881/Jane Stanley/General Servant/22/Clerkenwell/Census

1882/William Dawson/../../../Post Office Directory

1884/William Dawson/../../../Post Office Directory

1891/Joshua Williams/../../../Post Office Directory

1895/George Bates & Sons/../../../Post Office Directory

1899/James Underwood/../../../Post Office Directory

1910/James Underwood/../../../Post Office Directory

1915/Albert James Knowland/../../../Post Office Directory *

1921/Marian Knowland/../../../Hughes Directory *

1934/Rt Perez/../../../Kellys Directory

1938/Rt Perez/../../../Post Office Directory

1944/Mrs Hilda Maud Pullen/../../../Post Office Directory *



+ Provided by Friends of Tower Hamlets Cemetery Park

* Provided By Ewan