Search London wiki and Pub wiki history sites
All public house, restaurants, bars etc closed for the forseeable future from 20th March 2020, but this is a history site.
Weavers Arms, 26 Drysdale Street, Kingsland Road, Shoreditch N1
Listed at Sanders gardens in 1847 and 1856. This is previously called Edward Street; and the earlier address is at 5 Edward Street, Kingsland Road in 1869 and earlier. By 1881, this is now called Drysdale Street. It is now closed and in commercial use. **
Shoreditch index
A listing of historical public houses, Taverns, Inns, Beer Houses and Hotels in Shoreditch, East London.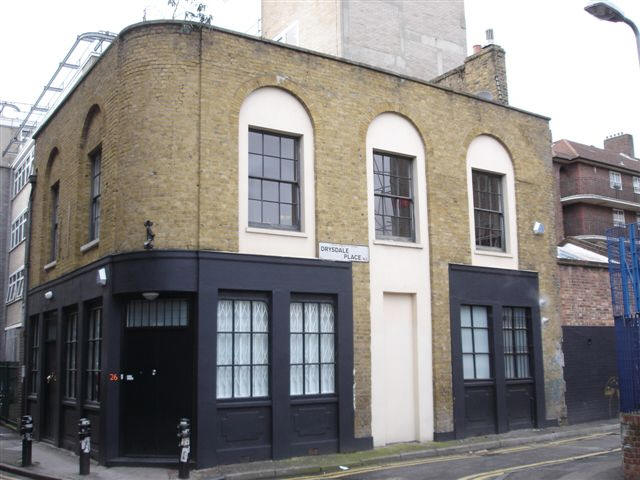 Weavers Arms, 26 Drysdale Street - in March 2007
Kindly provided by Stephen Harris
Residents at this address
5 Edward Street :

1789/James Lane/victualler/../../Sun Fire Office records held at the London Metropolitan Archives *

1828/Samuel Ball/innkeeper/../../Sun Fire Office records held at the London Metropolitan Archives *

1829/Samuel Ball/innkeeper/../../Sun Fire Office records held at the London Metropolitan Archives *

1835/Thomas Bailey/victualler/../../Sun Fire Office records held at the London Metropolitan Archives *

1836/George William Dolling/victualler/../../Sun Fire Office records held at the London Metropolitan Archives

1836/Stephen Andrew Raffe/victualler/../../Sun Fire Office records held at the London Metropolitan Archives *

1837/John Othen/victualler/../../Sun Fire Office records held at the London Metropolitan Archives *

1841/Charles Crowder/Publican/20/Middlesex/Census ***
1841/Sarah Crowder/../20/Middlesex/Census
1841/Charles Crowder/../6 months/Middlesex/Census
1841/Maria Hunt/Female Servant/25/Middlesex/Census
1841/William Baxter/Male Servant/15/../Census
1841/Thomas Brown/Solicitor/25/../Census

1843/Charles Crowder/../../../Kellys Directory

January 1847/G Senior/Outgoing Licensee/../../Era

January 1847/G Weaver/Incoming Licensee/../../Era

1848/Joseph Weaver/../../../Post Office Directory

May 1848/Joseph Weaver/Outgoing Licensee/../../Era

May 1848/James Hunter/Incoming Licensee/../../Era

1851/James Hunter/../../../Kellys Directory

1856/S Smith/../../../Post Office Directory

January 1856/James John Holt, executor of Sophia Smith/Outgoing Licensee/../../Era

January 1856/William Monks/Incoming Licensee/../../Era

1869/William Monks/../../../Post Office Directory

26 Drysdale Street :

1881/George Sanders/Licensed Victualler/39/Shoreditch, Middlesex/Census
1881/Elizabeth Sanders/Wife/37/Shoreditch, Middlesex/Census
1881/Elizabeth Sanders/Daughter/15/Shoreditch, Middlesex/Census
1881/Rose Clark/Domestic Servant/16/Shoreditch, Middlesex/Census

1882/George Sanders/../../../Post Office Directory

1884/Thos W Jennings/../../../Post Office Directory

1891/George Hy Bissell/../../../Post Office Directory

1895/George Hy Bissell/../../../Post Office Directory

1899/Thomas Robinson/../../../Post Office Directory

1906/Ernest Towerzey/../../../Post Office Directory **

December 1906/Ernest Towerzey/Licensed Victualler/../../Baptism **
December 1906/Edith Bunn Towerzey/Wife/../../Baptism
December 1906/Elizabeth Maud Towerzey/Daughter/../../Baptism

1910/Ernest Towerzey/../../../Post Office Directory

1914/John William Howlett/../../../Post Office Directory

1915/Ernest James Gomm/../../../Post Office Directory



* Provided By Ewan

** Provided By Ed Jay

*** Provided By Chrissie Andresen