Search London wiki and Pub wiki history sites
All public house, restaurants, bars etc closed for the forseeable future from 20th March 2020, but this is a history site.
White Horse, 64 Shoreditch High Street, Shoreditch E1
Shoreditch index
There has been a pub on this site since 1462. Listed as the White Horse, Holywell street in the 1850 and 1857 license transfers. It was most recently rebuilt in 1932, and remains open **
A listing of historical public houses, Taverns, Inns, Beer Houses and Hotels in Shoreditch, East London.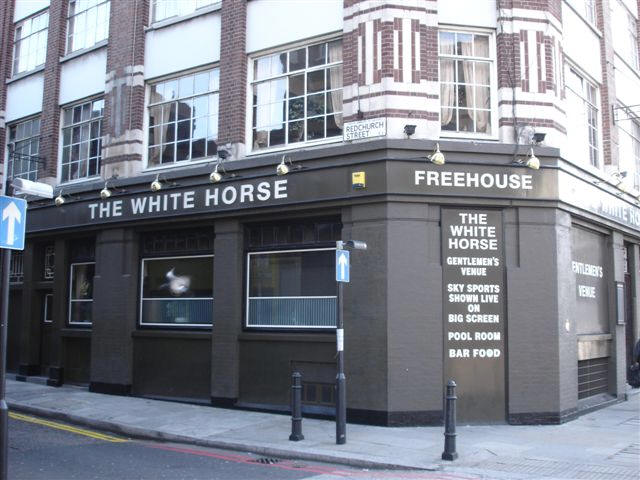 White Horse, 64 Shoreditch High Street - in November 2006
Kindly provided by Stephen Harris
Residents at this address
1814/William Withers, Victualler/../../Sun Fire Office records, held at Guildhall Library **

1839/James Dell/../../../Pigotís Directory **

1841/James Potter/../../../Post Office Directory **

1844/James Potter/../../../Kellyís Directory **

1848/James Potter/../../../Post Office Directory

September 1849/James Potter, deceased/Outgoing Licensee/../../Era

September 1849/Mary Ann Potter, administratrix of James Potter/Incoming Licensee/../../Era

1851/Mrs Mary Ann Potter/../../../Kellys Directory

August 1850/Mary Ann Potter/Outgoing Licensee/../../Era

August 1850/Thomas Browning/Incoming Licensee/../../Era

1852/Thomas Browning/../../../Watkins Directory **

1856/John Andrews/../../../Post Office Directory

September 1857/John Andrews/Outgoing Licensee/../../Era

September 1857/George Henry Nicholls/Incoming Licensee/../../Era

March 1862/George Henry Nicholl/Outgoing Licensee/../../East London Observer

March 1862/Thomas Tranter/Incoming Licensee/../../East London Observer

October 1865/Thomas Tranter/Outgoing Licensee/../../Era Newspaper

October 1865/Francis Brien//Incoming Licensee/../../Era Newspaper

1871/Francis Brien/Licensed Victualler/37/Spitalfields, Middlesex/Census
1871/Matilda Brien/Wife/33/Spitalfields, Middlesex/Census
1871/Matilda Sarah Brien/Daughter/4/Shoreditch, Middlesex/Census
1871/Agnes Mary Brien/Daughter/2/Shoreditch, Middlesex/Census
1871/Edith Helena Brien/Daughter/2 months/Shoreditch, Middlesex/Census
1871/Henry Whiter/Nephew, Barman/17/Bethnal Green, Middlesex/Census
1871/Geo Hy Archer/Barman/20/Shoreditch, Middlesex/Census
1871/Walter Hume/Potman/23/Heney, Essex/Census
1871/William Cracknell/Potman/22/Great Clacton, Essex/Census
1871/Mary Ann Turner/Nurse/21/Bethnal Green, Middlesex/Census
1871/Sarah Ann Rousham/General Servant/21/Walworth, Surrey/Census
1871/Ann simms/General Servant/21/Limehouse, Middlesex/Census

1872/F Brien/../../../Brabnerís Hackney Directory **

1881/Henry Balls/Licensed Victualler/33/Holloway, Middlesex/Census
1881/Harriett Balls/Wife/39/Shoreditch, Middlesex/Census
1881/Maud Balls/Daughter/7/Gravesend, Kent/Census
1881/Adelaide Balls/Daughter/5/Gravesend, Kent/Census
1881/Jane Balls/Mother, Widow/60/Middlesex/Census
1881/Edwrd Lushby/Barman/21/Hackney, Middlesex/Census
1881/John Yellop/Barman/22/Haggerstone, Middlesex/Census
1881/William Edmunds/Barman/53/Hayes, Middlesex/Census
1881/Emma Herds/General Servant/17/Sudbury, Suffolk/Census

1882/Henry J K Balls/../../../Post Office Directory

1884/Charles Bryant/../../../Post Office Directory

1886/Charles Bryant/../../../Business Directory of London **

1891/Charles Brien/../../../Post Office Directory

1891/Charlotte Bonham/Barmaid/30/Surrey/Census
1891/George R Clark/Barman/28/Homerton, London/Census
1891/Henry Chapman/Barman/20/Pullox Hill, Bedfordshire/Census
1891/Margaret Donavan/Domestic Servant/22/Fetter Lane, London/Census
1891/Arthur Ward/Potman/22/Hackney, London/Census

1895/Charles Brien/../../../Post Office Directory

1899/Charles Brien/../../../Post Office Directory

1901/Arthur Ward/Licensed Victualler/36/Stepney, London/Census
1901/Charlotte Ward/Wife/39/Borough, London/Census
1901/James Ward/Brother, Barman/38/Borough, London/Census
1901/Nellie Roberts/Barmaid/21/Old Ford, London/Census
1901/John T Jones/Barman/21/Norwich, Norfolk/Census
1901/John Smith/Barman/22/Hornsey, London/Census

1903/Francis Brien / Licensed Victualler, deceased / Died 8 April 1903 /../../London Gazette, 3 July 1903 **

1910/Brien & Co/../../../Post Office Directory

1912/Brien & Co/../../../Post Office Directory **

1913/Brien & Co/../../../Post Office Directory **

1921/F Brien/../../../Post Office Directory **

1938/William Barker & Son ( D D) Ltd/../../../Post Office Directory

1988/J V Bristow/../../../Watney Truman List

1990/J V Bristow/../../../Watney Truman List



** Provided By Stephen Harris