Search London wiki and Pub wiki history sites
All public house, restaurants, bars etc closed for the forseeable future from 20th March 2020, but this is a history site.
White Swan, 196 Shoreditch High Street, Shoreditch E1
The High Street was earlier listed as Holywell Street, this being the Swan, Holywell Street in the 1866 license transfer. The pub closed before 1983 and was most recently in use as a coffee bar. The premises are now boarded up and at risk of demolition. **
Shoreditch index
A listing of historical public houses, Taverns, Inns, Beer Houses and Hotels in Shoreditch, East London.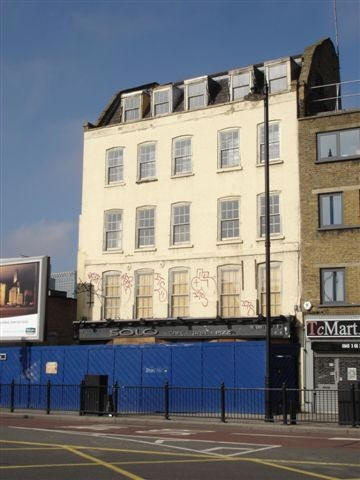 White Swan, 196 High Street, Shoreditch - in September 2006
Kindly provided by Stephen Harris
Residents at this address
1802/Joseph Drew, Victualler/../../Sun Fire Office records, held at Guildhall Library **

1811/J Jenkins, wine & brandy merchant, 196 Shoreditch/../../Holdens Directory

1832/Henry Jenkins/../../../Robsons Directory

1839/Thomas Griffin/../../../Pigotís Directory **

1841/Thomas Griffin & Son./../../../Post Office Directory **

1842/Thomas Griffin/../../../Robsons Directory

1844/Thomas Griffin & Son./../../../Kellyís Directory **

1851/William W Griffin/Victualler/40/Banbury, Oxfordshire/Census
1851/Edward Griffin/Brother, Victualler/26/Bermondsey/Census
1851/Elizabeth Griffin/Sister in Law/29/Shipston on Stour, Warwickshire/Census
1851/Arthur Griffin/Nephew/7 months/Shoreditch/Census
1851/William Walker/Shopman/27/Soho/Census
1851/Charles Heritage/Shopman/28/Northamptonshire/Census
1851/James Washbrook/Porter/25/Warwickshire/Census
1851/William Savage/Boy/18/Hertfordshire/Census
1851/Ann Forrester/House Servant/29/Finsbury/Census
1851/Elizabeth Forrester/House Servant/17/Gloucestershire/Census

September 1860/William Hudson Griffin/Outgoing Licensee/../../Era

September 1860/Edmund Griffin/Incoming Licensee/../../Era

1861/Edmond Griffin/Spirit Merchant/35/Bermondsey, Surrey/Census
1861/Elizabeth Griffin/Wife/39/Thesselstone in Stoke, Worcestershire/Census
1861/Arthur Griffin/Son/10/Shoreditch, Middlesex/Census
1861/Joseph Newbould/Cousin, Barman/36/Berwickshire/Census
1861/William Parker/Barman/20/St Giles, Middlesex/Census
1861/Henry Weydon/Barman/22/St Georges, Surrey/Census
1861/George Bullock/Barman/30/Long Melford, Suffolk/Census

January 1866/Edmund Griffin/Outgoing Licensee/../../Era

January 1866/Joseph Newland/Incoming Licensee/../../Era

1872/Newland & Griffin/../../../Brabnerís Hackney Directory **

1874/Joseph Newland & Arthur Griffin / Licensed Victuallers & Wine and Spirit Merchants /../../London Gazette, 13 November 1874 **

20th May 1876/Jospeh Newland/Outgoing Licensee/../../East London Observer +

20th May 1876/Decimus Newland/Incoming Licensee/../../East London Observer +

1881/Decimus Newland/Licensed Victualler/49/Pillerton, Warwick/Census
1881/Mary Newland/Wife/50/Preston On Stour, Gloucester/Census
1881/Mary Manning/Domestic Servant/22/Bethnal Green, Middlesex/Census
1881/Lucy Cutler/Barmaid/28/Christchurch, Hampshire/Census
1881/William Pateman/Barman/22/London, Middlesex/Census
1881/Charles Trivett/Barman/20/Sherborn, Dorset/Census

1882/Joseph Newland/Wine & Spirit Merchant/../../Post Office Directory

1884/Joseph Newland/../../../Post Office Directory

1886/Joseph Newland/../../../Business Directory of London **

1891/Alfred Allen/Publican/33/Merton, Surrey/Census
1891/Hannah Allen/Wife/29/Shoreditch, London/Census
1891/Frank Brett/Barman/24/Old Ford, Middlesex/Census
1891/Arthur Ayres/Barman/17/East Malling, Kent/Census
1891/Godfrey/Leatham/Barman/20/Liverpool, Lancashire/Census
1891/Elizabeth Palmer/Domestic Servant/21/Devon/Census

1894/Alfred Allen/../../../Black Sheep List **

1899/Frank Walter Rehm/../../../Post Office Directory

1901/Frank Rayner/Public House Manager/30/Tillingham, Essex/Census
1901/May Rayner/Wife/31/Doncaster, Yorkshire/Census
1901/Jane Green/Barmaid/21/Forest gate, Essex/Census
1901/Lizzie Gough/Barmaid/19/Poplar, London/Census
1901/Mary A Thompson/Barmaid/26/Cambridge Heath, London/Census
1901/Walter Cobbett/Barman/24/Ramsgate, Kent/Census
1901/Thos W Hill/Barman/32/Bow, London/Census
1901/Fanny Ford/Barmaid/32/Portsmouth, Hampshire/Census
1901/Edith Leary/General Servant/27/Northampton/Census
1901/John Joyce/Potman/30/../Census

1910/Frank Walter Rehm/../../../Post Office Directory

1911/Horace Jefferies/Licensed Victualler/48/Aylesbury, Buckinghamshire/Census
1911/Laura Jefferies/Wife/48/Scotland/Census
1911/Christina Fichard/Cook, Widow/39/Belfast, Ireland/Census
1911/Edith Lording/Kitchenmaid/28/Lewisham, Kent/Census
1911/Charles Dorham/Barman/31/Shepperton, Middlesex/Census
1911/Frank Godfrey/Barman/24/Faversham, Kent/Census
1911/Maggie May Dye/Barmaid/31/Yarmouth, Norfolk/Census
1911/Gertrude Cooper/Barmaid/26/Poplar/Census
1911/George Swan/Potman/57/Lowickm Northamptonshire/Census
1911/Nellie Franks/Housemaid/24/Ipswich, Suffolk/Census

1912/Frank Walter Rehm/../../../Post Office Directory **

1915/Frank Walter Rehm/../../../Post Office Directory

1921/Frank Walter Rehm/../../../Post Office Directory

1922/Mr F W Rehm/../../../Survey of London **



+ Provided by Friends of Tower Hamlets Cemetery Park

** Provided By Stephen Harris