Search London wiki and Pub wiki history sites
All public house, restaurants, bars etc closed for the forseeable future from 20th March 2020, but this is a history site.
White Bear, 30 Lisle street, Soho WC2
In 1881, known as The Clock House, but in 1862, 1864, 1869 & 1882 it is the White Bear - the same publican; Recently renamed the Ku (2007). ** It was called Polar Bear in the 1960s when my parents ran it, probably, and possibly as late as 2004. ***
Soho index
A listing of historical public houses, Taverns, Inns, Beer Houses and Hotels in Soho - in London.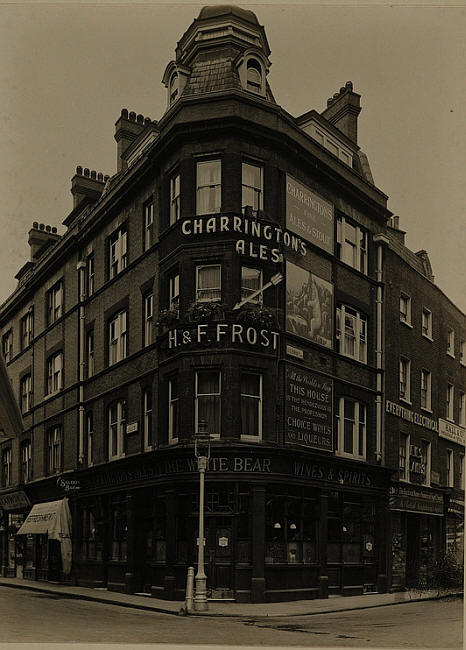 White Bear, 30 Lisle Street, WC2 - H & F Frost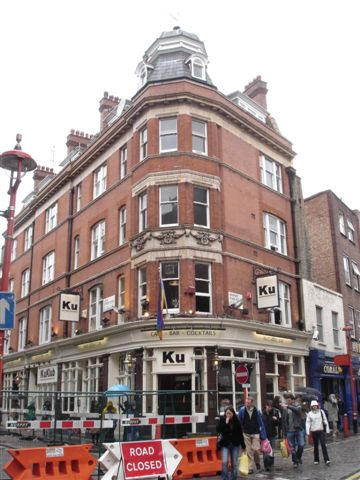 White Bear, 30 Lisle Street, WC2 - in May 2007
Kindly provided by Stephen Harris
Residents at this address
1805/Thomas Briaris, the White Bear, Little Newport street, Soho/../../Holdens Directory

1829/John Cooper, White Bear, 28 Little Newport street, Soho/../../Robsons Directory

1832/John Cooper, White Bear, 28 Little Newport street, Soho/../../Robsons Directory

1833 -34/John Cooper, White Bear, 28 Little Newport street/../../Pigots Directory

1836/George Henry Randolph/White Bear, 28 Little Newport street/../../Pigots Directory

1839/George Henry Randolph/White Bear, 28 Little Newport street/../../Pigots Directory

1841/George Henry Randolph/White Bear, 28 Little Newport street/../../Post Office Directory

1842/William Austin/White Bear, 28 Little Newport street, Soho/../../Robsons Directory

1843/William Austin/White Bear, 28 Little Newport street/../../Post Office Directory

1851/William John Cripps/White Bear, 28 Little Newport street, Long acre/../../Post Office Directory

1856/John Denyer/White Bear, 30 Lisle street, Leicester square & 28 Little Newport street, Long acre/../../Post Office Directory

May 1862/John Thorne/Licensed Victuallers Association, Governor/../../Era

April 1864/Joseph W Abbott/Outgoing Licensee/../../Era Newspaper

April 1864/James Ewington/Incoming Licensee/../../Era Newspaper

1869/William Henry Jennings/White Bear, 30 Lisle street, Leicester square & 28 Little Newport street WC/../../Post Office Directory

1871/Mary Ann Vant/Licensed Victualler, Widow/29/Somers Town, Middlesex/Census
1871/Thomas Raymond/Brother, Assistant/20/Lambeth, Surrey/Census
1871/Emily Raymond/Sister/26/St Lukes, Middlesex/Census
1871/Sarah Cripps/Barmaid/20/Wrotham, Kent/Census

1875/George T Lambert/White Bear, 30 Lisle street, Leicester square & 28 Little Newport street WC/../../Post Office Directory

1881/Robert Shaw/Licensed Victualler/42/Pimlico, Middlesex/Census
1881/Margaret Shaw/Wife/29/Poplar, Middlesex/Census
1881/Eliza Shaw/Daughter/10/St Annes, Middlesex/Census
1881/Lottie Shaw/Daughter/6/St Annes, Middlesex/Census
1881/Edward A Shaw/Son/3/St Annes, Middlesex/Census
1881/Rose Green/Barmaid/21/Walworth, Surrey/Census
1881/Rose Wood/General Servant/18/Poplar, Middlesex/Census
1881/Lottie Wood/General Servant/14/(British Subject), France/Census

1882/Robert Shaw/../../../Post Office Directory

1884/Robert Shaw/../../../Post Office Directory

1888/Robert Shaw/../../../Post Office Directory **

1895/Robert Shaw/../../../Post Office Directory

1899/Robert Shaw/../../../Post Office Directory

1901/Robert Shaw/Licensed Victualler, Widow/62/Westminster, London/Census
1901/Albert Edwd Shaw/Son, Manager/23/St Annes, London/Census
1901/Sarah Tregidgo/Barmaid/26/Limehouse, London/Census
1901/Eliza Goodes/Barmaid/26/Paddington, London/Census
1901/Mary Jane Pidlick/Servant, Widow/45/Maidenhead, Berkshire/Census

1906/Robert Shaw, White Bear, 30 Lisle Street, Leicester Square W & 28 Little Newport Street WC/../../Post Office Directory

1910/Alfred Smith/../../../Post Office Directory

1912 - 1940/F Frost/../../../Leasehold

H & F Frost had their offices at 16 Token House Yard, EC2 (St Margaret Lothbury) ***

1915/H & F Frost Ltd/../../../Post Office Directory

1921/H & F Frost Ltd/../../../Post Office Directory ***

1934/Frank Chas Frost/White Bear, 28 Little Newport street/../../Kellys Directory ***

1938/Frank Chas Frost/White Bear, 28 Little Newport street/../../Post Office Directory ***

1941 - 1944/Copes Taverns Ltd/../../../Leasehold

1944/Cope's Taverns Ltd/../../../Post Office Directory ***

1945 - 1946/A V Elliott & Son/../../../Leasehold

1947/Stocker/../../../Leasehold

1948 - 1953/J W Brennan/../../../Leasehold

1954 - 1955/S H Emerson/../../../Leasehold

1956 - 1959/S A H Emerson/Son/../../Leasehold

1960 - 1963/Mrs H M Emerson/../../../Leasehold

1964/H H Finch Ltd/../../../Leasehold



* Provided By Ewan

** Provided By Stephen Harris

***Provided By Sarah Crick