Search London wiki and Pub wiki history sites
All public house, restaurants, bars etc closed for the forseeable future on 20th March 2020, but this is a history site. But how about the landlords give their tenants a break, no business, then please charge them no rent.
Cranbourn, 1 Upper St Martins Lane, Soho WC2
Soho index
The Cranbourne Tavern and Hotel in 1848, listed as at Great Newport street in 1863 license transfer, and in the 1871 census. Now a night club in 2014. *** Around the early 1970s, this Grade II-listed pub was converted into a 'naval'-themed Watney's Schooner Inn called The Frigate. *
It is now the Long Acre in 2019, a pub serving food. You may wish to check trip advisor comments.
A listing of historical public houses, Taverns, Inns, Beer Houses and Hotels in Soho - in London.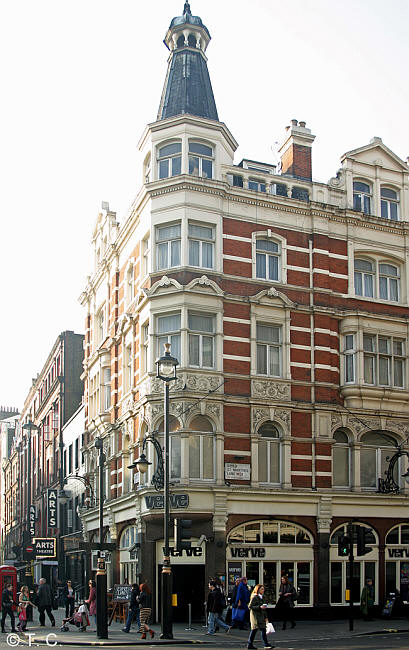 Cranbourn, 1 Upper St Martins Lane, WC2 - in March 2012
Kindly provided by Tris
Residents at this address
December 1848/George Parker/Outgoing Licensee/../../Era Newspaper

December 1848/Matthew Clement Allen/Incoming Licensee/../../Era Newspaper

1851/George P Ager/../../../Kellys Directory

October1853/George Palk Agar/Outgoing Licensee/../../Era

October 1853/Richard Willoughby/Incoming Licensee/../../Era

1856/R Willoughby/../../../Post Office Directory

July 1863/John Keck/Outgoing Licensee/../../Era

July 1863/Inglis Watson/Incoming Licensee/../../Era

1869/Francis S Holloway/../../../Post Office Directory

In 1869, William Garrett Silcock is at the Old Swan, 7 Swan lane, Upper Thames street EC4

April 1870/Mr George Silcock/Incoming Licensee/../../Era

1871/William Garrett Silcock/../../../Post Office Directory

1871/William Garrett Silcock/Victualler/30/London/Census
1871/Caroline Mary Louisa Silcock/Wife/29/Chelsea/Census
1871/Frederick Eldridge/Barman/18/Putney/Census
1871/Arthur Dawson/Barman/18/Baldock, Hertfordshire/Census
1871/Anne Dawsonm/Cook/25/Ireland/Census
1871/George Crideray/Potman/21/Horselydown/Census
1871/Mary Ann Hawkins/Nurse/50/Witham, Essex/Census
1871/W J Quaife/Billiard Marker/17/Middlesex/Census
1871/Marian Sydney Taylor/Visitor, Lady/16/Putney/Census
1871/AnnieTtaylor/Visitor, Lady/18/Twickenham/Census

July 1871/William Silcock/Outgoing Licensee/../../Era Newspaper

July 1871/Richard Noble/Incoming Licensee/../../Era Newspaper

1881/Henry T Vickers/Licensed Victualler/38/Brompton/Census
1881/Ellen Vickers/Wife/22/Buckingham/Census
1881/Henry Thomas Vickers/Son/17 months/Hackney/Census
1881/Albert George Vickers/Son.4 months/St Ann, London, Middlesex/Census
1881/Mary Ann Atwood/Sister In Law/18/St James/Census
1881/Alice Hancock/Servant/25/London, Middlesex/Census
1881/Robert Rudd/Servant/17/Pimlico/Census
1881/Thomas Lugh/Servant/24/Pimlico/Census
1881/William Rushton/Servant/21/Stafford/Census
1881/Sarah Wheffer/Servant/24/Essex/Census

1882/Henry Thomas Vickresse/../../../Post Office Directory

1891/George Haynes/../../../Post Office Directory

1899/Henry Bishop/../../../Post Office Directory

1901/Henry Bishop/Licensed Victualler/51/Ireland/Census
1901/Georgina M E Bishop/Wife/40/London/Census
1901/Vernon Durvall Bishop/Son/19/London/Census
1901/Winifred R Bishop/Daughter/17/London/Census
1901/Charles Adrian Bishop/Son/14/London/Census
1901/Cecil Bishop/Son/10/London/Census
1901/Georgina B Bishop/Daughter/1/London/Census
1901/Alexandria Mentiplay/Visitor/49/Poplar, London/Census
1901/Agnes Cooper/Housemaid/31/Islington, London/Census
1901/Milly Holmes/General Servant/26/Cambridge/Census
1901/Linga A Burtto/Nurse/16/London/Census
1901/John Edwards/Barman/38/Bristol, Gloucester/Census
1901/Hubert Tanner/Barman/24/London/Census
1901/Julius Butler/Barman/21/Soho, London/Census
1901/Alfred J Moore/Barman/26/Honiton, Devon/Census
1901/Henry L Lant/Barman/19/Saxmundham, Suffolk/Census

1910/Henry Bishop/../../../Post Office Directory

1915/Patrick & McGregor Limited/../../../Post Office Directory

1938/Patrick & McGregor Limited/../../../Post Office Directory

1944/Patrick & McGregor Ltd/../../../Post Office Directory


* Provided by Tris

*** Provided By Tris