Pub history and pub wiki
Falcon, 20 Wardour Street, St Annes, Soho
Soho index
An earlier address for this pub was 10 Prince's Street (Prince's Street later became the southern end of Wardour Street). The name of this pub is now changed to Waxy's Little Sister (2013). ** The address is 10 Princes Street prior to 1878, in which year the street was renamed. The address is also sometimes listed as 1 Lisle Street (the intersecting street). ***

A listing of historical public houses, Taverns, Inns, Beer Houses and Hotels in Soho - in London. The Soho, London listing uses information from census, Trade Directories and History to add licensees, bar staff, Lodgers and Visitors.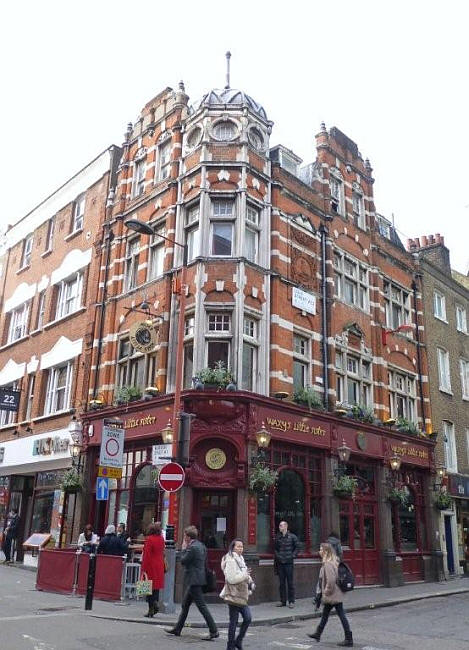 Falcon, 20 Wardour Street, W1 - in April 2013
Kindly provided by Stephen Harris
The following entries are in this format:
Year/Publican or other Resident/Relationship to Head and or Occupation/Age/Where Born/Source.
1839/John Dent/../../../Pigot's Directory ***

1841/John William Dent/../../../Post Office Directory ***

1842/John Dent/../../../Robson's Directory **

December 1846/John Brook Hayes/Outgoing Licensee/../../Era ****

December 1846/James Frederick Tindell/Incoming Licensee/../../Era ****

1848/James Tindell/../../../Post Office Directory ***

1851/James Frederick Tindell/../../../Post Office Directory ***

October1853/William Humphreys/Outgoing Licensee/../../Era ****

October 1853/Charles Bloomfield/Incoming Licensee/../../Era ****

1856/Thomas Sams/../../../Post Office Directory ***

July 1856/Thomas Sams/Outgoing Licensee/../../Era Newspaper ****

July 1856/Henry Massey Arthur/Incoming Licensee/../../Era Newspaper ****

October1863/Stephen Vanier/Outgoing Licensee/../../Morning Advertiser ****

October 1863/John Jarman/Incoming Licensee/../../Morning Advertiser ****

1869/William Henry Bedding/../../../Post Office Directory ***

October 1869/William Henry Bedding/Outgoing Licensee/../../Era ****

October 1869/Charles Beverley/Incoming Licensee/../../Era ****

1880/George Frederick Swan / Public House Keeper /../../Proceedings of the Old Bailey **
1880/Elizabeth Sarah Taylor / Barmaid /../../Proceedings of the Old Bailey

1881/George J Swan/Licensed Victualler/50/Stockham, Norfolk/Census ****
1881/Mary D Swan/Wife/49/Brompton, Middlesex/Census
1881/Louisa J Swan/Daughter, Assistant/20/London City, Middlesex/Census
1881/Fredrick W Swan/Son, Barman/19/Bloomsbury, Middlesex/Census
1881/Amelia A Swan/Daughter/13/Battersea, Surrey/Census
1881/Elizabeth J Taylor/Barmaid/20/Bermondsey, Surrey/Census

1882/John Palmer/../../../Post Office Directory ****

1883/George John White / Manager /../../Proceedings of the Old Bailey **

1884/George John White / Manager /../../Proceedings of the Old Bailey **
1884/Kate White / Barmaid /../../Proceedings of the Old Bailey

1884/Jno Palmer/../../../Post Office Directory ****

1891/John Palmer/../../../Post Office Directory ****

1891/John Palmer/../../../Post Office Directory ****

1895/John Palmer/../../../Post Office Directory ***

1899/Edwin Charles Edmunds/../../../Post Office Directory ****

1901/Charles Edmunds/Publican/40/Farnborough, Hampshire/Census ****
1901/Grace Ethel Edmunds/Wife/32/Brighton, Sussex/Census
1901/Edward Chas Edmunds/Son/2/Soho, London/Census
1901/Arthur J Edmunds/Son/1/Soho, London/Census
1901/Lily Archer/Barmaid/21/London/Census
1901/Maud Sansum/Barmaid/18/Long Melford, Suffolk/Census
1901/Annie Pansey/Nurse/22/Bury St Edmunds, Suffolk/Census

1910/Edwin Charles Edmunds/../../../Post Office Directory ***

1915/Edwin Charles Edmunds/../../../Post Office Directory ****

1921/Edwin C Edmunds/../../../Hughes Directory **

1938/Edward James Russell & John W. Brennan/../../../Post Office Directory ***

1944/H. H. Finch Ltd/../../../Post Office Directory ***

1961/Bryan Mattocks / Public House Manager /../../London Gazette, 25 August 1961 **



** Provided By Stephen Harris

*** Provided By Ewan

**** Provided By Kevan
Search for a pub, an address or person
And Last updated on: Wednesday, 03-Jul-2019 01:15:51 BST