Search London wiki and Pub wiki history sites
All public house, restaurants, bars etc closed for the forseeable future from 20th March 2020, but this is a history site.
Coronet / Fish & Bell, 9 & 10 Soho Street, Soho W1
Soho index
The address is 9 Charles Street prior to 1884, in which year the street was renamed. The address is also later sometimes given as 9 & 10 Soho Street. The Fish & Bell is renamed to the Coronet by 1895. ***
A listing of historical public houses, Taverns, Inns, Beer Houses and Hotels in Soho - in London.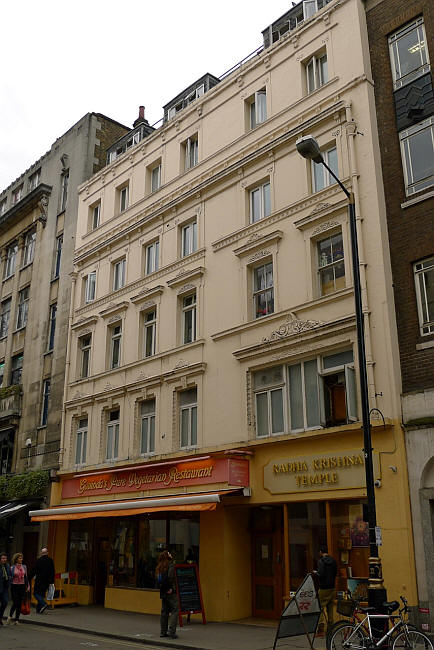 Coronet, 9 Soho Street, Soho - (now a restaurant and Krishna Temple)
Kindly provided by Claire Grey
Residents at this address
1788/Robert Medley/victualler/../../Sun Fire Office records held at the London Metropolitan Archives ***

1798/Richard Bradley/victualler/../../Sun Fire Office records held at the London Metropolitan Archives ***

1811/John Leeson, Fish & Bell, Charles street, Soho/../../Holdens Directory

1826/Alice Mary Preston/victualler/../../Sun Fire Office records held at the London Metropolitan Archives ***

1839/John Lambert West/../../../Pigots Directory

1841/Joseph Powell/../../../Post Office Directory

1848/Joseph Powell/../../../Post Office Directory

June 1848/Joseph Powell/Outgoing Licensee/../../Era

June 1848/Richard Dearie/Incoming Licensee/../../Era

In Westminster Archives, the Fish and Bell is occupied by Richard Dearie in the 1849 Post Office Directory for London. In March 1849, he was also the ratepayer there. ( He was bankrupt by June 14th 1849 and the lease was sold at auction. Richard Dearie is my great x 2 grandfather. *

1851/Henry Slape/../../../Kellys Directory

1856/Thomas Everard/../../../Post Office Directory

1869/Thomas Everard/../../../Post Office Directory

October 1869/Samuel Follett/Outgoing Licensee/../../Era

October 1869/Charles Thomas Knight/Incoming Licensee/../../Era

1871/Charles T Knight/Licensed Victualler/54/London, Middlesex/Census
1871/Charles T Knight/Son/16/Alton, Hampshire/Census
1871/Annie Garratt/Housekeeper/32/Portway, Warwickshire/Census
1871/Charles Hicks/Potman/22/Bures, Suffolk/Census

1881/Jane Lowman/Licensed Victualler, Widow/51/Somerset/Census
1881/William H Lowman/Son, Nautical Profession/29/Hoxton, Middlesex/Census
1881/Frederick J Lowman/Son, Nautical Profession/27/Acton, Middlesex/Census
1881/Jane E Lowman/Daughter (Barmaid)/24/Gosport, Isle of Wight, Hampshire/Census
1881/Florence J Lowman/Daughter (Barmaid)/18/Charlton, Kent/Census
1881/Mary A Forder/General Servant/27/Suffolk/Census

1882/Jane, Mrs Hazlewood Lowman/../../../Post Office Directory

1884/Charles H. Hundertmark/../../../Post Office Directory ***

1891/Charles Henry Hundertmark/../../../Post Office Directory

Coronet :

1895/John Gerrard Freeman/../../../Post Office Directory

1899/Mrs. Harriet Lindley/../../../Post Office Directory

1901/John H Phillips/Licensed Victualler/32/Stratton, Devon/Census
1901/Annie L Phillips/Wife/32/Northumberland Heath, Kent/Census
1901/Sylvia A Phillips/Daughter/8/Fulham, London/Census
1901/Lillian H Phillips/Daughter/6/Camden Town, London/Census
1901/John C H Phillips/Son/3/Streatham, London/Census
1901/Gladys M H Phillips/Daughter/3 months/Soho, London/Census
1901/Lillian M Donald/Barmaid/21/Norwood, London/Census
1901/Edith M Major/Barmaid/20/Marylebone, London/Census
1901/Elizabeth A Burke/Barmaid/25/Deptford, London/Census
1901/Kerren S Morris/Barmaid/20/Fulham, London/Census
1901/Caroline F Holmes/Cook/36/Plaistow, Essex/Census
1901/Frances N Sullivan/Kitchenmaid/31/Camberwell, London/Census
1901/Arthur Simpson/Billiard Marker/37/Marylebone, London/Census
1901/Louisa R Singer/Nurse/25/Belgravia, London/Census
1901/Emma Glover/Housemaid/25/Somerset/Census

1910/Stephen Demaria/../../../Post Office Directory

1915/Stephen Demaria/../../../Post Office Directory

1921/Lewis Jackson/../../../Post Office Directory

1938/Patrick & McGregor Ltd../../../Post Office Directory



* Provided By Claire Grey

*** Provided By Ewan