Search London wiki and Pub wiki history sites
All public house, restaurants, bars etc closed for the forseeable future from 20th March 2020, but this is a history site.
Bloemfontein, 22 Great Chapel Street, Soho W1
Soho index
The name is given as the Crown in the 1848 directory only. * By 1895, this is the Bloemfontein. This is now a cafe/bar, trading as the Star. **
A listing of historical public houses, Taverns, Inns, Beer Houses and Hotels in Soho - in London.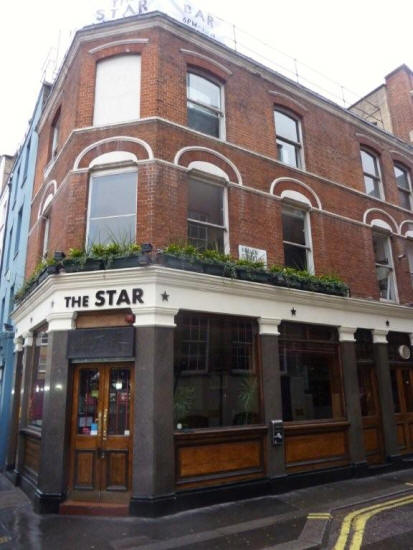 George, 22 Great Chapel Street, W1- in December 2010
Kindly provided by Stephen Harris
Residents at this address
1790/James Rice/victualler/../../Sun Fire Office records held at the London Metropolitan Archives *

1799/John Armstead/victualler/../../Sun Fire Office records held at the London Metropolitan Archives *

1805/William Renn, the George, Great Chapel street, Soho/../../Holdens Directory

1811/Jno Markham, victualler, 22 Great Chapel street, Soho/../../Holdens Directory

1828/Thomas Tranfield/victualler/../../Sun Fire Office records held at the London Metropolitan Archives *

1833-34/William Jno Robson, George, 22 Great Chapel street, Oxford street/../../Pigots Directory

1839/James Watt/../../../Pigots Directory

1848/Abraham Schofield/../../../Post Office Directory *

1851/James Parker/../../../Kellys Directory

1851/Sophy Warner/Licensed Victualler, Widow/55/Berkshire/Census ***
1851/Alfred Warner/Son/17/Middlesex/Census
1851/Sophy Ellier/Mother, Widow/60/Somerset/Census
1851/Susan Whetherby/House Servant/25/../Census
1851/Samuel Wood/Lodger/24/Middlesex/Census

1856/William Walpole/../../../Post Office Directory

1861/Alfred Warner/Licensed Victualler/28/St Dunstans Square/Census ***
1861/Mary A Warner/Wife/29/New hampton/Census
1861/Mary S Warner/Daughter/3/St Anne Westminster/Census
1861/Alfred J Warner/Son/2/St Anne Westminster/Census
1861/Cornelius W Warner/Son/3 months/St Anne Westminster/Census
1861/Ann Nevill/Domestic Servant/25/Rotherhithe/Census
1861/George Bennett/Potman/20/../Census
1861/Elizabeth Bates/Domestic Servant/16/Shadwell/Census

1862/Alfred Warner/../../../Post Office Directory ***

Alfred Warner is at the Reindeer, High Street, Slough by 1863 ***

October 1866/William Winter/ Outgoing Licensee /../../The Era

October 1866/Theophilus Fuchs/ Incoming Licensee /../../The Era

1869/William Wyatt/../../../Post Office Directory

1871/William Wyatt/Licensed Victualler/34/Westonshire R B/Census
1871/Charlotte Wyatt/Wife/25/St James, Middlesex/Census
1871/Charlotte Wyatt/Daughter/8/St Pancras, Middlesex/Census
1871/Frances Wyatt/Daughter/4/St Pancras, Middlesex/Census
1871/William Lyne/Barman/24/Clerkenwell, Middlesex/Census
1871/Eliza Callerd/Cook/18/St James, Middlesex/Census

1873/John Hy Cox, George, 22 Great Chapel street, Soho/../../Post Office Directory

1875/William Neale, George, 22 Great Chapel street, Soho/../../Post Office Directory

1881/Oliver Silvester/Licensed Victualler/33/Chislehurst/Census
1881/Caroline Silvester/Wife/35/Wye, Kent/Census

1882/Oliver Silvester/../../../Post Office Directory

1884/Walter Foster/../../../Post Office Directory *

Bloemfontein :

1895/Henry Vernon/../../../Post Office Directory

1899/John Charles Hatcher/../../../Post Office Directory

1901/John C Hatcher/Licensed Victualler/42/Southampton, Hampshire/Census
1901/Jessie Hatcher/Wife/29/Richmond, Surrey/Census
1901/Edith Cross/Sister in Law/19/Richmond, Surrey/Census
1901/Florence Golding/Niece, Barmaid/23/Southampton, Hampshire/Census
1901/Whitcott Walker/General Servant/22/St Pancras, London/Census



* Provided By Ewan

** Provided By Stephen Harris

*** Provided By Jessie Warner