Search London wiki and Pub wiki history sites
All public house, restaurants, bars etc closed for the forseeable future from 20th March 2020, but this is a history site.
George & Dragon, 38 Wardour Street, Soho W1
This pub originally existed as the George, in Gerrard Street. It was rebuilt as the George & Dragon at its present site. The pub remained open until at least 1966. An earlier form of the address for this pub was 18 Princeís Street (Princeís Street later became the southern end of Wardour Street). ** The address is 18 Princes Street prior to 1878, in which year the street was renamed. Since the construction of Shaftesbury Avenue in the mid-1880s, the address has also been given as 64 Shaftesbury Avenue. *
Soho index
A listing of historical public houses, Taverns, Inns, Beer Houses and Hotels in Soho - in London.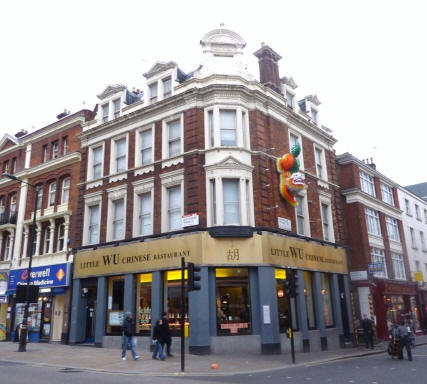 George & Dragon, 38 Wardour Street, W1 - in December 2009
Kindly provided by Stephen Harris
Residents at this address
1839/Thomas Hart/../../../Pigot's Directory *

1841/William Tungay/../../../Post Office Directory *

1842/Wm. Tungay/../../../Robsonís Directory **

1848/William Tungay/../../../Post Office Directory *

1851/William George Tungay/../../../Post Office Directory *

1856/John Watkins/../../../Post Office Directory *

1869/Thomas Wallace/../../../Post Office Directory *

1881/William G Bone/Licensed Victualler/24/Chesham, Buckingham/Census
1881/Sarah M Bone/Wife/28/Soho, Middlesex/Census
1881/William G H Bone/Son/3 months/Soho, Middlesex/Census
1881/Ellen Bone/Sister/15/Chesham, Buckingham/Census

1882/Wm Geo Bone/../../../Post Office Directory

1884/William G Bone/../../../Post Office Directory

1891/Alex Chisholm/../../../Post Office Directory

1895/Francis Wm Mount/../../../Post Office Directory

1899/Huxley & Gill/../../../Post Office Directory

1901/Ted Short/Public House Manager/28/Kennington, London/Census
1901/Ethel Short/Wife, Manageress/23/Sutton, Surrey/Census
1901/Katie Short/Daughter/2 months/St Annes, London/Census
1901/Alice Pool/Barmaid/24/Bedford/Census
1901/Frederick Giles/Billiard Marker/25/New Southgate/Census
1901/Bessie Whiddett/Domestic Servant/23/Canterbury, Kent/Census
1901/Rose Corrie/Nursemaid/16/Canterbury, Kent/Census

1915/Andre Standt/../../../Post Office Directory

1921/Andrew Staudt/../../../Hughes Directory *

1938/Levy & Franks/../../../Post Office Directory

1944/Levy & Franks/../../../Post Office Directory



* Provided By Ewan

** Provided By Stephen Harris