Search London wiki and Pub wiki history sites
All public house, restaurants, bars etc closed for the forseeable future from 20th March 2020, but this is a history site.
Golden Lion, 51 Dean Street, St Annes, Soho W1
Soho index
Rebuilt for William Younger around 1929/30. Known at the time as Ye Golden Lion.
A listing of historical public houses, Taverns, Inns, Beer Houses and Hotels in Soho - in London.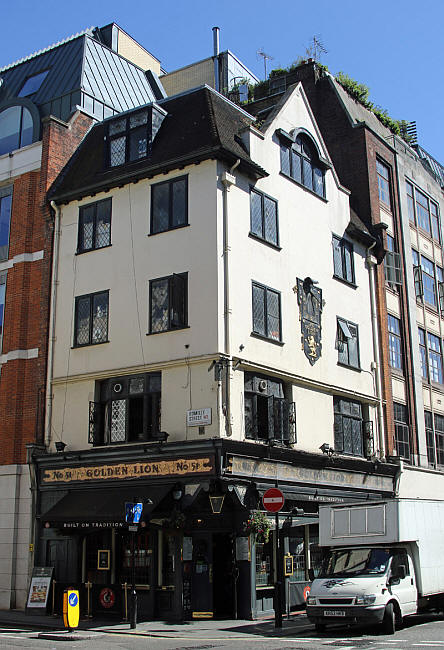 Golden Lion, 51 Dean Street, St Annes, Soho W1 - in August 2016
Kindly provided by Tris
Residents at this address
1829/T Eastwood/../../../Robsons Directory

1832/T Eastwood/../../../Robsons Directory

1836/John Frederick Clements/../../../Pigots Directory

1841/S Joynson/../../../Post Office Directory

1851/John Butler/../../../Post Office Directory *

October1853/Mary Jackson/Outgoing Licensee/../../Era

October 1853/Charles Shurey/Incoming Licensee/../../Era

1856/Charles Shurey/../../../Post Office Directory *

October1863/William Henry Burgoyne/Outgoing Licensee/../../Morning Advertiser

October 1863/John Offard Page/Incoming Licensee/../../Morning Advertiser

1869/William Hen Shoobert/../../../Post Office Directory

1871/Thomas William Turner/Licensed Victualler/43/London/Census
1871/Penelope Turner/Wife/44/Druxton, Devon/Census
1871/Thomas William Turner/Son, Employed at General Post Office/15/Camden Town, London/Census
1871/Jessie Turner/Daughter/14/Camden Town, London/Census
1871/Frederick Turner/Son/11/Camden Town, London/Census
1871/Louisa Turner/Daughter/6/Camden Town, London/Census
1871/Florence Turner/Daughter/2/Camden Town, London/Census
1871/Ellen Dellow/Barmaid/25/Stevenage, Hertfordshire/Census

1881/Jules Ramel/Publican/45/(F), France/Census
1881/Amelia Ramel/Wife/30/Brixton, Surrey/Census
1881/Charles Ramel/Son/3 months/Soho, Middlesex/Census
1881/Annie Frome/Barmaid/24/Hampshire/Census

1891/John Robert Macleod/../../../Post Office Directory

1895/Mrs Emma Jane Minter/../../../Post Office Directory

1899/Jacobus Adriaanus Scalongne/../../../Post Office Directory

1901/Charles S Andrews/Licensed Victualler/45/Castle Cary, Somerset/Census
1901/Leslie S Andrews/Wife/29/Paddington, London/Census
1901/Leslie Maud Andrews/Daughter/5/Islington, London/Census
1901/Annie Ellis/Barmaid/24/South Norwood/Census
1901/Percy B Crisp/Barman/29/Milton Ernest, Bedfordshire/Census
1901/Fred Crowsdall/Boarder, Tailor/21/Preston, Lancashire/Census

1910/Herbert Lyon Clanchy/../../../Post Office Directory

1915/Max Rosenz/../../../Post Office Directory *

1921/Miss Dorothy Moore/../../../Post Office Directory

1938/Wilfred Goodridge/../../../Post Office Directory

1944/Geo Jefcoate/../../../Post Office Directory

My dad and mum were resident managers in 1940, maybe earlier at the King William IV in Poplar. Their names were Edward John Mair and Alice Edith Mair (Know as Ted and Alice); the card I still have says Ted and Alice welcome you. I lived there with them until my mum died in 1954. Dad and I moved to the Golden Lion in Dean Street, Soho W1. any historical facts (apart from the ghost we had there) would be of great interest. ***

We were always told it dated back to late 1500's. Dad and I moved here in 1954, after the death of mum, and were there until about 1961/ 1962. I was married from there and sang in some nightclubs in the area, I was the most protected teenager in Soho though. Dad looked a lot like Churchill so he was known as the 'King of Soho' at that time. The ghost part really was there. it seems according to the history of the place that if you were single you were fine, but several managers/owners back the story goes that the husband pushed the wife down the stairs from the lounge bar area to the public bar area, she broke her neck and died, and he in remorse hung himself over the same spot. I / we used to get furniture moved and cups put away and all sorts of goings on.

Dad died in 1962 and that was just a short time after he retired from the Lion. I know he would be rolling in his grave if he could see what they have done to the Lion, and the William. He was a very traditional publican. ***




* Provided By Ewan

** Provided By Tris

*** Provided By Barbara Morrison