Search London wiki and Pub wiki history sites
All public house, restaurants, bars etc closed for the forseeable future from 20th March 2020, but this is a history site.
Cambridge, 93 Charing Cross Road, Soho WC2
This pub was established as the Kings Arms in 1744. It was rebuilt in 1887 when Charing Cross Road was constructed and Moor Street disappeared. The address became 93 Charing Cross Road. The pub was renamed the Cambridge in 1891. **
There are clearly two separate Kings Arms in Soho in 1871 - this one was in Moor street; the other later becomes the Helvetia.
Soho index
A listing of historical public houses, Taverns, Inns, Beer Houses and Hotels in Soho - in London.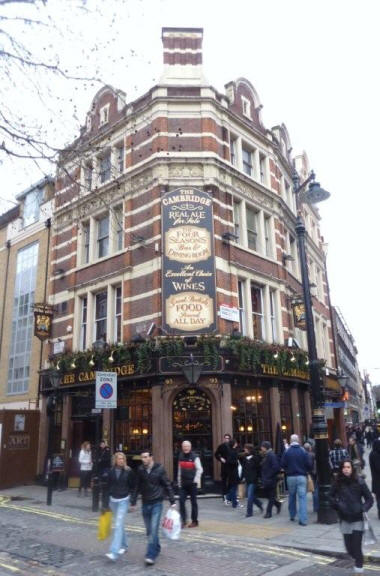 Cambridge, 93 Charing Cross Road, WC2 - in December 2009
Kindly provided by Stephen Harris
Residents at this address
1811/Thomas Pickering, Kings Arms, Moor street, Seven Dials/../../Holdens Directory

1829/E Vale, Kings Arms, 18 Moor street, Soho/../../Robsons Directory

1832/Edward Cale, Kings Arms, 18 Moor street, Soho/../../Robsons Directory

1833-34/Edward Cale, Kings Arms, Moor street, Soho/../../Pigots Directory

1841/Edw Belk, Kings Arms, 18 Moor street, Soho/../../Post Office Directory

1842/William Hodges, Kings Arms, 18 Moor street, Soho/../../Robsons Directory

1843/Edward Belk, Kings Arms, 18 Moor street, Soho/../../Kellys Directory

1848/George Chaffey, Kings Arms, 17 & 18 Moor street, Soho/../../Post Office Directory

1856/G F Chaffey, Kings Arms, 17 & 18 Moor street, Soho/../../Post Office Directory

1856/J J Smith, Kings Arms, 18 Moor street, Soho/../../Post Office Directory

1871/James J Smith/Victualler/49/Chelsea, Middlesex/Census
1871/Annie Smith/Wife/38/Ramsgate, Kent/Census
1871/William parker/Barman/19/Soho, London/Census
1871/Henry Frost/Barman/21/Rayleigh, Essex/Census
1871/Mary Barry/Cook/50/Cork/Census

1881/W Wheatley/Licensed Victualler/46/Colmworth, Bedford/Census
1881/Emily Wheatley/Wife/29/Kingsland, Middlesex/Census
1881/Beatrice Wheatley/Daughter/2/St Anne Soho/Census
1881/Ann Collett/General Servant, Widow/40/Steyne Park Brackley/Census

1882/James Johnson Smith/../../../Post Office Directory

1886/John Bailey, Kings Arms, 18 Moor street & Crown street/../../Post Office Directory

Cambridge, 93 Charing Cross Road :

1891/John George Cathie/../../../Post Office Directory **

1895/John George Cathie/../../../Post Office Directory **

1899/George Alexander Greenwood/../../../Post Office Directory **

1901/Arthur Wild/Manager Public House/24/Essex/Census
1901/Annie Wild/Wife, Manageress/24/Balham, London/Census
1901/Doris Wild/Daughter/2/Paddington, London/Census
1901/Ethel Walsh/Nurse/19/Stoke Newington, London/Census
1901/Lillie Ward/Cook/28/Camden Town, London/Census
1901/Florence Wilson/Barmaid/25/Wellingborough/Census
1901/Nellie Hawkins/Barmaid/19/Yeovil, Somerset/Census
1901/Jack Dunn/Barman/24/Suffolk/Census

1910/Richard Baker/../../../Post Office Directory **

1915/Cribbin Bros/../../../Post Office Directory **

Patrick Cribbin, of the Cambridge Inn, 93 Charing Cross Road, London, Middlesex. Licensed Victualler. Died 22-11-1915[34]. £248 9s 3d. To Lawrence Edward Cribbin./Probate *

1921/John William Cambden/../../../Post Office Directory **

1921/Florence & Ethel Cambden/../../../Hughes Directory

1938/J G Mooney & Co Ltd/../../../Post Office Directory **

1944/J G Mooney & Co Ltd/../../../Post Office Directory **



* Provided By John Carnaby

** Provided By Stephen Harris