Leicester, 1 New Coventry Street, Soho W1
Soho index
The Leicester was erected in 1886 and demolished in 1927; prior to this it was a wine & spirit merchants at this address in 1882; and in 1869 this address was the Cremorne Branch restaurant.
A listing of historical public houses, Taverns, Inns, Beer Houses and Hotels in Soho - in London.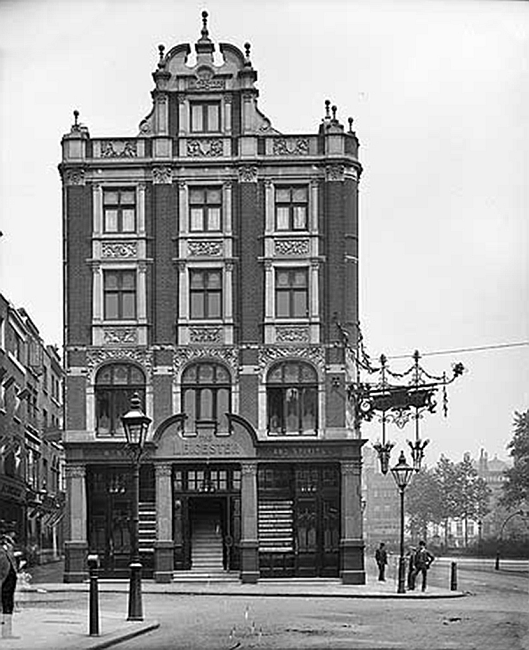 Leicester, 1 New Coventry Street, St Annes, Soho - in May 1895
The photo is taken looking across Wardour Street; Sidney Place is the narrow street on the left.
New Coventry street on the right with Leicester Square in the distance.
Kindly provided by Vincent Oloughlin
Residents at this address
1871/George Cooper/Restaurant Keeper/25/Bridgnorth, Shropshire/Census
1871/Kate Louisa Hopton/Barmaid/20/St Pancras, Middlesex/Census
1871/Dora Roberts/Barmaid/20/Aberdare, North Wales/Census
1871/Minnie Evans/Barmaid/18/City road, London/Census
1871/Alfred James/Waiter/22/Walton on the Naze/Census
1871/Henry Gopble/Porter/17/Bristol/Census

1881/Frederick Thompson/Licensed Victualler/45/Bermondsey, Surrey/Census
1881/Arthur Bisnton/Manager/23/Ashwellthorpe, Norfolk/Census
1881/Henry Price/Barman/27/Bloomsbury, Middlesex/Census
1881/Henery Sampson/Barman/19/Hoxton, Middlesex/Census
1881/George Furnier/Barman/21/Hackney, Middlesex/Census
1881/Thomas Moore/Barman/22/Somerset/Census
1881/William Palmorta/Barman/17/Aldham, Essex/Census
1881/Richard Smith/Barman/18/Lambeth, Surrey/Census
1881/Phoebe Staples/Housekeeper/32/Richmond, Surrey/Census

1882/Frederick Thompson/Wine & Spirit Retailer/../../Post Office Directory

1895/Charles Best/../../../Post Office Directory

1899/Charles Best/../../../Post Office Directory

1901/George Smith/Licensed Victualler/46/Winston, Darlington/Census
1901/Alice Smith/Wife/34/Victoria Park, London/Census
1901/George Stanley Smith/Son/3/New Coventry Street, London/Census
1901/Dorothy Alice Smith/Daughter/2/New Coventry Street, London/Census
1901/Louisa Scale/Housemaid/22/Kingsland Road, London/Census
1901/Jessy Wenn/Cook/32/Bedford Street, Covent Garden/Census
1901/Ellen Gee/Nurse/27/Hackney, London/Census
1901/Mabel Vernon/Barmaid/23/Boston, USA/Census
1901/G J E Douglas/Barmaid/18/Lower Clapton, London/Census
1901/Harriet Scott/Barmaid/21/Brixton, London/Census
1901/Eliza Boxall/Barmaid/20/Bransted, Surrey/Census
1901/Ada Greenstone/Barmaid/20/Nunhead Green/Census
1901/Jas Bartholomew/Barman/19/Birmingham, Warwickshire/Census
1901/Mark Fletcher/Barman/19/Toronto, Canada/Census
1901/A Cook/Barmaid/20/Plumstead/Census
1901/Kitty Jacques/Barmaid/19/New Cross, London/Census
1901/Edith Mary Phillips/Barmaid/18/Newcastle/Census
1901/Sydney Alfred Green/Cellerman/23/Sherborne, Dorset/Census

1906/Best & Co/../../../Post Office Directory

1910/Best & Co/../../../Post Office Directory

1911/George Smith/Manager/56/Winston, Durham/Census
1911/Alice Smith/Wife, Assistant/42/Victoria Park, London/Census
1911/Arthur Mason/Assistant/20/East Mersea, Essex/Census
1911/Henry Storey/Assistant/18/Kingsland, London/Census
1911/M Jordan/Assistant/18/Everton, Liverpool/Census
1911/Bessie Brignall/Assistant/19/Clare, Suffolk/Census
1911/Gertrude Shaw/Assistant/22/Blackburn/Census
1911/Linda Prestongie/Assistant/19/Walworth, London/Census
1911/Mary Hughes/Assistant/35/Woolwich/Census
1911/Alice Ulting/Assistant/27/Peckham, London/Census
1911/Nora Mullen/Assistant/19/Belfast, Ireland/Census
1911/Lillian Gilbert/Assistant/19/Bow, London/Census
1911/Mary Rickatts/Assistant/21/Rochester, Kent/Census
1911/Gertrude Fiske/Assistant/21/Norfolk/Census
1911/Doris Spencer/Assistant/23/Woking, Surrey/Census

1921/Turner & Sinclair/../../../Post Office Directory

1927/Levy & Franks Ltd/../../../Post Office Directory