Search London wiki and Pub wiki history sites
All public house, restaurants, bars etc closed for the forseeable future from 20th March 2020, but this is a history site.
Royal George, 133 Charing Cross road, Soho WC2
This pub was established by 1731 as the George; and at 23 Crown Street, Soho in 1869 and earlier, then later at 36 Crown Street. It was substantially rebuilt in 1887 when Charing Cross Road was laid out and the address became 133 Charing Cross Road. It was again rebuilt in 1977 and the address then became Goslett Yard, 133 Charing Cross Road. **
Soho index
A listing of historical public houses, Taverns, Inns, Beer Houses and Hotels in Soho - in London.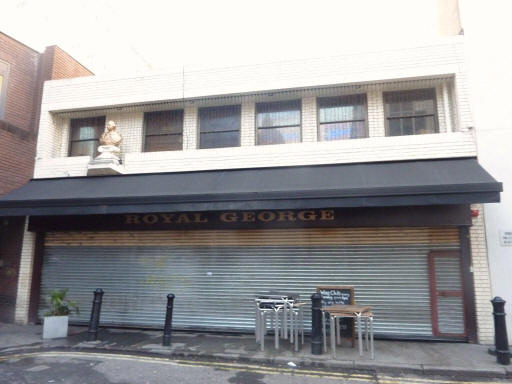 Royal George, 133 Charing Cross Road - in January 2010
Kindly provided by Stephen Harris
Residents at this address
1811/Wm Appleyard, victualler, 23 Crown street, Soho/../../Holdens Directory

1833-34/Charles & Henry Rotherham, George, 23 Crown street, Soho/../../Pigots Directory

1848/William Harris/../../../Post Office Directory

1851/William Harris/../../../Post Office Directory

1856/Joseph Searle/../../../Post Office Directory

1869/Thomas Attwood/../../../Post Office Directory

1871/Edward Purchase/../../../Post Office Directory

1871/Edward Purchase/Publican/24/Winsham, Somerset/Census
1871/Annie Purchase/Wife/24/Lambeth, Surrey/Census
1871/Florence Purchase/Daughter/2/St James, Middlesex/Census
1871/Edith Purchase/Daughter/1/St James, Middlesex/Census
1871/Elizabeth Lambet/Servant/26/Yorkshire/Census
1871/Mary A Priest/Servant/16/Staffordshire/Census
1871/Henry Cook/Servant/18/Hoxton, Middlesex/Census

1875/David Windsor/../../../Post Office Directory

Edward Purchase is at the Masons Arms, Battersea by 1881

1881/David Windsor/Licensed Victualler/43/Longford, Wiltshire/Census
1881/Emma Windsor/Wife/46/Exeter, Devon/Census
1881/Frances Windsor/Daughter/9/Clapham, Surrey/Census
1881/Bertha Bailey/Step Daughter/15/Islington, Middlesex/Census
1881/John Blake/Barman/28/Abbotts Ann, Hampshire/Census
1881/Margaret Flinn/Servant Domestic/47/Ireland/Census

1882/David Windsor/../../../Post Office Directory

1884/David Windsor/../../../Post Office Directory

Royal George, 133 Charing Cross Road :

1901/Annie Jacobs/Kitchenmaid/20/St Annes, London/Census
1901/Emily Mills/Housemaid/19/Nympsfield, Dorset/Census
1901/Charles Peachey/Barman/19/Bottisham, Cambridgeshire/Census
1901/Arthur Wolfe/Barman/18/Gloster Place, Cambridgeshire/Census
1901/Clara Taylor/Barmaid/22/Spalding, Lincolnshire/Census
1901/Minnie Duckers/Barmaid/21/Wheathampstead/Census
1901/Harriett White/Barmaid/26/Wickford, Essex/Census

1910/William Josiah Allen/../../../Post Office Directory

1915/William Josiah Allen/../../../Post Office Directory

1921/Mrs Hannah Isaacs/../../../Post Office Directory

1938/Barrow Isaacs/../../../Post Office Directory



** Provided By Stephen Harris