Search London wiki and Pub wiki history sites
All public house, restaurants, bars etc closed for the forseeable future from 20th March 2020, but this is a history site.
Swiss Hotel & Tavern, 53 Old Compton street, Soho W1
The earlier name for this address is the Grapes, until at least 1851. The earlier address is at 21 & 22 Old Compton Street and by 1856 this is named the Swiss Tavern ; and at 53 Old Compton Street by 1901. The address is at 21 Old Compton Street prior to 1899, in which year the street was renumbered. ***
Rebuilt in 1890. Known since at least the late 1980s as The Compton Arms?/Compton's and is arguably Soho's most famous gay pub. **
Soho index
A listing of historical public houses, Taverns, Inns, Beer Houses and Hotels in Soho - in London.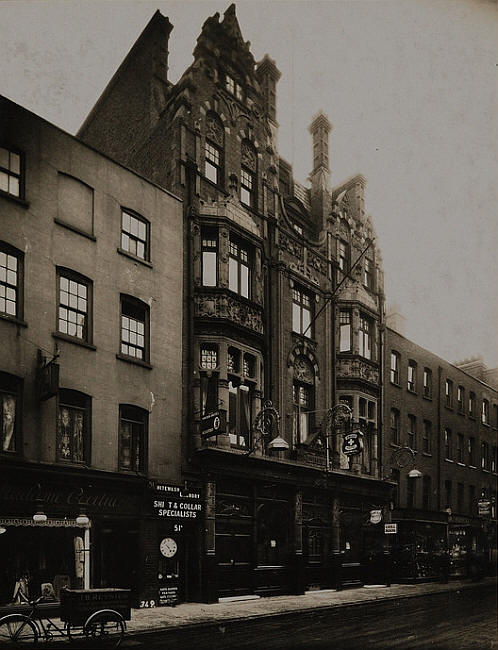 Swiss Hotel & Tavern, 53 Old Compton Street, St Annes, Soho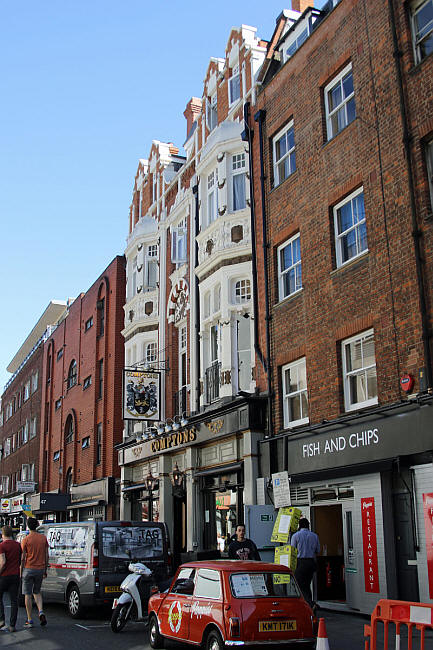 Swiss Hotel & Tavern, 53 Old Compton Street, St Annes, Soho W1 - in August 2016
Kindly provided by Tris
Residents at this address
1805/Thomas Henman, wine vaults, 21 Old Compton street, Soho/../../Holdens Directory

1831/Isaac Dobell/victualler/../../Sun Fire Office records held at the London Metropolitan Archives ***

1832/Isaac Dobell, Grapes, 21 Old Compton street, Soho/../../Robsons Directory

1835/Peter Sangrouber/victualler and spirit merchant/../../Sun Fire Office records held at the London Metropolitan Archives ***

1839/Bernard Sigrist/victualler/../../Sun Fire Office records held at the London Metropolitan Archives ***

1839/Andrew Pfeiffer/Grapes, 21 Old Compton Street/../../Pigots Directory

1841/B Sigrist/Grapes, 21 Old Compton Street/../../Post Office Directory

1844/B Sigrist/Grapes, 21 Old Compton Street/../../London Gazette - Insolvent *

1848/John Savage/Grapes, 21 Old Compton Street/../../Post Office Directory

December 1848/Thomas Cowden/Outgoing Licensee/../../Era Newspaper

December 1848/Thomas Parkes/Incoming Licensee/../../Era Newspaper

I recently discovered that my ancestor a Mr Thomas Grant was the landlord of the pub between 1850 until his death in 1855. It was only due to your site that I discovered the exact address of the pub which was later the famous Wheeler's seafood restaurant, a popular haunt for actors and artists in the mid 20th century although I believe it had been rebuilt by that point. *

In the 1850s The Grapes was a tavern that was used as an early form of music hall by semi-professional singers. I found a transcription of a diary by tavern singer Mr Charles Rice who regularly performed at the Grapes circa 1850. He mentions the landlord, my ancestor, several times suggesting that he was not a good judge of singers and that the other acts were not up to scratch. Mr Rice also sang at The Catherine Wheel in nearby Great Windmill Street, whose landlord was a Mr Dodson in 1850. My ancestor Thomas Grant was quite a character. He was born in East Stoke in Dorset and came to London as a young man. He married by the time he was in his early twenties and was a widower by the time he was 27 when he married again. He was also a dealer in furniture and fancy china goods and had a warehouse in Star Court off Old Compton Street and lived with his family in adjacent Princes Street. *

I originally discovered my ancestor's connection to The Grapes because of a reference in The London Gazette where he was reported as being insolvent in 1851. It is not altogether clear if he had to give up his tenancy of the Grapes at that point but he died in 1855 after a fall downstairs. *

I also discovered that the previous landlord Bernard Sigrist was also made insolvent in 1844, so perhaps The Grapes was not a lucky place to run. *

1851/Thomas Grant/Grapes, 21 Old Compton Street/../../Post Office Directory

1856/James Dennler/Swiss Tavern, 21 Old Compton Street/../../Post Office Directory

1869/Jas Dennler/../../../Post Office Directory

July 1871/James Dennler/Outgoing Licensee/../../Era Newspaper

1871/James Dennler/Hotel Proprietor/57/Switzerland/Census
1871/Rodolphe Stauffer/Boarder/46/Switzerland/Census
1871/Clemence Stauffer/Boarder/45/France/Census
1871/Frances C Marchreuf/Domestic Servant/19/London/Census
1871/Emily Moss/Domestic Servant/19/London/Census
1871/kate Cassy/Domestic Servant/21/Ireland/Census
1871/Kate Lynch/Domestic Servant/17/London/Census
1871/Elizabeth Olivir/Domestic Servant/15/London/Census
1871/George Court/Domestic Servant/21/Kent/Census
+ Boarders

July 1871/Rodolphe Stauffer/Incoming Licensee/../../Era Newspaper

1881/T Charles Raif/Hotel Proprietor/49/Zeswich, Switzerland/Census
1881/M Marchman/House Keeper/25/London, Middlesex/Census
1881/A Bailey/Barmaid/21/London, Middlesex/Census
1881/E Batton/Barmaid/23/Islington, Middlesex/Census
1881/Alice Gagness/Housemaid/19/Euston Rd, Middlesex/Census
1881/Margaret User/Kitchen Maid/32/Sutton/Census
1881/Mary Ann Machi/Kitchen Maid/20/Wales/Census
1881/Streafed Stauffer/Cellarman/29/Berne, Switzerland/Census
1881/Augusta Bademan/Waiter (Inn)/32/Valass, Switzerland/Census
1881/Samuel Klaffer/Porter/27/Valass, Switzerland/Census
1881/Henrich Schmiel/Clerk/20/Zurich, Switzerland/Census
1881/Kalentiss Hett/Waiter (Inn)/30/Hamburg, Germany/Census
1881/Gagness Hatler/Waiter (Inn)/24/Berne, Switzerland/Census
1881/Christ Fenr/Waiter (Inn)/22/Berne, Switzerland/Census
1881/Gagnes Schaad/Waiter (Inn)/25/Schaffhasser, Switzerland/Census
1881/Carl Lauer/Waiter (Inn)/25/Newens Hodtt Wuttenburg/Census
1881/Carl Schaller/Clerk/21/Newens Hodtt Wuttenburg/Census
1881/Alexander Zimmerman/Waiter (Inn)/19/Blane, Switzerland/Census
1881/Joseph Dermings/Waiter (Inn)/27/Grison, Switzerland/Census
1881/Henri Baymond/Waiter (Inn)/20/France/Census
1881/Carl Levy/Waiter (Inn)/18/Autriche/Census
1881/Edward Schulze/Waiter (Inn)/20/Duchrede Anscatt, Germany/Census
1881/Joseph Weber/Lodger,In Medicine Surgery Graduate Practising Physician/25/Erssldange, Germany/Census

1882/Charles Reif/../../../Post Office Directory

1884/Charles Reif/../../../Post Office Directory

1895/Cima Brothers/../../../Post Office Directory ***

1899/Horace C. Phipps/../../../Post Office Directory ***

1901/Lucian Rizzi/Hotel Manager/43/Switzerland (Swiss subject)/Census
1901/Fanny Rizzi/Wife, Manageress/37/Reigate, Surrey/Census
1901/Violet Rizzi/Daughter/17/Soho, London/Census
1901/Ellen Shepherd/Housemaid/25/Islington, London/Census
1901/Marie Lough/Cook, Widow/57/Weybread, Suffolk/Census
1901/Amelia Allison/Barmaid/21/Austria (Austrian subject)/Census
1901/Nellie Murrell/Barmaid/24/Soho, London/Census
1901/Fredrich Clacke/Barman/24/Cambridge, Cambridgeshire/Census
1901/Henry Featschoe/Waiter/21/Switzerland (Swiss subject)/Census
1901/William Meyer/Waiter/20/Germany (German subject)/Census
1901/O Ried-Cuhler/Visitor/27/Switzerland (Swiss subject)/Census
1901/Mary Ried-Cuhler/Visitor/22/Switzerland (Swiss subject)/Census
1901/Henry Cristen/Visitor/30/Switzerland (Swiss subject)/Census

1915/Frederick Gandolla/../../../Post Office Directory

1921/Frederick Gandolla/../../../Post Office Directory

1944/Smith & Harris/../../../Post Office Directory ***



* Provided By David Noades

** Provided By Tris

*** Provided By Ewan