Pub history and pub wiki
York Minster, 49 Dean Street, St Annes, Soho
Soho index
This pub is now demolished. ** This pub is now called the French House.* Renamed the French House around 1984. **
A listing of historical public houses, Taverns, Inns, Beer Houses and Hotels in Soho - in London. The Soho, London listing uses information from census, Trade Directories and History to add licensees, bar staff, Lodgers and Visitors.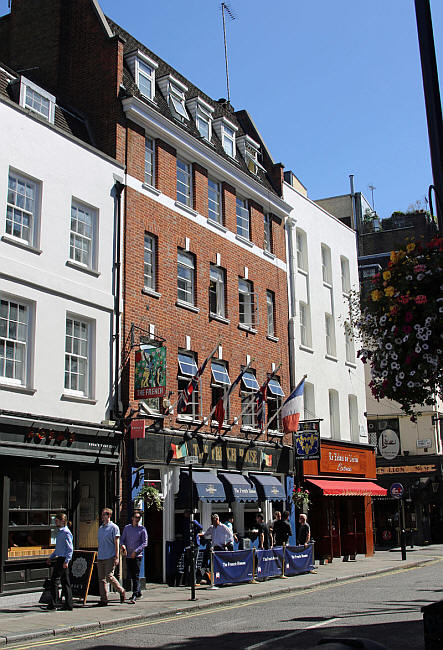 York Minster, 49 Dean Street, St Annes, Soho W1 - in August 2016
Kindly provided by Tris
The following entries are in this format:
Year/Publican or other Resident/Relationship to Head and or Occupation/Age/Where Born/Source.
1828/Thomas Dinsdale/victualler/../../Sun Fire Office records held at the London Metropolitan Archives *

1829/Thomas Disdale/victualler and tailor/../../Sun Fire Office records held at the London Metropolitan Archives *

1841/John Dinsdale/../../../Post Office Directory *

1848/George Osborne/../../../Post Office Directory *

1851/George Osborne/../../../Post Office Directory *

1856/George Osborne/../../../Post Office Directory *

July 1861/George Osborne/Outgoing Licensee/../../Era ****

July 1861/Louisa Wright/Incoming Licensee/../../Era ****

1869/Mrs Louisa Wright/../../../Post Office Directory ****

1881/Jane Smith/Licensed Victualler, Widow/33/Middlesex/Census ****
1881/Harry Smith/Son/5/St Anne Westr, Middlesex/Census
1881/Amy S Allen/Barmaid/21/Marylebone, Middlesex/Census
1881/Frederick Hill/Servant/23/Birmingham, Warwick/Census

1882/Mrs Jane Smith/../../../Post Office Directory ****

1884/Frances Smith/../../../Post Office Directory *

1891/Christian Schmitt/../../../Post Office Directory ****

1895/Christian Schmitt/../../../Post Office Directory *

1899/Christian Schmitt/../../../Post Office Directory ****

1901/Christian Schmitt/Licensed Victualler/46/Germany (German subject)/Census ****
1901/Bertha Schmitt/Wife/36/Germany (German subject)/Census
1901/Josephine Schmitt/Daughter/3/St Annes, London/Census
1901/Annie Shipton/Barman/30/Falfield, Lancashire/Census
1901/Annie Dobbin/General Servant/17/Soho, London/Census
1901/William Hartmann/Cellerman/27/Germany (German subject)/Census

1910/Christian Schmitt/../../../Post Office Directory ****

1915/Mrs Bertha M. Schmitt/../../../Post Office Directory *

1921/Victor Berlemont/../../../Post Office Directory ****

1938/Victor Berlemont/../../../Post Office Directory ****

1944/Victor Berlemont/../../../Post Office Directory ****



* Provided By Ewan

** Provided By Stephen Harris

*** Provided By Tris

**** Provided By Kevan
Search for a pub, an address or person
And Last updated on: Wednesday, 03-Jul-2019 01:15:58 BST