Brunswick Arms, 25 Stamford Street, Southwark Christchurch, SE1
Southwark Christchurch index
Brunswick Arms, 67 Brunswick Street assigned 25 Stamford Street on re-ordering of streets in the 1890s. This pub was rebuilt in modern times at the foot of an office block. It closed in 2008 and the premises are scheduled for demolition. ** The address in the 1851 census is at 9 Brunswick Court.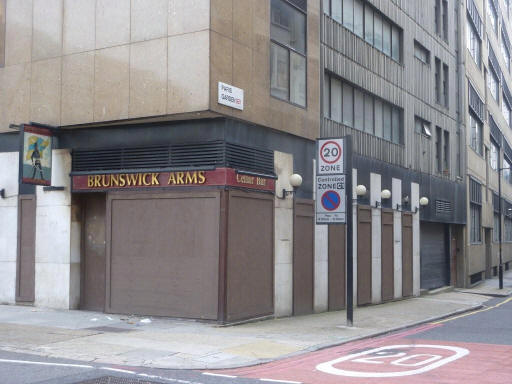 Brunswick Arms, 25 Stanford Street SE1 - in July 2010
Kindly provided by Stephen Harris
A listing of historical London public houses, Taverns, Inns, Beer Houses and Hotels in Southwark Christchurch, Surrey, London. The Southwark Christchurch, Surrey , London listing uses information from census, Trade Directories and History to add licensees, bar staff, Lodgers and Visitors.
Residents at this address.
1811/Thomas Keen, the Brunswick Arms, Brunswick street, Blackfriars road/../../Holdens Directory

1822/Thomas Keen/Brunswick Arms, Brunswick street/../../Petty Sessions

1825/Thomas Keen/Brunswick Arms, Brunswick street/../../Petty Sessions

1826/Thomas Keen/Brunswick Arms, Brunswick street/../../Petty Sessions

1832/Thomas Miller, Brunswick Arms, Brunswick street, Great Surrey street/../../Robsons Directory

1842/W H Yates, Brunswick Arms, 67 Brunswick street, Blackfriars road/../../Robsons Directory

1848/Alfred A Kibblewhite/../../../Post Office Directory

April 1850/Alfred Augustus Kibblewhite/Outgoing Licensee/../../Morning Advertiser

April 1850/William Brown/Incoming Licensee/../../Morning Advertiser

1851/William Brown/../../../Kellys Directory

June 1855/John Brundell/Outgoing Licensee/../../Era Newspaper

June 1855/George South/Incoming Licensee/../../Era Newspaper

1856/George South/../../../Post Office Directory

1862/George Patching/../../../Post Office Directory

November 1862/assignee of George Patching/Outgoing Licensee/../../Era

November 1862/William Knight/Incoming Licensee/../../Era

1869/George Mitchell/../../../Post Office Directory

1871/Charles Coleman/Licensed Victualler/26/Belgrave Middlesex/Census ***
1871/Emily Coleman/Wife/28/Ewell Surrey/Census
1871/Frederick Cook/Servant Potman/18/Worthing Sussex/Census
1871/Mary A Robinson/Servant Dom/20/Stanner (Prob Stanhoe) Norfolk/Census

February 1872/Charles Coleman/Outgoing Licensee/../../Era

February 1872/William Bloomfield Hogg/Incoming Licensee/../../Era

1874/J F Nicholson/../../../Licensed Victualler & Hoteliers Directory

1881/Thomas Keeble/Licensed Victualler/34/Hornsey, Middlesex/Census
1881/Emma Keeble/Wife/29/Thornham, Norfolk/Census
1881/Thos Keeble/Son/3/Christ Church, Surrey/Census
1881/Hannah Keeble/Mother, Widow/75/Hornsey, Middlesex/Census
1881/William Sims/Barman/21/Southampton/Census
1881/Cathe Byford/General Servant/27/Sudbury, Suffolk/Census

1882/Thomas Keeble/../../../Post Office Directory

1884/T Keeble/../../../Post Office Directory

1891/Charles Henry Davies/../../../Post Office Directory *

1895/Charles Henry Davis & Son/../../../Post Office Directory *

1910/Frank Huggins/../../../Post Office Directory *

1915/Frank Huggins, jun./../../../Post Office Directory *

1921/Frank Huggins, junior/../../../Hughes Directory *

1934/Thomas Kelly & Henry Dever Widdicombe/../../../Post Office Directory *

1938/Hy Dever Widdicombe/../../../Post Office Directory

1944/Copes Taverns Ltd/../../../Post Office Directory *



* Provided Ewan

** Provided by Bill Rigby

*** Provided By Bev Howlett