Pub history
Stamford Arms, 62 Stamford Street, Southwark Christchurch, Surrey, London SE1
Southwark Christchurch pub history index
The address is 30 Stamford Street in 1856 and earlier, prior to street renumbering. *
A listing of historical London public houses, Taverns, Inns, Beer Houses and Hotels in Southwark Christchurch, Surrey, London. The Southwark Christchurch, Surrey , London listing uses information from census, Trade Directories and History to add licensees, bar staff, Lodgers and Visitors.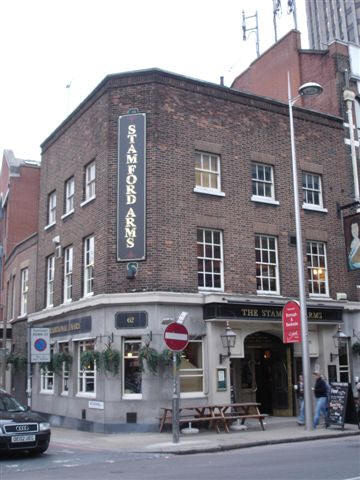 Stamford Arms, 62 Stamford Street - in January 2007
Kindly provided by Stephen Harris
The following entries are in this format:
Year/Publican or other Resident/Relationship to Head and or Occupation/Age/Where Born/Source.
1839/Charles Kemp/../../../Pigots Directory ****

1848/William Knott/../../../Post Office Directory ****

November 1848/William Knott, deceased/Outgoing Licensee/../../Era Newspaper ****

November 1848/John Reed, executor of William Knott/Incoming Licensee/../../Era Newspaper ****

1851/John Reed/Licensed Victualler/36/Newport, Monmouthshire/Census ****
1851/Mary A Reed/Wife/29/Bath, Somerset/Census
1851/Thomas H Thakofield/Nephew/10/Bath, Somerset/Census
1851/Charlotte Mills/Barmaid/22/Caterham, Surrey/Census
1851/Sarah A Duncomb/House Servant/22/Kings Cliffe, Northampton/Census
1851/George Wainwright/Potman/20/Bermondsey, Surrey/Census
1851/Fanny Melhuish/Nurse/36/Holton, Somerset/Census

1856/John Reed/../../../Post Office Directory ****

September 1857/Mary Ann Reed and Edmund Calvert, exectutrix and executor of John Reed/Outgoing Licensee/../../Era ****

September 1857/William Lane Walker/Incoming Licensee/../../Era ****

December 1859/William Lane Walker/Outgoing Licensee/../../Era ****

December 1859/George Newby/Incoming Licensee/../../Era ****

March 1867/Daniel Nash/Outgoing Licensee/../../Era Newspaper ****

March 1867/Thomas Parker/Incoming Licensee/../../Era Newspaper ****

1869/Thomas Parker/../../../Post Office Directory *

1881/Edwin Wooton/Manager To Publican/22/Denton, Buckingham/Census ****
1881/Eliza Manners/Housekeeper/38/London, Middlesex/Census
1881/Alfred English/Groom/24/Tottenham, Middlesex/Census
1881/Henry Smith/Potman/30/Manchester, Lancashire/Census
1881/Lilly Hart/Barmaid/22/London, Middlesex/Census
1881/James Lowden/Barman/23/London, Middlesex/Census
1881/Frank Clutterbuck/Barman/18/Hampton, Gloucester/Census

1882/Thomas Parker/../../../Post Office Directory ****

1884/Thomas Parker/../../../Post Office Directory ****

1891/William Stephen Field/../../../Post Office Directory ****

1895/William Alfred Tredwen/../../../Post Office Directory ****

1899/Alfred Francis/../../../Post Office Directory ****

1910/Joe Farmer/../../../Post Office Directory ****

1915/Joe Farmer/../../../Post Office Directory *

1921/Joe Farmer/../../../Hughes Directory *

1934/Joe Farmer/../../../Post Office Directory ****

1938/Lawrence Staal/../../../Post Office Directory ****

1944/Lawrence Staal/../../../Post Office Directory ****



* Provided Ewan

**** Provided By Kevan