Bricklayers Arms, 37 Old Kent Road, Southwark St George Martyr, London
Southwark St George Martyr index
The address is Gloucester Place, Old Kent Road in the 1839 Directory *. At the corner of Old Kent Road in 1856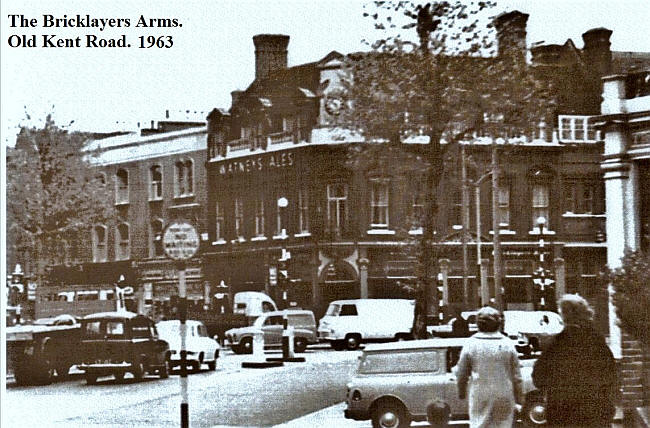 The Bricklayers Arms, Old Kent Road, Southwark - in 1963
Kindly provided by Peter Prior
A listing of historical London public houses, Taverns, Inns, Beer Houses and Hotels in Southwark St George Martyr, Surrey, London. The Southwark St George Martyr, Surrey , London listing uses information from census, Trade Directories and History to add licensees, bar staff, Lodgers and Visitors.
It sadly no longer exists due to all the road engineering and the fly-over which has been built there. **
For quite a while in the first half of the 1900s it was run by my great-uncle, Richard William PARTRIDGE, who was my grandfather's older brother. He was the 2nd in a line of 5 people in direct descent and all of the same name:- the first was my great-grandfather, born in Westminster in 1821, served in the cavalry (15 1/2 years in India and then 6 months in the Crimea on the way home) and ended up as the Chief Park Inspector in Battersea Park. The 4th and 5th in line (father and son) live down in Kent. **
The 2nd Richard William Partridge who ran the pub started in the licensed trade when he as still living at home in Battersea: in the 1891 Census he is shown as a "Licensed Victuallers Assistant"; by the 1901 Census he is shown as a "Licensed Victuallers Manager, at the Trafalgar , 1 Sumner Road, Peckham". I am not sure when he moved to the "Bricklayers Arms", but he was certainly there when his 2nd wife, Kate (née MESSENGER) died in December 1911. He is also there in the 1920 and 1930 Post Office London Street Directory, but by 1942 the pub was being run by Comans Catering Co. Ltd. and they also appear in the 1947 Post Office Directory. He and his 3rd wife (Florence née GALLON) moved out to Bromley in Kent where he ran the Bell Hotel (I think he owned it rather than just managed it, but I have not found definite proof.) **
Residents at this address.
1822/Thomas Crafter/Bricklayers arms, Kent road/../../Victuallers Recognizance

1825/Mr. Crafter, Bricklayers Arms, Kent road/../../Licensed Victuallers Association

1825/Thomas Crafter/../../../Victuallers Recognizance

1826/Thomas Crafter/../../../Victuallers Recognizance

1834/Mr R T Seabrook/../../../LV Asylum

1839/Thomas Sambrook/../../../Pigot's Directory *

1841/Richard T. Sambrook/../../../Post Office Directory *

1856/Richard Henry Sambrook/../../../Post Office Directory

1869/Sambrook Bros/../../../Post Office Directory *

November 1870/William Richard Sambrook, Henry Edwin Sambrook and Charles Edward Sambrook/Outgoing Licensees/../../Era

November 1870/Henry Edwin Sambrook/Incoming Licensee/../../Era

1874/H C Sambrook/../../../Licensed Victualler & Hoteliers Directory

1881/BEING BUILT////Census

1882/Henry Edward Sambrook/../../../Post Office Directory

1884/H E Sambrook/../../../Post Office Directory

1891/Henry Edwin Sambrook/../../../Post Office Directory

1895/Henry Edwin Sambrook/../../../Post Office Directory

1899/Henry Edwin Sambrook/../../../Post Office Directory

1910/Highland & Partridge/../../../Post Office Directory

1915/Richard William Partridge/../../../Post Office Directory **

1920/Richard William Partridge/../../../Post Office Directory **

1930/Richard William Partridge/../../../Post Office Directory **

1934/Richard William Partridge/../../../Kellys Directory

1937 - 1952/Richard Watts Coman/../../../Kelly's Directory ***

1939/Coman's Catering Co Ltd/../../../BT Telephone Directory [BERmndsy 2960]

1942/Comans Catering Co Ltd/../../../Post Office Directory **

1943/Coman's Catering Co Ltd/../../../BT Telephone Directory [BERmndsy 2960]

1947/Comans Catering Co Ltd/../../../Post Office Directory **



* Provided By Ewan

** Provided by Roger Partridge

*** Provided By Christina

Provided By Kevan