Pub history
Crown, 213 Borough High Street, Southwark St George Martyr, Surrey, London
Southwark St George Martyr index
At 151 Borough High Street in 1869 and earlier. Now an office, only the front of this pub survives as a retained fašade, with a crown motif visible on the parapet. *** This is the St George Distillery public house in the 1911 census.
A listing of historical London public houses, Taverns, Inns, Beer Houses and Hotels in Southwark St George Martyr, Surrey, London. The Southwark St George Martyr, Surrey , London listing uses information from census, Trade Directories and History to add licensees, bar staff, Lodgers and Visitors.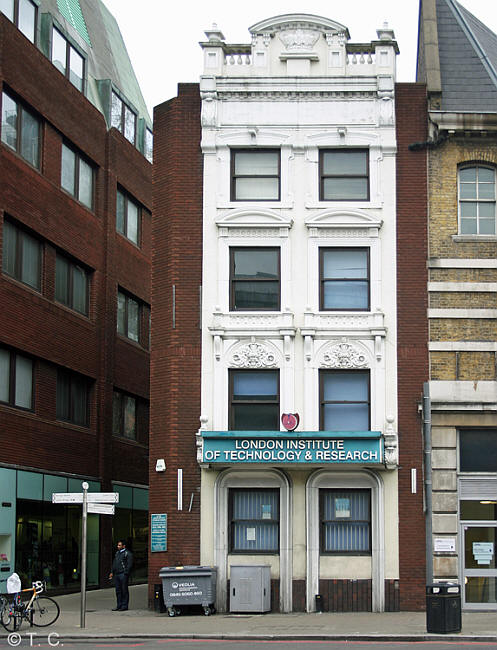 Crown, 213 Borough High Street, SE1 - in March 2011
Kindly provided by Tris
The following entries are in this format:
Year/Publican or other Resident/Relationship to Head and or Occupation/Age/Where Born/Source.
1817/Thomas Fleming/Wine and brandy merchant/../../Johnstones London Directory

1822/Thomas Fleming/Crown, High street/../../Victuallers Recognizance

1823/Thomas Fleming/../../../Victuallers Recognizance

1825/Thomas Fleming/../../../Victuallers Recognizance

1826/Thomas Fleming/../../../Victuallers Recognizance

1832/Thomas Fleming, Crown, 151 Borough High street, Southwark/../../Robsons Directory

1839/Luke Winton/../../../Pigots Directory

1841/Luke Winton/../../../Kellys Directory

1842/Luke Winton/../../../Robsons Directory

June 1850/Luke Winton, late occupier/Outgoing Licensee/../../Era

June 1850/Henry Luke Winton, administrator of Luke Winton, late occupier/Incoming Licensee/../../London City Press

1851/Henry Luke Winton/../../../Kellys Directory

1851/Henry L Winton/Licensed Victualler/25/St Budes, London/Census
1851/Susannah Winton/Wife/33/St Dunstan, London/Census
1851/John Thondy/Father in Law/78/Scotland/Census
1851/Susannah Wynne/Visitor/2/Shalford, Surrey/Census
1851/Fredetick Aughton/Servant/19/Bethnal Green, Middlesex/Census
1851/Sarah Humphrey/House Servant/19/Bletchingley, Surrey/Census

1856/Samuel Game/../../../Post Office Directory

June 1856/Samuel Game/Outgoing Licensee/../../Era Newspaper

June 1856/Peter Osgood/Incoming Licensee/../../Era Newspaper

1869/Richard Green/../../../Post Office Directory

1874/R Green/../../../Licensed Victualler & Hoteliers Directory

September 1878/Elizabeth Jane Green and Emily Maria Green, executors of late landlord/Incoming Licensee/../../South London Chronicle

1881/Eliza J Green/Licensed Victualler, Widow/34/Gravesend, Kent/Census
1881/Annie Creed/Cousin/24/London, Middlesex/Census
1881/Emily Creed/Cousin/24/Mucking, Essex/Census
1881/William Barton/Barman/19/Cheltenham, Gloucester/Census
1881/Sarah A Ansley/General Servant/24/Mile End, Middlesex/Census

1882/Henry Colversan/../../../Post Office Directory

1884/Louisa Burns/../../../Post Office Directory

1891/Jas Fras Norton/../../../Post Office Directory

1895/James Carter/../../../Post Office Directory

1899/Patrick Mulherin/../../../Post Office Directory

1910/Wm Robert Crisp/../../../Post Office Directory

1915/Emanuel Ring/[St. George's Distillery]/../../Post Office Directory *

1921/Emanuel Ring/[St. George's Distillery]/../../Hughes Directory *

1934/Samuel Barrett/../../../Post Office Directory *

1938/Mrs Laura C Adams/../../../Post Office Directory

1944/Wilson Marsh/../../../Post Office Directory



* Provided By Ewan

*** Provided By Tris

Provided By Kevan