Sportsman, 93 Lancaster Street, Southwark St George Martyr, London
Southwark St George Martyr index
The entries for 1825 to 1842 are at Great Union street. The 1869 directory states that Great Union street now forms part of Lancaster street; and between 1851 and 1869, the address is at 11 Southwark Bridge road. The Sportsman was compensated and closed on 24th June 1940. Also badly damaged by enemy action.
A listing of historical London public houses, Taverns, Inns, Beer Houses and Hotels in Southwark St George Martyr, Surrey, London.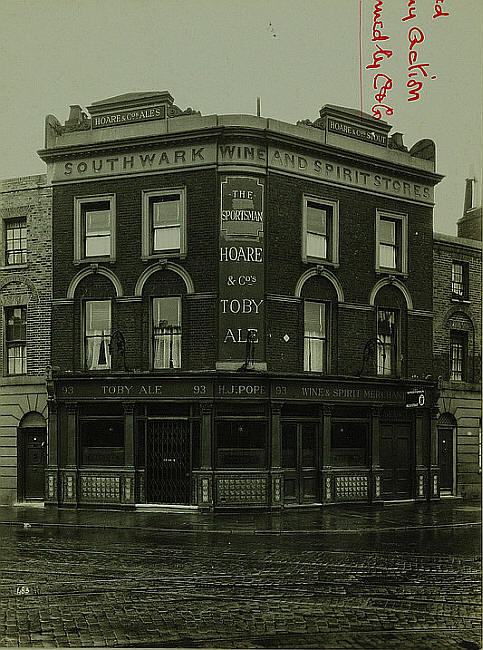 Sportsman, 93 Lancaster Street, Southwark St George Martyr
Residents at this address.
1825/David Bennett/Sportsman, Great Union street/../../Victuallers Recognizance

1826/David Bennett/Sportsman, Great Union street/../../Victuallers Recognizance

1827/David Bennett, Sportsman, 2 Southwark Bridge road/../../Pigot's Directory

1839/Thomas Lonsdale/../../../Pigots Directory

1842/S J Delahay/../../../Robsons Directory

1851/William Stead jun/../../../Post Office Directory

1856/Rd Peacock/../../../Post Office Directory

1861/Edwin Herbert/Licensed Victualler/24/Hackney, Middlesex/Census *
1861/Elizabeth Fuller/Cousin, Barmaid/26/Hackney, Middlesex/Census
1861/Joseph Shepherd/Potman/26/Deptford, Kent/Census
1861/Ellen Fuller/Cousin/8/St Georges in the East, Middlesex/Census

1867/Mr Edwin Buckland/../../../Licensed Victuallers Association

1869/Edwin Buckland/../../../Post Office Directory

1871/Edwin Buckland/Publican, Widow/46/City of London/Census
1871/Eliza Buckland/Daughter/15/Shoreditch, Middlesex/Census
1871/Robert Buckland/Son/13/Shoreditch, Middlesex/Census
1871/Mary A Buckland/Daughter/11/Shoreditch, Middlesex/Census
1871/Martha Buckland/Daughter/7/Southwark, Surrey/Census
1871/Harriett Whiting/Barmaid/25/Northampton/Census
1871/Mary Robinson/Cook/35/Lambeth, Surrey/Census
1871/Rose Pascoe/Domestic Servant/22/Bermondsey, Surrey/Census
1871/Frederick Weight/Potman/17/Bethnal green, Middlesex/Census
1871/George Milne/Barman/15/Bermondsey, Surrey/Census

1881/Edwin Buckland/Licensed Victualler, Widow/56/London, Middlesex/Census
1881/Eliza Martha Buckland/Daughter, Housekeeper/25/Shoreditch, Middlesex/Census
1881/Herbert Buckland/Son, Clerk/23/Shoreditch, Middlesex/Census
1881/Mary Ann Buckland/Daughter, Barmaid/21/Shoreditch, Middlesex/Census
1881/Harry Buckland/Son/18/Shoreditch, Middlesex/Census
1881/Martha Buckland/Daughter/16/St George, Surrey/Census
1881/Jenny Corrich/Barmaid/27/Taunton, Somerset/Census
1881/Rose Paskele/Cook/29/Bermondsey, Surrey/Census
1881/George Salmer/Potman/27/St George, Surrey/Census

1882/Edwin Buckland/../../../Post Office Directory

1884/Edwin Buckland/../../../Post Office Directory

1891/Edwin Buckland/../../../Post Office Directory

1895/Herbert Buckland/../../../Post Office Directory

1899/Herbert Buckland/../../../Post Office Directory

1910/Herbert Edwin Buckland/../../../Post Office Directory

1915/Mrs M L Mallinson/../../../Post Office Directory

1921/Hannah J. Pope/../../../Hughes Directory *

1934/Henry William Pope/../../../Post Office Directory *

1938/Henry William Pope/../../../Post Office Directory *



* Provided By Ewan