Pub history
Ship Wright Arms, 88 Tooley Street, Southwark St Olave, Surrey, London SE1
Southwark St Olave pub history index
At 283 Bermondsey Street in 1851 census. It stands at the junction of Tooley Street and Bermondsey Street - and by 1891 the address has switched from 232 Bermondsey Street to 88 Tooley Street. *** The address is at 239 Bermondsey Street by 1856 following street renumbering. It was rebuilt in 1884 very slightly to the north of the original site, and the address became 88 Tooley Street after this time. *
A listing of historical London public houses, Taverns, Inns, Beer Houses and Hotels in Southwark St Olave, Surrey, London. The Southwark St Olave, Surrey , London listing uses information from census, Trade Directories and History to add licensees, bar staff, Lodgers and Visitors.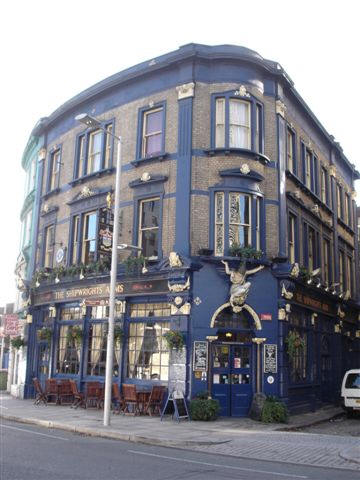 Shipwright's Arms, 88 Tooley Street, SE1 - in November 2006
Kindly provided by Stephen Harris
The following entries are in this format:
Year/Publican or other Resident/Relationship to Head and or Occupation/Age/Where Born/Source.
1792/Richard Moore/victualler/../../Sun Fire Office records held at the London Metropolitan Archives *

1822/John Boorman/../../../Victuallers Recognizance

1823/John Boorman/../../../Victuallers Recognizance

1825/John Boorman/../../../Victuallers Recognizance

1826/John Boorman/../../../Victuallers Recognizance

1827/J Boorman/../../../Licensed Victuallers Association

1830/Mr Boorman, Shipwrights Arms, Bermondsey street/../../Licensed Victuallers Association

1839/James Bartram/../../../Pigots Directory

1841/J. Barham/../../../Post Office Directory *

1842/J Barham/../../../Robsons Directory

1851/J Barham/../../../Kellys Directory

1851/James Barham/Licensed Victualler/51/Ross Herefordshire/Census
1851/Mary Barham/Wife/50/Bermondsey/Census
1851/Sophia Smith/Niece/13/Bermondsey/Census
1851/Lucy Prettyjohn/House Servant/44/Dartmouth, Kent/Census
1851/Mary Wood/House Servant/17/Gainsboro, Yorkshire/Census

1856/William North/239 Bermondsey Street/../../Post Office Directory

December 1859/Jesse Fenwick/Outgoing Licensee/../../Era

December 1859/William Connaway/Incoming Licensee/../../Era

1861/Edmund E Moore/Licensed Victualler/27/Isle of Man/Census
1861/Martha Moore/Wife/21/Southwark, Surrey/Census
1861/Peter Moore/Son/2/Southwark, Surrey/Census
1861/Walter E Moore/Son/1/Southwark, Surrey/Census
1861/James Fisher/Lodger, Carpet Salesman/40/Harlston, Suffolk/Census
1861/Ann Donovan/Servant/55/Ireland/Census
1861/Emma Henna/Nursemaid/16/Somers Town, Middlesex/Census
1861/Thomas Hayden/Potman/32/South America/Census

May 1862/Edmund T Moore/LV Association, Governor/../../Era

December 1866/Edmund Thomas Moore/Outgoing Licensee/../../Morning Advertiser

December 1866/Thomas Smith/Incoming Licensee/../../Morning Advertiser

1869/Thomas Smith/239 Bermondsey Street/../../Post Office Directory

July 1873/Eliza Smith/Outgoing Licensee/../../South London Chronicle

July 1873/John Smith/Incoming Licensee/../../South London Chronicle

1881/John Smith/Licensed Victualler/34/Norris Manchester/Census
1881/William Smith/Brother, Licensed Manager/32/Norris Manchester/Census
1881/Emily Smith/Sister, Housekeeper/22/Norris Manchester/Census
1881/Susan Addiman/Cook/21/Southwark, Surrey/Census
1881/Thomas Stone/Potman/48/Southwark, Surrey/Census

1882/John Smith/../../../Post Office Directory

1884/John Smith/../../../Post Office Directory

1891/Harry Charles Cross/../../../Post Office Directory

1891/Sarah Jane Cross/Lady/55/Weybridge, Surrey/Census
1891/Kate B Cross/Daughter, Barmaid/22/Brixton, London/Census
1891/Gertrude M Cross/Daughter, Barmaid/30/Brixton, London/Census
1891/Robert B Stewart/Son in Law, Canvasser/28/Snaresbrook, Essex/Census
1891/Nellie Stewart/Daughter/26/Brixton, London/Census
1891/Estelle M H Stewart/Grand Daughter/2/New Cross, London/Census
1891/Ethel H Stewart/Grand Daughter/1/New Cross, London/Census
1891/Sarah Oversby/General Servant/28/Middlesex/Census
1891/Thomas Ladbrooke/Barman/27/Middlesex/Census
1891/Mark Francis/Barman/18/Long Wilton, Surrey/Census

1895/Edward Wm Carpenter/../../../Post Office Directory

1899/Frank Franklin Bourn/../../../Post Office Directory

1910/Frank Franklin Bourn/../../../Post Office Directory

1914/Frank Franklin Bourn/../../../Post Office Directory

1915/Mrs Emma Bourn/../../../Post Office Directory

1921/Albert Aysom/../../../Post Office Directory

1923/Marie Ayson/Shipwrights Arms/../../Electoral Register

1934/Frederick Wheeler/../../../Post Office Directory *

1938/Fred Wheeler/../../../Post Office Directory

1944/William Madigan/../../../Post Office Directory *



* Provided By Ewan

*** Provided By Stephen Harris

Provided By Kevan