Search London wiki and Pub wiki history sites
All public house, restaurants, bars etc closed for the forseeable future from 20th March 2020, but this is a pub history site.
Catherine Wheel, 32 Union Street, Southwark St Saviour, London
Southwark St Saviour pub history index
Address is at 11 Union Street in 1861 and earlier
A listing of historical London public houses, Taverns, Inns, Beer Houses and Hotels in Southwark St Saviour, Surrey, London. The Southwark St Saviour, Surrey , London listing uses information from census, Trade Directories and History to add licensees, bar staff, Lodgers and Visitors.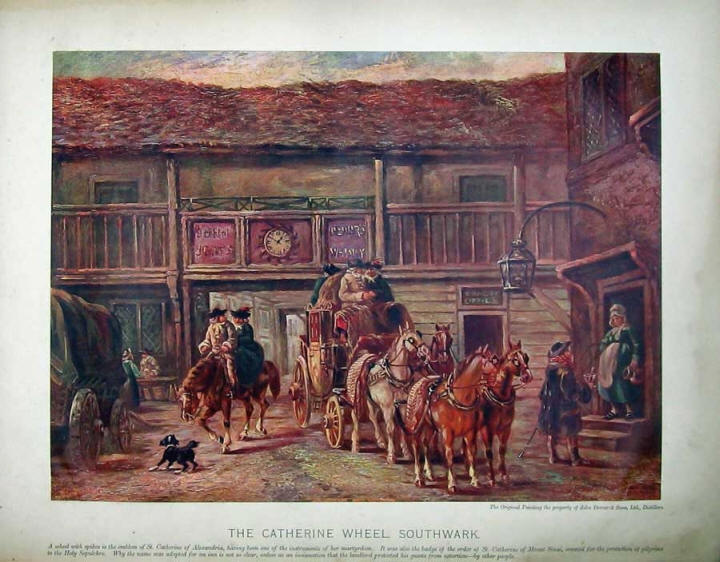 Catherine Wheel, Southwark
Kindly provided by Colleen
Residents at this address.
1811/George Remington, Catherine Wheel Inn, Borough/../../Holdens Directory

1817/George Huggett/ Inn holder/../../Johnstones London Directory

1822/James Glannon/Catherine Wheel, Union street/../../Victuallers Recognizance

July 1823/James Valentine Glannon/Catherine Wheel, Union street/../../Victuallers Recognizance

1825/James Valentine Glannon/Catherine Wheel, Union street/../../Victuallers Recognizance

1826/James Valentine Glannon/Catherine Wheel, Union street/../../Victuallers Recognizance

1830/Mr Pfeiffer, Catherine Wheel, Union street, Borough/../../Licensed Victuallers Association

1831/Andrew Pfeiffer/victualler/../../Sun Fire Office records held at the London Metropolitan Archives *

1833-34/Andrew Pfeiffer, Catherine Wheel, 10 Union street, Borough/../../Pigots Directory

1834/Andrew Pfeiffer/victualler/../../Sun Fire Office records held at the London Metropolitan Archives *

1839/Joseph Abraham Cox/../../../Pigot's Directory *

1841/Joseph Cox/../../../Post Office Directory *

1842/G Proctor/../../../Robsons Directory

1851/Jeremiah Gough/../../../Kellys Directory

1851/Jeremiah Gough/Publican/35/Westminster/Census
1851/Jane Gough/Wife/30/Merton, Surrey/Census
1851/Eleanor J Gough/Daughter/7/Shoreditch, Middlesex/Census
1851/Georgianna C Gough/Daughter/5/Middlesex/Census
1851/Jeremiah W Gough/Son/4/Middlesex/Census
1851.John C Gough/Son/1/Southwark, Surrey/Census
1851/Ellen Baldwin/Niece/14/Merton, Surrey/Census
1851/Mary Cramer/Servant/50/Gloucestershire/Census
1851/Luke Arnold/Waiter/28/Bristol/Census

September 1853/George Moss/Outgoing Licensee/../../Era

September 1853/Joseph Pickford/Incoming Licensee/../../Era

1856/Joseph Pickford/../../../Post Office Directory

1861/George Everett/Victualler/30/Chelmsford, Essex/Census
1861/Mary A Everett/Wife/32/Wandsworth, Surrey/Census
1861/George Everett/Son/7/Newington, Surrey/Census
1861/Walter Everett/Son/5/Newington, Surrey/Census
1861/Edgar Everett/Son/2/Newington, Surrey/Census
1861/Madeline Everett/Daughter/4 months//Census
1861/Charlotte Everett/Mother, Widow/51/Newington, Surrey/Census
1861/Louisa Agates/House Servant/17/St Saviour, Surrey/Census
1861/George Ware/House Servant/19/St Saviour, Surrey/Census

1869/Robert Gooch/../../../Post Office Directory

1871/Robert Gooch/Licensed Victualler/42/Bury St Edmunds Suffolk/Census ***
1871/Caroline Gooch/Wife/42/Bury St Edmunds Suffolk/Census
1871/Henry M Gooch/Son Clerk Metal Trade/18/Bury St Edmunds Suffolk/Census
1871/Arthur Gooch/Son Clerk Collar and Cuff maker/15/Hoxton Middlesex/Census
1871/Robert Gooch/Son Scholar/13/Bloomsbury Middlesex/Census
1871/Sydney Gooch/Son Scholar/9/Southwark Surrey/Census
1871/Harriet Brewer/Niece Barmaid/15/Bury St Edmunds Suffolk/Census
1871/Elizabeth Waters/Servant Gen/15/Southwark Surrey/Census

1874/J Sims/../../../Licensed Victualler & Hoteliers Directory

1881/Jerusha Walker/Licensed Victualler, Widow/34/Suffolk/Census
1881/Rhoda Walker/Daughter/12/Suffolk/Census
1881/John Walker/Son/10/Ratcliff, Middlesex/Census
1881/Kate Walker/Daughter/5/Homerton, Middlesex/Census
1881/Jane Walker/Daughter/3/Whitechapel, Middlesex/Census
1881/Edith Appleby/Barmaid/22/Glastonbury, Somerset/Census

1882/Mrs Jerusha Walker/../../../Post Office Directory

1884/Charles T Buckhurst/../../../Post Office Directory

1891/Julian Reymond/../../../Post Office Directory

1895/William Moore/../../../Post Office Directory

1899/William Moore/../../../Post Office Directory



* Provided By Ewan

*** Provided By Bev Howlett