Globe, 9 Bedale Street, Southwark St Saviour, Surrey, London
Southwark St Saviour pub history index
This market pub was built in 1872. At 9 York Street until at least 1891, then renamed to Bedale Street between 1891 and 1895 ** Listed as the Green Dragon in the 1911 census summary!
By comparing modern maps with that of 1799, it would appear to be at roughly the correct area to have earlier been named as in the churchyard of St Saviours.
A listing of historical London public houses, Taverns, Inns, Beer Houses and Hotels in Southwark St Saviour, Surrey, London. The Southwark St Saviour, Surrey , London listing uses information from census, Trade Directories and History to add licensees, bar staff, Lodgers and Visitors.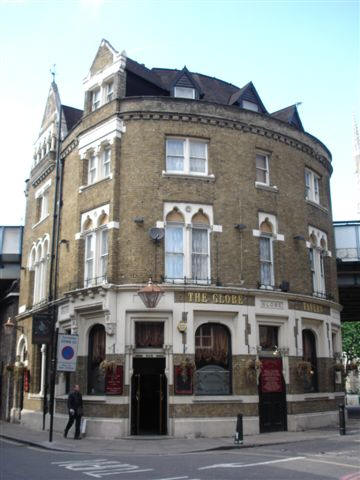 Globe, 9 Bedale Street, SE1 - in May 2007
Kindly provided by Stephen Harris
The following entries are in this format:
Residents at this address.
Deeds helds at the London Metropolitan Archives dating back to 1691 name this as the "Globe, formerly Cobham Inn and the Green Dragon". *

In 1770, the Globe Tavern, St. Saviours Churchyard, Southwark is listed as the address for the Masonic Lodge of Prosperity

1805/James Sims, the Globe, the Grove, St Saviours Church yard, Borough/../../Holdens Directory

1809/James Carter/victualler/../../Sun Fire Office records held at the London Metropolitan Archives *

1815/William Starling/victualler/../../Sun Fire Office records held at the London Metropolitan Archives *

1818/John Dadley/victualler/../../Sun Fire Office records held at the London Metropolitan Archives *

1822/John Dadley/../../../Victuallers Recognizance

1823/John Dadley/../../../Victuallers Recognizance

1824/John Dadley/victualler/../../Sun Fire Office records held at the London Metropolitan Archives *

1825/Henry James/../../../Victuallers Recognizance

1826/Henry James/../../../Victuallers Recognizance

April 1827/James/../../../Licensed Victuallers Association

1839/Henry James/../../../Pigot's Directory *

1841/Henry James/../../../Post Office Directory *

1843/Henry James/../../../Post Office Directory

1848/Henry James/../../../Post Office Directory

1851/Henry James/../../../Kellys Directory

1851/Henry James/Victualler, Widow/48/Southwark, Surrey/Census
1851/Alfred James/Son, Assistant/24/Southwark, Surrey/Census
1851/Elizabeth James/Daughter/22/Southwark, Surrey/Census
1851/John James/Son, Cabinet Maker/20/Southwark, Surrey/Census
1851/Maria James/Daughter/18/Southwark, Surrey/Census
1851/Edwin James/Son, Book Binder/16/Southwark, Surrey/Census
1851/Frederick James/Son/14/Southwark, Surrey/Census
1851/Edward James/Son/6/Southwark, Surrey/Census
1851/Mary Quinton/House Servant/40/Poplar, Middlesex/Census
1851/William Luker/Pot Man/22/Hackney, Middlesex/Census

1856/Henry James/../../../Post Office Directory

1861/Henry James/Licensed Victualler/59/St Saviour, Surrey/Census
1861/Harriet James/Wife/40/St Saviour, Surrey/Census
1861/Edward James/Son/16/St Saviour, Surrey/Census
1861/Henry Littleproud/Barman/24/Attleboro, Norfolk/Census
1861/Thomas Norton/Barman/19/Lambeth, Surrey/Census
1861/Elizabeth Callow/Housekeeper/38/Lambeth, Surrey/Census
1861/Mary Caleman/Housemaid/20/Ireland/Census
1861/James Smith/Waiter/52/Wallingford, Essex/Census

September 1861/Harriet James, widow and administratrix of Henry James, late occupier/Outgoing Licensee/../../Era

September 1861/William Boxall Turpin/Incoming Licensee/../../Era

1869/William B Turpin/../../../Post Office Directory

1881/Arthur Geo Goodwin/Licensed Victualler/38/Bishops Stortsford, Hertford/Census
1881/Mary Ann Goodwin/Wife/39/Covent Garden, Middlesex/Census
1881/Arthur Wm Goodwin/Son/7/Southwark, Surrey/Census
1881/Charlotte Emma Goodwin/Daughter/6/Southwark, Surrey/Census
1881/Ethel Grace Goodwin/Daughter/3/Southwark, Surrey/Census
1881/Maria Elizth Bartlett/Nurse/43/Southwark, Surrey/Census
1881/Elizth Bartlett/Domestic Servant/34/Southwark, Surrey/Census
1881/Fredk Bygrave/Barman/23/Orwell, Cambridge/Census
1881/Walter Hamilton/Barman/18/Folkstone, Kent/Census
1881/Arthur Larcher/Barman/18/Bethnal Green, Middlesex/Census

1882/William Hoxall Turpin/../../../Post Office Directory

1884/William B Turpin/../../../Post Office Directory

1891/William B Turpin/../../../Post Office Directory

1895/William Hoxall Turpin/../../../Post Office Directory

1899/William Solman/../../../Post Office Directory

1910/William Solman/../../../Post Office Directory

1915/William Solman/../../../Post Office Directory

1934/William Solman/../../../Kellys Directory

1938/William Solman/../../../Post Office Directory

1944/Hy D Widdicombe & Cyril C Duffield/../../../Post Office Directory



* Provided By Ewan