Old Tabard, 85 Borough High Street, Southwark St Saviour, London
Southwark St Saviour pub history index
The address is 74 Borough High Street in 1869 and earlier, prior to street renaming. * Probably rebuilt in the 19th century. Long closed and converted to commercial use. Modern address was Old Tabard 85-87 Borough High Street SE1 **
A listing of historical London public houses, Taverns, Inns, Beer Houses and Hotels in Southwark St Saviour, Surrey, London. The Southwark St Saviour, Surrey , London listing uses information from census, Trade Directories and History to add licensees, bar staff, Lodgers and Visitors.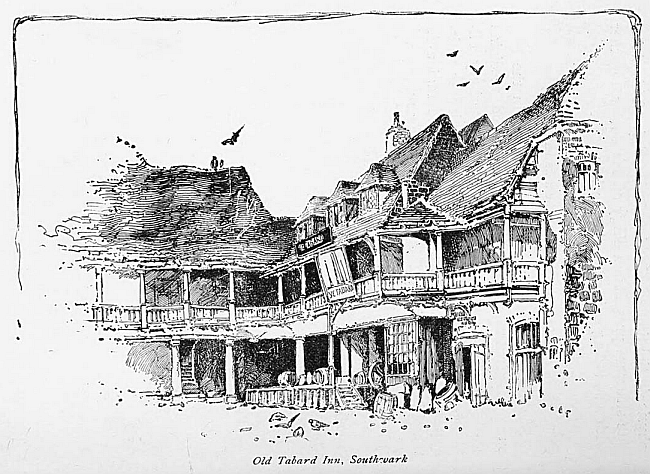 Old Tabard Inn, Southwark
Kindly provided by John Carnaby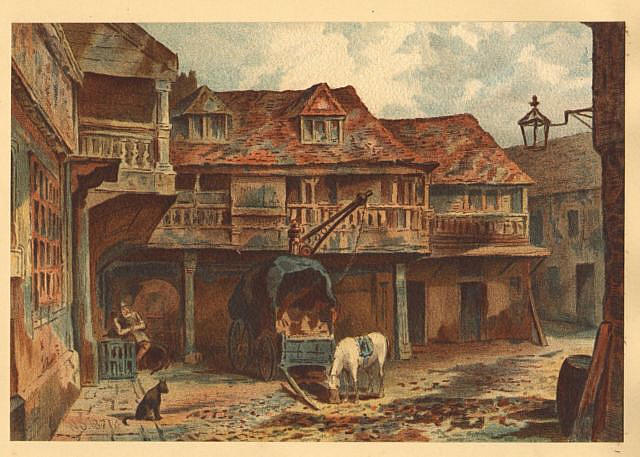 Old Tabard painting - 19th century
Kindly provided by Colleen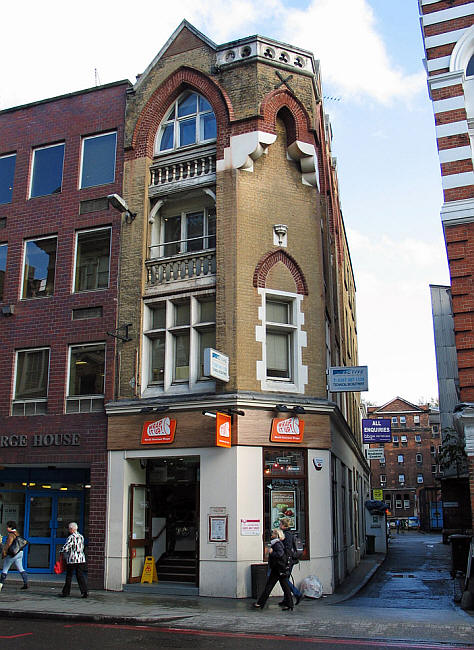 Old Tabard, 85-87 Borough High Street SE1 - in October 2014
Kindly provided by Tris
Residents at this address.
1851/Charles A. Tuesly/Beer Retailer/31/Epsom, Surrey/Census *
1851/Ann M. Tuesly/Wife/43/Farringdon, Hampshire/Census
1851/Sarah Tuesly/Daughter/3/Southwark, Surrey/Census
1851/Charlotte Brassley/House Servant/../Southwark, Surrey/Census
1851/Jane Murrent/House Servant/20/Farringdon, Hampshire/Census

1856/John West Smith/beer retailer/../../Post Office Directory *

1869/John West Smith/beer retailer/../../Post Office Directory *

September 1878/George Mills/Outgoing Licensee/../../South London Chronicle

September 1878/Richard John Poole/Incoming Licensee/../../South London Chronicle

1881/Marianne J Bratt/Licensed Victualler, Widow/45/London, Middlesex/Census
1881/Maria Kidner/Sister, House Keeper, Widow/48/London, Middlesex/Census
1881/Sarah Bovingdon/General Servant/32/Haymarket, Middlesex/Census
1881/Annie Richens/Barmaid/24/Hounslow, Middlesex/Census

1882/Mrs M J Bratt/../../../Post Office Directory

1884/Marianne J Bratt/../../../Post Office Directory

1891/Edward Johnson/../../../Post Office Directory

1895/Herbert Atterbury/../../../Post Office Directory

1899/Mrs Jane Moore/../../../Post Office Directory

1910/Edgar Board/../../../Post Office Directory

1915/Joseph Davis/../../../Post Office Directory *



* Provided By Ewan

** Provided By Tris

*** Provided By Bev Howlett