White Hart, Borough High Street, Southwark St Saviour, Surrey, London
Southwark St Saviour pub history index
At 1 White Hart Yard in 1861 census; the 1842 directory places the White Hart at about 61 Borough High street. This historic Southwark St Saviours coaching inn is long gone, but a plaque marks the spot. ** The address is White Hart Inn Yard, 62 Borough High Street in 1869 and earlier, prior to street renumbering. *
A listing of historical London public houses, Taverns, Inns, Beer Houses and Hotels in Southwark St Saviour, Surrey, London. The Southwark St Saviour, Surrey , London listing uses information from census, Trade Directories and History to add licensees, bar staff, Lodgers and Visitors.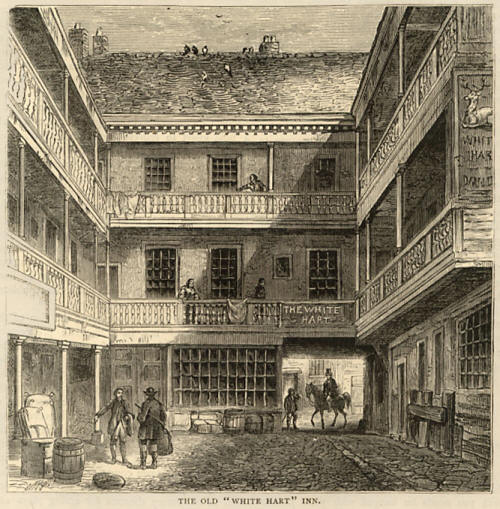 Old White Hart, Southwark
Kindly provided by Colleen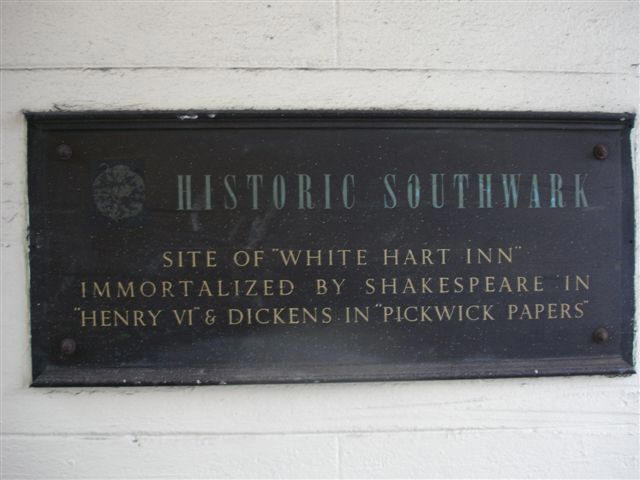 Historic Southwark - Site of White Hart Inn immortalized by Shakespeare in Henry VI & Dickens in Pickwick Papers - in February 2007
Kindly provided by Stephen Harris
Residents at this address.
1811/Joseph Langdon, White Hart Inn, Borough/../../Holdens Directory

1817/William Whiten/ Inn holder/../../Johnstones London Directory

1822/Joseph Rose/../../../Victuallers Recognizance

1823/Joseph Rose/../../../Victuallers Recognizance

1825/Edward Norman/../../../Victuallers Recognizance

1826/Edward Norman/../../../Victuallers Recognizance

1832/Stanbury & Hoare/../../../Robsons Directory

1841/H. Gander/../../../Post Office Directory *

1842/R Gosbey/../../../Robsons Directory

January 1848/William Henry Brown/Outgoing Licensee/../../Era Newspaper

January 1848/Thomas Suelns?/Incoming Licensee/../../Era Newspaper

September1850/Henry Edward Murrell/Outgoing Licensee/../../Era

September 1850/John Neighbour/Incoming Licensee/../../Era

1851/George Dowling/Licensed Victualler/31/Southwark, Surrey/Census
1851/Elizabeth Dowling/Wife/32/Camberwell, Surrey/Census
1851/Alfred Dowling/Son/3/Southwark, Surrey/Census
1851/Isabella Dowling/Daughter/1/Southwark, Surrey/Census
1851/James Dowling/Son/5 months/Southwark, Surrey/Census
1851/Frederick Dowling/Brother/22/Worthing, Sussex/Census
1851/Elizabeth Dowling/Sister in Law/23/Brighton, Sussex/Census
1851/Frederick Dowling/Nephew/1/Lambeth, Surrey/Census
1851/Emelier Brooks/Visitor/13/Southwark, Surrey/Census
1851/Mary A Down/Charwoman/22/Southwark, Surrey/Census
1851/Mary Hilton/Nurse/53/Worcester/Census
1851/Alfred Beale/Waiter/18/Frant, Kent/Census

April 1853/George Dowley/Outgoing Licensee/../../Era

April 1853/Thomas Stephen Lansdell/Incoming Licensee/../../Era

July 1853/Thomas Stephen Lansdell/Outgoing Licensee/../../Era

July 1853/William Barling Sharpe/Incoming Licensee/../../Era

1856/William Springett/../../../Post Office Directory

1861/William Springett/Licensed Victualler/40/Wittersham, Kent/Census
1861/Bedelice Springett/Wife/40/Bristol, Somerset/Census
1861/Albert Springett/Nephew, Bacon Dryers Clerk/19/Appledore, Kent/Census
1861/Elizabeth Springett/Sister/38/Wittersham, Kent/Census
1861/Robert Winstone/Nephew/13/Somerset/Census
1861/Bessie Marchant/Chambermaid/19/London, Middlesex/Census
1861/Elizabeth Heard/Kitchenmaid/17/Newington, Surrey/Census
+ Lodgers

March 1863/Jacob Mas/Outgoing Licensee/../../Era

March 1863/Joseph Barnett and Andrew Barnett/Incoming Licensee/../../Era

April 1865/late tenant quit/Outgoing Licensee/../../South London Chronicle

April 1865/Frederick Hollis Plummer/Incoming Licensee/../../South London Chronicle

1869/Joseph White/../../../Post Office Directory

1881/Samuel Renaut/Licensed Victualler/38/Westminster, Middlesex/Census
1881/Emma Renaut/Wife/31/Bromley, Middlesex/Census
1881/Florence Renaut/Daughter/8/Islington, Middlesex/Census
1881/Herbert Renaut/Son/7/Islington, Middlesex/Census
1881/Emma A Renaut/Daughter/5/London City, Middlesex/Census
1881/Bertram F Renaut/Son/3/London City, Middlesex/Census
1881/Edith M Renaut/Daughter/1/London City, Middlesex/Census
1881/Lotty L Renaut/Daughter/1 month/London City, Middlesex/Census
1881/Mary Taylor/Barmaid/21/Windsor, Berkshire/Census
1881/Alice Dunn/Barmaid/22/Holloway, Middlesex/Census
1881/Elizabeth Watson/Nurse/25/Stepney, Middlesex/Census
1881/Caroline Stephens/Nurse/16/Horselydown, Surrey/Census
1881/Sarah Brydges/Housemaid/25/Southwark, Surrey/Census
1881/Norah Murphy/Cook/16/Aldgate, Middlesex/Census
1881/Ellen Storer/Kitchenmaid, Widow/31/Carshalton, Surrey/Census
1881/Stephen Collins/Waiter/24/Walworth, Surrey/Census
1881/Robert Lee/Porter/42/Southwark, Surrey/Census
1881/James Golding/Under Waiter/16/Kentish Town, Middlesex/Census

1882/Samuel Renaut/../../../Post Office Directory

1895/James Temple/../../../Post Office Directory *

1899/William James Williams/../../../Post Office Directory

1901/Angelo L Gargini/Publican/51/Genova Thala, Italy/Census
1901/Giacome Gargini/Son/23/Camden Town/Census
1901/Rosie Gargini/Daughter/21/Camden Town/Census
1901/Lola Gargini/Daughter/19/Camden Town/Census
1901/Assilio Gargini/Son/17/Camden Town/Census
1901/Annie Folkey/Barmaid/21/Kennington, London/Census
1901/Edward Cressi/Billiard Marker/31/Marylebone, London/Census
1901/Lingi Fassione/Liftman/20/Verolengo, Italy/Census
1901/Bassistesca Severin/Kitchenmaid/20/Como, Italy/Census
1901/Assilio Cardini/Waiter/20/Beveno, Italy/Census

Giacome Gargini is at the White Hart Hotel, Buckingham by the 1911 census




* Provided By Ewan

** Provided By Stephen Harris