Pub history, pubwiki and London
Black Lion, 63 Hanbury Street, Spitalfields
Spitalfields index
At 6 Montague street in the 1851 census; at 31 New Montague Street in 1870 & earlier; these premises had ceased to be a pub by 1923, but still standing.
Spitalfields index
A listing of historical public houses, Taverns, Inns, Beer Houses and Hotels in Spitalfields, London.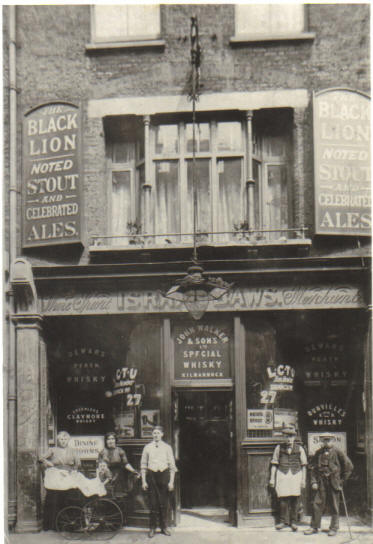 Black Lion, 63 Hanbury Street - circa 1915 - licensee Isaac Baws
Kindly provided by Lisa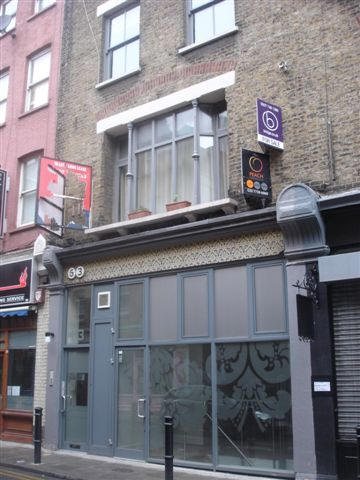 Black Lion, 63 Hanbury Street, E1 - in January 2008
Kindly provided by Stephen Harris
The following entries are in this format:
Year/Publican or other Resident/Relationship to Head and or Occupation/Age/Where Born/Source.
1820/Thomas Brewer / Victualler /../../Sun Fire Office records held at Guildhall Library **

1821/Thomas Brewer / Victualler /../../Sun Fire Office records held at Guildhall Library **

1825/Mr Haydon, Black Lion, New Montague street, Whitechapel/../../Licensed Victuallers Association

1827/John Haydon/../../../Licensed Victuallers Association

1833-34/Peter Bovey/../../../Pigots Directory

1842/Edward Reed/../../../Robson's Directory **

1848/George Tilney/../../../Post Office Directory

1851/George Tilney/../../../Post Office Directory

1851/George Tilney/Victualler/39/Spitalfields, Middlesex/Census
1851/Elizabeth Tilney/Wife/39/Spitalfields, Middlesex/Census
1851/George Fraley/Nephew/12/Spitalfields, Middlesex/Census
1851/Hannah McCarty/Servant/18/Ireland/Census

1856/George Tilney/../../../Post Office Directory

1861/George A Tilney/Victualler/49/London/Census
1861/Elizabeth Tilney/Wife/49/London/Census
1861/George Froby/Nephew, Dealer in Building Materials/22/London/Census
1861/Ann Godin/Servant/21/London/Census

1869/George Alfred Tilney/../../../Post Office Directory

1870/George Alfred Tilney/../../../P.O. Directory **

January 1870/George Alfred Tilney/Outgoing Licensee/../../Era Newspaper

January 1870/Jago Davis/Incoming Licensee/../../Era Newspaper

July 1870/Iago Davis/Outgoing Licensee/../../East London Observer

July 1870/Thomas Baker/Incoming Licensee/../../East London Observer

May 1871/Thomas Baker/Outgoing Licensee/../../East London Observer

May 1871/John Mumford/Incoming Licensee/../../East London Observer

8th March 1873/John Mumford/Outgoing Licensee/../../East London Observer +

8th March 1873/Emily Shaw/Incoming Licensee/../../East London Observer +

1874/Emily Shaw/../../../H.D. Miles London & Suburban Licensed Victuallers' Directory **

1879/Mrs Emily Shaw/../../../P.O. Directory **

1880/Edward Tilney/../../../Post Office Directory **

1881/Charles Thomas Hearn/Publican & Turner/30/Bethnal Green, Middlesex/Census
1881/Emma Hearn/Wife/29/Spitalfields, Middlesex/Census
1881/Mary Hearn/Daughter/2/Bethnal Green, Middlesex/Census
1881/Newcomer Hearn/Daughter/1 month/Spitalfields, Middlesex/Census
1881/Emily More/Barmaid/16/Spitalfields, Middlesex/Census
1881/Sarah Jane Godfree/Domestic Servant/14/Whitechapel, Middlesex/Census

1882/Miss Kate Tilney/../../../Post Office Directory

1884/Henry Cooper/../../../Post Office Directory

I am the descendant of Moses Barnett and Kate Lipman who lived at 63 Hanbury street. They were here in the 1891 census, and also married here in 63 Hanbury Street in 1885 . I have copy of their marriage certificate. *

1886/John Lipman/../../../Post Office Directory **

1891/John Lipman/../../../Post Office Directory

1891/Moses Barnett/Tailor/28/St Botolph, London/Census
1891/Kate Barnett/Wife/28/St Botolph, London/Census
1891/Rose Barnett/Niece/3/St Botolph, London/Census
1891/Amelia Barnett/Niece/3 months/Spitalfields, London/Census
1891/Louis Lipman/Brother in Law, Licensed Publican/29/St Botolph, London/Census
1891/Polly Lipman/Sister in Law, Cigar Maker/27/St Botolph, London/Census
1891/Sarah Malone/Domestic Servant/23/Ireland/Census
1891/William Edwards/Potman/25/Wales/Census
1891/Mary Stevens/Domestic Servant/20/Whitechapel, London/Census

1895/William Wutton Pidgeon/../../../Post Office Directory

1898/J Max / Licensed Victualler /../../London Gazette, 16 February 1898 **

1899/Henry Bugler/../../../Post Office Directory

1906/Simon Gold/../../../Morris' Business Directory of London **

1908/Simon Gold/../../../Post Office Directory

1909/Louis Seversky/../../../Post Office Directory

1910/Frederick Berringer/../../../Post Office Directory

1911/Frederick Berringer/../../../Post Office Directory **

1911/Frederick Berringer [Crossed out]/Publican/48/Mile End New Town/Census
1911/Emily Berringer/Sister, Assistant/31/Walthamstow/Census
1911/Eleanor Berringer/Sister, Assistant/29/Whitechapel/Census
1911/Minnie Scott/Sister, Dressmaker/26/Whitechapel/Census
1911/John Scott/Nephew/Under 1 month/Bermondsey/Census

I am looking for my 2xGt Grandfather who was Israel Baws, as the Licensed Victualler at 313 Old Street, Shoreditch as that was listed on his death certificate in 1917. It would appear that at the time this was the Prince of Wales. The directories I have searched give the name of Prince of Wales and then name Coleman Cohen. ***

Whilst searching the archives I also came across a Samuel Baws (Israel's brother I think) who is listed as the License holder for the Prince of Wales, 16 Northdown Street from Sept 1915-Jul 1924. These premises were in Pentonville ward and were supplied by City of London Brewery, Upper Thames Street. ***

1914/Israel Baws/../../../Post Office Directory

1915/Herbert Crick/../../../Post Office Directory

1916/Jacob Rosenthal/../../../P.O. Directory

1917/Jacob Rosenthal/../../../P.O. Directory **

1918/Jacob Rosenthal/../../../P.O. Directory



+ Provided by Friends of Tower Hamlets Cemetery Park

* Provided By Gill Percy

** Provided By Stephen Harris

*** Provided by Lisa